April 14, 2012
Sunshine Cleaning
Definitely another movie I bought, just on the cover.
Sunshine Cleaning shows two women, carrying…the title of the movie, behind some caution tape.
Oooh, how mysterious. And possibly illegal? Here's hoping for some dead bodies.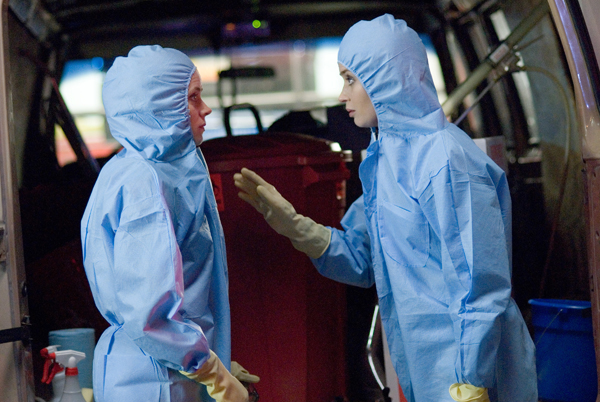 Oooh, definitely going to have some dead bodies.
Amy Adams is a single mother working as a maid in a cleaning service. But hey, at least she has a job. Her sister, Emily Blunt, is a slacker and fails at a lot of things she does.
Only real job is that she gets to occasionally babysit Amy's son (Jason Spevack), while Amy goes to her "class". And by class, we of course mean having sex with her former high school sweetheart, Steve Zahn. He is a cop and married with kids, but hey, affairs are fun. And he will totally probably leave his wife for her someday, right?
Yeahhh…
Well thanks to her inside connection, she hears that crime scene cleaning can be a pretty nice business, monetarily speaking. She is going to need new money for her kids private schooling, since he has a lot of behavioral problems at public and is getting kicked. But until then, the grandpa, Alan Arkin, will be able to look after him and teach him real world smarts.
Enlisting her sister as an employee, and figuring out the right paper work, they open up Sunshine Cleaning! You know, to clean up dead people blood and stuff. They also get the help of Clifton Collins Jr., a one armed man with a cleaning supplies shop. The film however makes the main characters recollect a lot on their own mothers suicide, and go on their own miniature journeys to self discovery.
Emily Blunt also starts a lesbian relationship with Mary Lynn Rajskub…because she saw her in a picture at one of the houses they were cleaning. Yeah, definitely weird.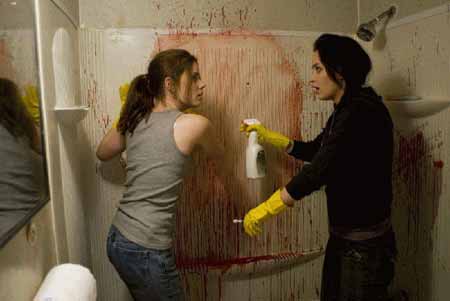 Needless to say their methods improved throughout the movie.
This film was definitely a lot more dramatic and sobering than I had thought. With such a colorful and sunny cover, it all kinds of come out of no where. There are some amusing moments, mostly between the grandfather and the son. Well, the grandfather and everyone really. Alan Arkin is the hidden star of this film, and is a nice surprise to watch.
I personally didn't like a lot of the moments with Emily Blunt's character, not because she is a screw up, but just…weird slow motion falling and sad time parts. There was this weird montage moment in the middle that just felt way overly dramatic and kind of stupid. In my mind at least.
The ending was a good one though, and most of the characters ended up pretty well. Some plot lines I don't think they answered as well as they should have though.
2 out of 4.