June 26, 2014
Snowpiercer
I first heard about Snowpiercer like a lot of people when I was getting insulted by people with a lot of money.
Despite making boat loads of money in South Korea where it debuted, The Weinstein Company wanted to delay its release in the US, like everything they grab. Why? To make cuts to the movie. The original movie is right at two hours, but Harvey said no, 20 minutes have got to go. Why? So that the film "will be understood by audiences in Iowa… and Oklahoma." If you don't get it, that means he is saying that the average American couldn't handle this film and it has to be dumbed down. You know, to take out some drama and story elements and giving us a shorter film that is much closer to a regular run of the mill action story.
Fuck that. Fuck that so much. That is one of the most insulting things I have ever heard from a movie executive. He says Americans are dumb and won't like the movie that way. Just how patronizing can a person be?
Well, it turns out, as much as they want because the American viewer cannot do a damn thing about it. The director, Joon-ho Bong, was able to hold out though. After months of arguing, he was able to get the full version released to the American market. The only issue is, it is now limited release instead of wide release. Well, sucks for those guys in shitty markets, but as long as I get the full cut, I won't be mad.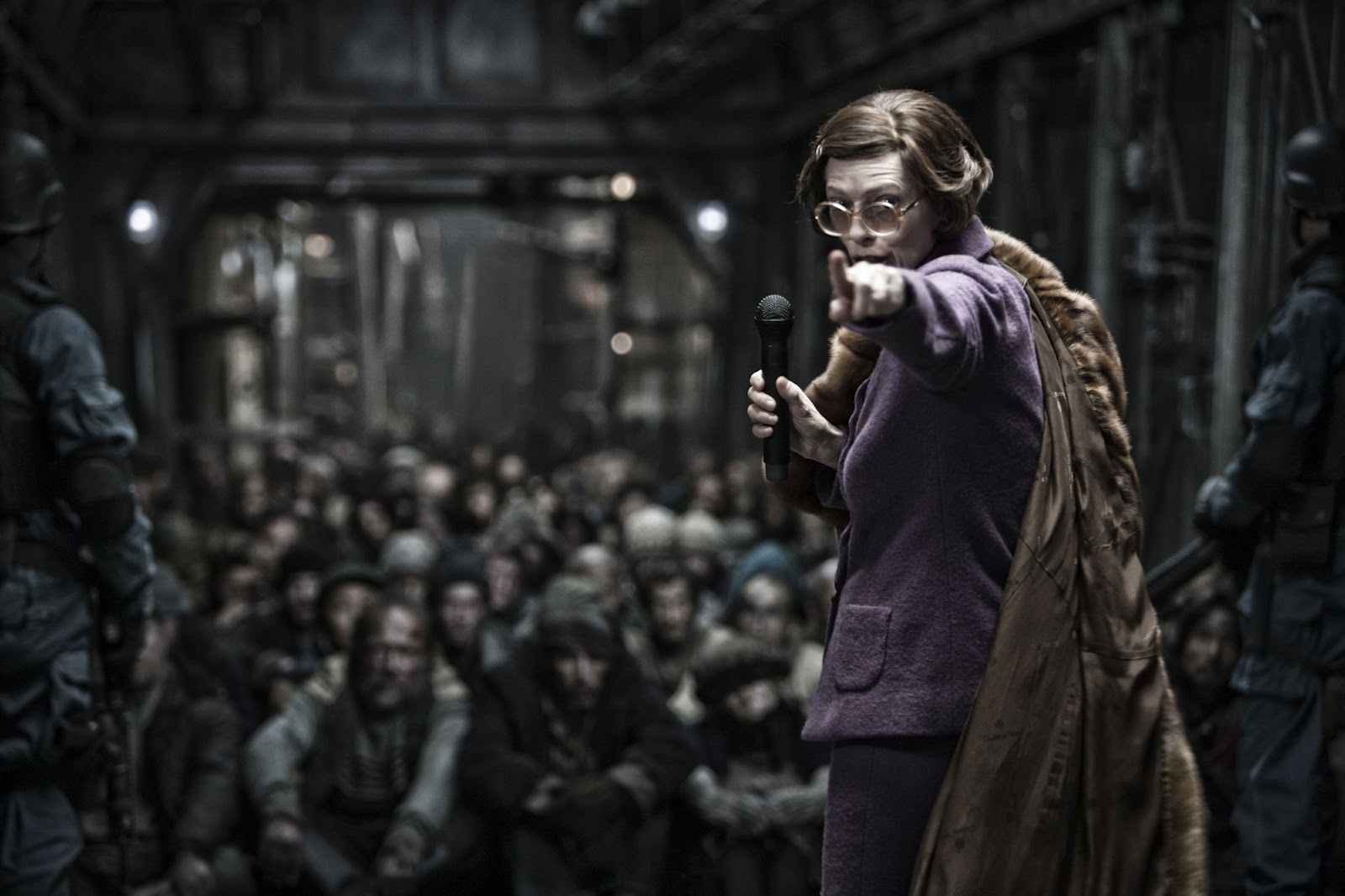 Well, I guess I could still point some blame towards Harvey.
In the future year of 2014, Global Warming is scary. So scientists have made a chemical that can reduce the effects of the gasses and counteract the rise in the temperature. They released too much though, causing the world to go into a very quick ice age, killing most of the life on the planet.
The only survivors are the people who made it onto the Snowpiercer train. It is a perpetual-motion engine so it can run forever. It travels the entire globe and also takes a year to return to a past point. That last part isn't plot important, just kind of cool.
But life on the train isn't all peaches and cream. A caste system was quickly formed, with a majority of its inhabitants taking up cramped quarters in the tail of the train. They are fed protein bars and occasionally some kids are taken from them. They have to learn their place. Past riots and attempts to move on have failed. But this time? This time, they are ready.
It will be lead by Curtis (Chris Evans), influenced heavily by Gilliam (John Hurt) an old wise man in the train car. Their plan involves breaking into the train "prison" to release a man (Kang-ho Song) who helped make the security between the cars to help move them through.
Featuring a lot of people, such as Tilda Swinton, Jamie Bell, Octavia Spencer, Ah-sung Ko, Ewen Bremner, Ed Harris and Alison Pill.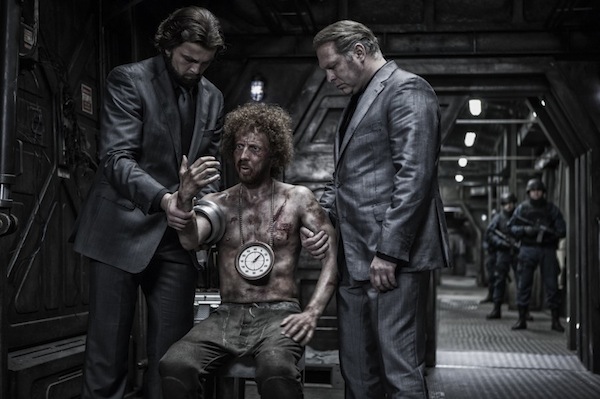 How cold is it? Flavor Flav has turned white!
For those that hate cramped conditions, you might feel a bit uneasy in a movie set entirely on a train. However, for those who like trains a lot, like Denzel Washington or that guy from The Railway Man, this would be the perfect movie for you.
For having an entire film set in a train, they did a real good job of not making it feel incredibly repetitive. The train itself is very long, housing a large number of people with quite a few amenities, so there are several different places we get to go.
I thought Snowpiercer was downright incredibly. It has some powerful themes that are pretty easy to relate too, resounding in the United States with the occupy movement still in recent memory. They aren't anything new, but I really just loved how it was presented in this movie.
The issue with my review is that I just loved so many aspects of this movie, I am finding a hard time using words to describe just what made this movie so great. From the acting, to cinematography, to the action and drama, to the twists and turns. Just all aspects were phenomenal. Tis a good movie. Glad it didn't get cut up.
4 out of 4.