Think about a movie called The Journey. What sort of genre would you think that movie is?
Well, first, I know I would think of maybe…adventure? Yeah. Adventure. If not an adventure film, maybe a war/action movie. If not a war/action movie, then something spiritual, a religious film. If you thought historical drama, I would think you were a liar, and I would no longer make bets with you.
And that is what The Journey is. A "True story" or, a true-ish story. But I will get into detail on that.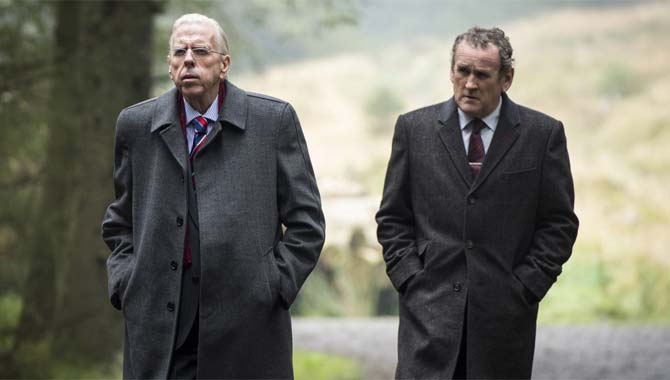 The journey they speak of is more of a drive and a walk through the woods.
Northern Ireland and Ireland have had a lot of issues in the past. Religious stuff which led to extremism which led to people bombing places, straight up government based military groups, to get people to see different points of view and you know…go on a war basically. It also led to this song from The Irish Rovers about a dysfunctional marriage.
This is set after a lot of the physical conflict, when people were still pissed, in the mid-2000's. The territories were on the verge of creating a new agreement, to put a lot of the past behind them. Not rejoin as one unified country or anything, but at least start working together better and look more unified (I think, hard for me to tell as a non European).
Ian Paisley (Timothy Spall) is the head of the Catholic people, and Martin McGuinness (Colm Meaney), former member of the IRA, is I guess leader of the protestants now. Honestly the whole thing is fuzzy to me what their titles are, but they have the ability to enact change. On the verge of the agreement being signed, Paisley has to return to his home for a celebration on his 50th Wedding Anniversary. The other side is worried that when he gets back with his people, they will convince him that the agreement is bad and he will pull out last minute.
Thank the weather gods, they have cancelled Paisley's flight, and to show a sign of goodwill, the other side agrees to let him use their plane in Edinburgh for him to get home. But, McGuinness argues he must join him on the trip. Due to rules of travel, if both leaders are in the same vehicle, it is unlikely that anyone will try something nefarious. McGuinness and others think that if they get Paisley talking, they can find common interests between them and really work out and finalize this agreement.
The problem is, these gentlemen have never talked before in their lives. But this journey to their airport, and plane ride, will be their last chance to pull this thing together.
Also starring Freddie Highmore, John Hurt, Toby Stephens, Ian McElhinney, Ian Beattie, and Barry Ward.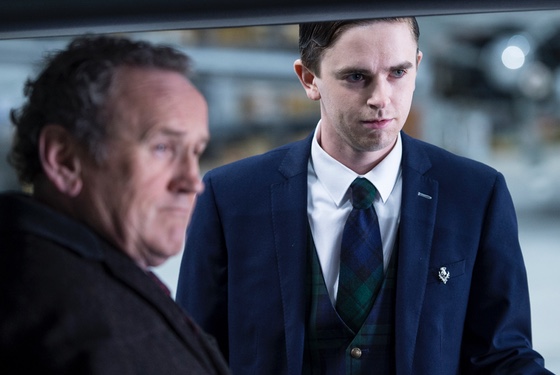 And if they don't agree quickly, Norman Bates will finish the job!
In real life, this agreement did take place. And in real life, these two people never talked to each other or cared for each other. In real life, they did take a car ride and plane ride together, and in real life, they suddenly became really close friends. And in real life, both of them are now dead.
The things that might not be real include their stops on their journey and the events that happened to them along the way, like the flat tire. The things that definitely did not occur is any of the conversation they decided to highlight in the film. It is a complete guess, it is where the storytellers can become storytellers. To guess the sort of conversation these great men might have had, how they would have acted towards each other, and how they would have slowly come to terms.
I am not saying it is bad that they are guessing, just setting the picture, because I obviously don't need my movies to be 100% factual all the time. I do like my movies to be entertaining, or at the very least feature some nice acting moments.
I went in expecting I would be bored out of my mind throughout this film, but it surprisingly kept my interest once it got going. It wasn't entirely easy to follow all the time, because of referring back to historical events that have no effect on my upbringing, but that is okay. I became involved with what they were saying and felt like a passenger in the vehicle.
And yet I could still only describe this film as okay. I would never watch it again, and I would never really recommend it to anyone. Spall and Meaney do some pretty good acting based on their previous works that I know of, and definitely give it their best jobs. But I am still just left asking why this movie was made, as, historical, this significance doesn't mean squat to me.
2 out of 4.