Something surprising to me is that there are only six Tom Clancy films out there, with the first one being The Hunt for Red October in 1990. I have seen only one of them. I saw the last one before Without Remorse, Jack Ryan: Shadow Recruit, which I remember almost nothing about.
There are a lot of books by Tom Clancy, and they all have these same characters. And based on what I have seen in this film and in the last one, I still have no desire to watch any more of them, and certainly never read one of the books. A lot of pew pew spy action thrillers I guess. I am sure everyone get betrayed a dozen times and somehow gives a lot more bullet deaths than they end up receiving. Huge body counts. Catastrophic deaths.
This is all an assumption. Hell, maybe the first one was really tame.
But Without Remorse is going straight to amazon, probably because they have a successful Tom Clancy show, and now they want successful movies as well. Make money while you can, that is my motto.
Also to avoid old shrimp. That's another motto. 
John Kelly (
Michael B. Jordan
) is a Navy Seal, part of an elite team of soldiers, and is good at his job. He is good at the killing of bad guys and terrorists, while protecting the innocents, and going in and out of a job quickly with minimum damage. So, a normal movie soldier of a seal. You know.
Well, after a mission, that was quite a success, it turns out it secretly wasn't a success after all! Months later, his team is assassinated by Russian soldiers on American grounds. They go after John too, but they can only get his pregnant wife (Lauren London), as John survives. A Russian attack on American soil is a pretty big deal. Especially if it was ordered by a Russian operative (Brett Gelman), who they thought was dead. Ahh, America fooled again.
Now John is going to have to go on a secret revenge mission, get them back without starting a new world war. He has to make them pay for killing his friends and PREGNANT WIFE, you know?
Also starring Jodie Turner-Smith, Guy Pearce, Jacob Scipio, Jack Kesy, Jamie Bell, and Todd Lasance.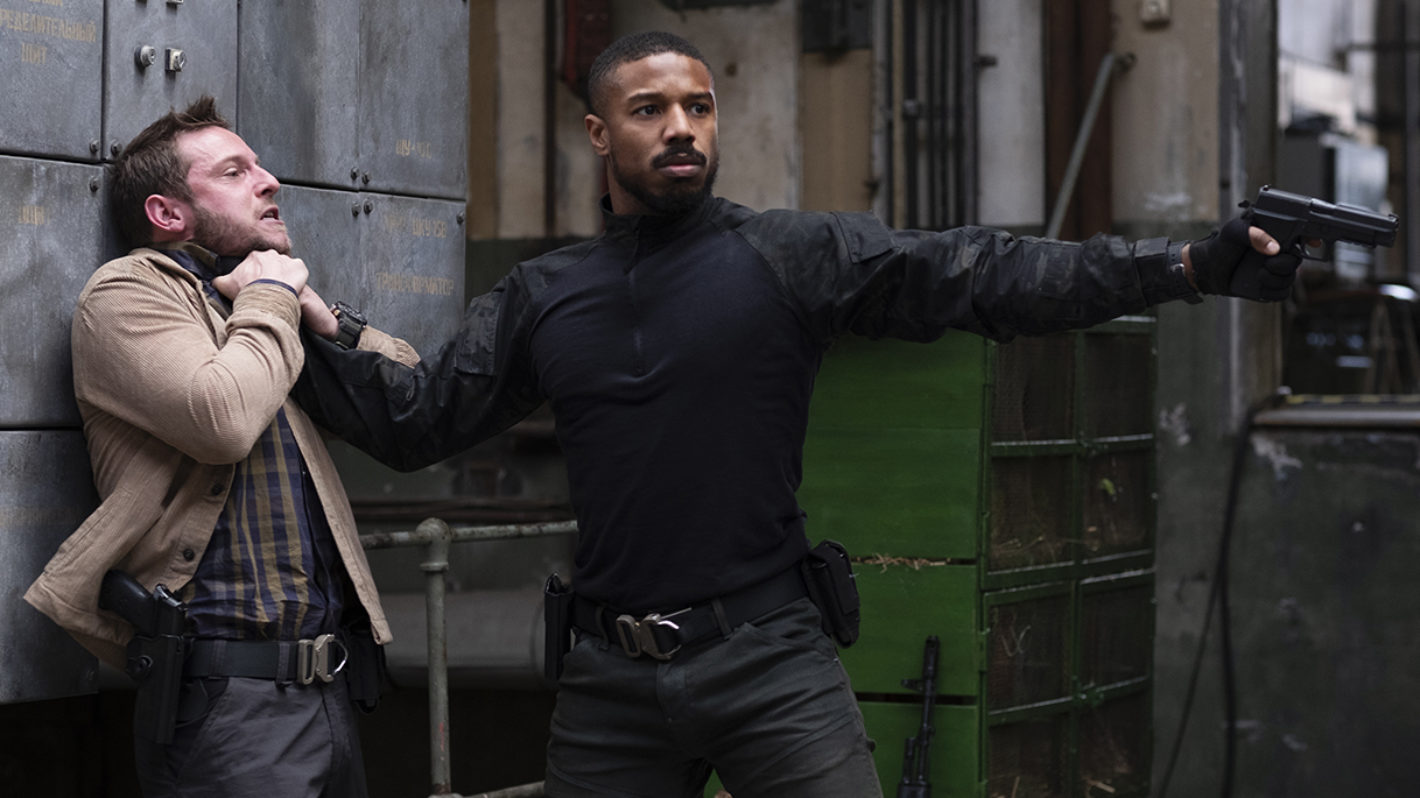 A man in a hand is worth a gun in the other.
I don't think I have ever cared less about the death of a fictional pregnant woman than in this movie. I am not saying she deserved it or anything. But we barely get to know her as a character before it happens. And it happens early in the movie. After that, there is some grief and determination to get revenge, but it isn't too believable. Jordan is too good of an actor to not have him focus on that anger grief sadness more and use it to tear the bad guys a new one.
Okay, the bad guys are teared into a new one. But it feels plastic. It feels like a generic action movie, because that is all that Without Remorse ends up being. A generic action film. I guess it being based on a Tom Clancy novel should have given that away. Not that I have first hand experience with any of the source material, like I already said, but lets go on and assume the plots are normally weak.
Despite Jordan being a good actor normally, there is little here outside of the standard action. Is there conspiracy twists? Sure. But they don't make things more interesting. I don't care about things setting up for future films when they can't bother to get the first one right.
Without Remorse has action in a lot of dark places, so you'll get to use your imagination, alongside many bullets for those who just like the action to be mindless while pretending it is more than mindless. (Note, this is not more than mindless). The people excited for this movie due to the previous ones or the books will probably like it as well, let's leave it at that.
1 out of 4.