The Divergent series has the honor of being the next Hunger Games series, movie wise. Even if The Hunger Games still has one more movie yet to come out. You know. Successful trilogy, third one split into two boring as fuck movies to milk more money out of teenagers. Whatever.
I wanted to like Divergent a lot more than I did. But, TL;DR, it wasn't a completely original dystopian plot line like it made it look like. It was kind of nonsensical at points, left a lot of questions, and it ended up just being a damn high school clique movie, in its most basic form.
HOWEVER. Insurgent can be something completely different. If the ending of Divergent is any indication, Insurgent shouldn't be a shitty high school clique movie. It should be a smarter sci-fi dystopian action movie. Class warfare shouldn't be an issue. Just rebels vs the government. Good. This one can be a huge improvement.
Pls don't let me down. Plsssss.
I was just as surprised as everyone else over the erotic lunch based three way scene.
The last movie ended with our heroes, Tris (Shailene Woodley), Four (Theo James), Peter (Miles Teller) and Caleb (Ansel Elgort) escaping out of Chicago and heading past the wall into the magical world of the unknown. After all, the wall was put up to protect them from the dangerous outside that had monsters and bad people and shit.
Wait a minute. Sorry. No. They just go into the forests outside of the city? Not outside of the wall? Oh…well then…okay. I guess they are just hiding out from the hippies, trying to figure out what the hell Jeanine (Kate Winslet) wants to do, now that she took out all the working class selfless people. That's right, only four factions now fuckers. The nerds, the jocks (which are scattered and small), the student government, and the hippies. Because it is still a high school in Chicago. Speaking of those factions, we get to see things from the hippies and the student government finally. The hippies are lead by Johanna (Octavia Spencer) and the SGA is lead by Jack Kang (Daniel Dae Kim, of Lost fame!).
Either way, the plot of this movie is our heroes on the run. Not physically, because apparently it is super easy to hide from almost everyone in Chicago, despite them only using like 5 buildings for most of the population. Their GPS systems must all be out of wack. Also, Jeanine found this mystical box under Tris' old house that her parents were hiding. That is why she killed them by the way, looking for the box. Didn't you know that they wanted it from the first movie? (I literally don't remember it, but it may have been hinted or mentioned). The thing is, this box has a message in it, written by the founders of the caste system. It will let them know how to deal with all these Divergent assfaces. They just need a really strong divergent to open it. Hmm, wonder who that could be…
This movie has a huge number of other people of course. We get the return of Jai Courtney, Mekhi Phifer, Ray Stevenson, Maggie Q, Ashley Judd, Tony Goldwyn, and Zoe Kravitz. But we also have new people, like Naomi Watts and Keiynan Lonsdale! Woo~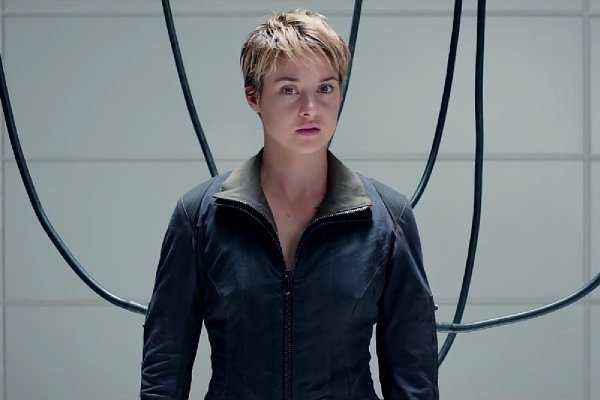 Oh, and didn't you hear that this one featured Bieber?*
As soon as I finished this movie, I was immediately asked by people what I thought about it. And I shrugged. I didn't know. It took me a long time to figure out exactly what I liked, disliked, and how I thought about the film as a whole.
Here is one thing I know for certain: Insurgent is better than Divergent. For sure. I had a lot to complain about Divergent. You might have heard about me doing so in my review of Divergent. But I still thought it was at least okay. So here is another thing I know: Insurgent is not good enough for me to give it a 3 out of 5, the like it category. It is a 2 out of 4 like Divergent, just a better 2 out of 4.
I was able to see this movie in IMAX, only my second movie to do so after Edge of Tomorrow, and it did feel good on the gigantic 3D screen. It had a lot of CGI based special effects going through these tests or whatever they were called and for the most part the looked pretty decent. It had more action than the first film. Real action, not bullshit "dangerous training".
On the other hand, the plot was pretty basic. It was very predictable, especially when it came to reality versus simulation. The only wild card was Miles teller. We mostly just had teenage angst carrying the rest of the plot, so it was pretty linear. Major plot points seemed like they were added on as an afterthought (read: that box thing that wasn't mentioned in the first film at all). And of course, this film still doesn't feature outside Chicago, which to every one that isn't a book reader, was pretty sure how this one would start. But whatever.
The film also still features a huge amount of confusing plot decisions and material. Maybe reading the books would fill the gaps, maybe they are shitty in the book too. Who knows. I know this is still entertaining enough to warrant a watch, but not enough for me to want to buy any of the series still or read the books. And the last movie being another shitty two parter means the franchise is probably at its high point right now. So sad. Please go back to Spiderman, Shailene.
* – Bieber jokes are still funny, right?
2 out of 4.