I wasn't always scowling at Suicide Squad. When they first announced it, well, I guess I had to google it just to find out what it was. Villains having to save the day. Sure, alright, cool.
What really made me excited is that Tom Hardy was signed on to play a role in the film! It was stoked. Then he left. Oh, okay. But then they got Jake Gyllenhaal to replace him! Oh shit, yeah! Good going! And then he turned it down as well. Fuck. What in the. Okay okay, then they got Joel Kinnaman, which does nothing for me. But I didn't get annoyed at the film yet.
No, what really killed me is that during filming there were almost daily "leaks" from the set, or quick glimpses from a random persons twitter, or whatever. Too much hype can really bring down a ship, and I hate a constant bombardment of advertisements. Not only that, but of course we have Jared Leto as his edgy Joker, maybe as the villain, maybe on the team, I have no clue. I just know that he was "method acting" and kept giving all of his cast mates shit, playing pranks and what not, to get into character. Honestly, he sounded like he was being an asshole.
That is what made me frown and choose to ignore the pre-screening. That is why I didn't want to wait hours just to see it. I knew it would wait. I don't care how good the trailers for it were, because Man of Steel and Batman vs Superman both had amazing trailers and yet they were disappointments. So that is where I am coming from for this film.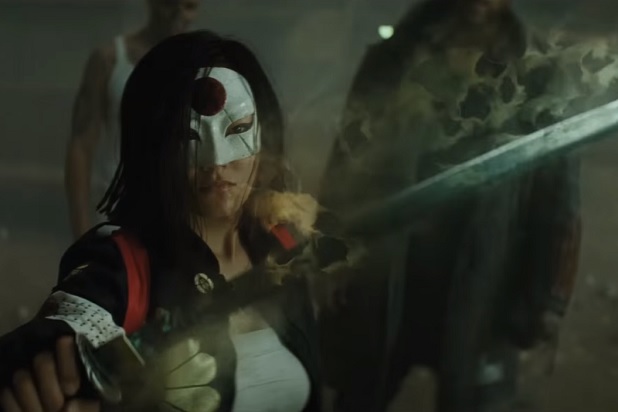 So here is a non asshole character and a non asshole actress, giving someone a new asshole.
The US Government is starting to get scared. What if another Superman shows up, but this time, he isn't friendly? They need to have a task force to bring them down, preferably some of their own strong people who are under their control. Well, they don't have any, or at least they don't have any that they can force to work for them. So Amanda Waller (Viola Davis), vague government official, decides that their team will be made up of criminal metahumans, who they have leverage over and who they can kill without too much of a worry.
So she gathers her team. Like Deadshot (Will Smith), who never misses. Like Killer Croc (Adewale Akinnuoye-Agbaje), who…looks like a human crocodile for some reason. There is El Diablo (Jay Hernandez), a former gang member who can control and make fire, but has since atoned for his crimes. Someone named Captain Boomerang (Jai Courtney) who can…throw a boomerang really good and piss people off? And Harley Quinn (Margot Robbie), who has actually no powers at all and really shouldn't fit this metahuman role they are crafting.
But that is just one prison. She has the mystical heart of the Enchantress (Cara Delevingne), an ancient being trapped in an archaeologist's body who has to obey her commands. Her main field officer, Rick Flag (Joel Kinnaman) is in love with her as well. And there is Slipknot (Adam Beach), who can apparently climb anything, where his climbing is metahuman levels or something. Finally, there is Katana (Karen Fukuhara), who wields a sword that captures the soul of those it kills. She isn't even a baddie, she is just helping out while occasionally avenging her husband's death.
Either way. Shit quickly goes down right after forming the team, good timing. And they are forced to help out of course to clean up a mess that is basically started thanks to the team forming in the first place. Hooray!
And yeah, Ike Barinholtz plays a dick guard, David Harbour a random government official, and some Jared Leto Joker nonsense.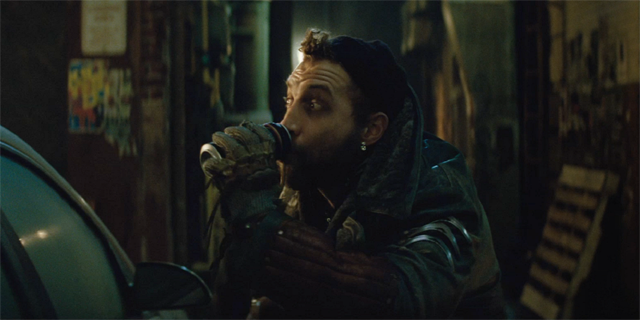 And drinking on the job, I guess that is Boomerang's other power.
Suicide Squad ended up being a mess of a movie, from beginning to end. The characters, the plot, the pacing, all come together beautifully to make this disaster of a film.
They explain that the Suicide Squad is set up to stop a Superman like being from dominating the world and battling him with other superhumans. Sure, fine. Now explain why Harley Quinn, described entirely as a wild card, on the team? Why is Captain Boomerang? The only ones that seem to have any amount of actual power and ability are the Enchantress, whom yes, is the main villain, and El Diablo, who barely uses his powers. Deadshot and Katana have some sort of powers or gadgets that make them above average, and Killer Croc is basically a mutant, but they are all just really good fighters. And what in the fuck, Slipknot? Can climb anything? Not even power based, but using gadgets? A complete waste of a character and has no purpose in this film (and the filmmakers must have known that).
Harley Quinn is actually in this film just so we can have a Joker connection. When I say "for whatever reason," the reason ends up being so the writers can move the plot forward without thinking things through. She is there just to be chaos and her character has no point. Sure she is a scene stealer, because they give her the camera time and the personality. And she magically has a cell phone so that the Joker can intervene as well, how helpful.
Katana is an interesting character. The Enchantress should have been an interesting character. El Diablo was an interesting as fuck character. Captain Boomerang was very amusing and should have been able to do something in this movie to not feel so pointless. But these characters are not expanded upon enough, because it is not actually an ensemble film. It is all Deadshot, Harley Quinn, and Amanda Waller.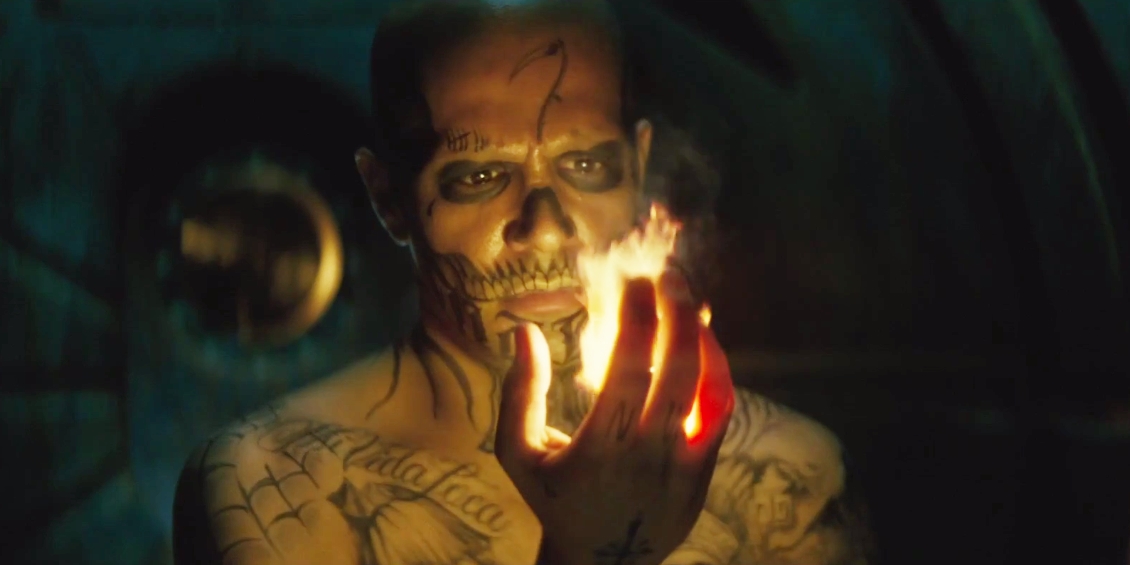 I picked these three as my pictures as the more interesting characters who didn't have a lot of time to be important.
So the pacing is also whack. Bad things start happening in Midway City (certainly not New York City). Big portals, scary stuff, mass death. And we find out before they get to the big baddie that it has been three days since it has started. Three days! So little fucks given from anyone in the world, including The Flash and Batman, which are established characters in this film and movie universe.
When they show up and finally confront our villain, oh hey, their spell had just finished and now the world can be destroyed. Your timing is terrible, unless they decided to just wait to finish it until their loved ones were all dead first.
There could have been a good movie in Suicide Squad. It needed to not have earth ending events though, given the people we know who could have saved the day. It needed small scale disasters that actually made sense for the team to accomplish. It needed to not have such a messy plot and so many unnecessary flash backs. And it certainly didn't need repeat what BvS ended up doing. Killing off a character and ending it with a just kidding. Two films in a row in the same universe? That is far worse than Marvel.
1 out of 4.