Divergent, or as I like to call it, the next fucking recent young adult sci-fi/fantasy series to have taken off, has been turned into a movie. Weeee.
A lot of these lately have been terrible. Did you see The Mortal Instruments: The City of Bones? I did, it was ghastly. So was Vampire Academy. The only recent successful one of these was The Hunger Games, which had a dystopian aspect, just like Divergent, and just like this random other movie The Maze Runner later this year.
So, will it actually be a nice parallel of society? Or will it just be made to make teens feel special? That's the important question with these adaptions.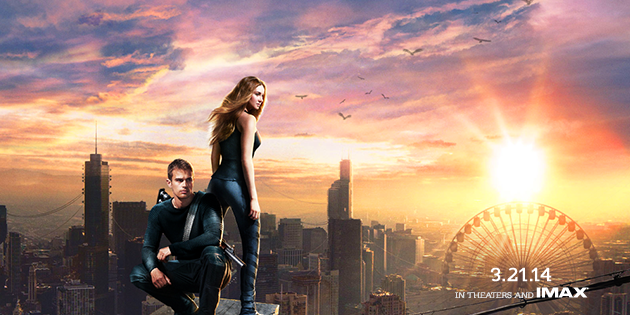 And here is the main characters ass as promotional material.
Beatrice (Shailene Woodley) is an Abnegation tribe member. What? Okay. This story takes place in Chicago in the future, after a big war, they have built a big wall around the city. They have split members into big tribes, each having a trait. Abnegation people are selfless, run the government, wear grey, simple lives. The Amity are peaceful, hippies, farmers. Not really talked about in this movie. Candor wear white, are honest, and just say whats on their mind. Yeah, another kind of pointless tribe I guess. Erudite are the smart people, doing smart stuff and wearing blue, the smart colors. Dauntless wear black and leather, the brave, the cities police force and protectors.
Well, Beatrice is about to go to her choosing ceremony, where she picks her faction she will live in from then on. Her parents (Ashley Judd, Tony Goldwyn) are big in Abnegation, and want her and her brother (Ansel Elgort) to stay in their area. Well, during her test to see who she actually fits in with most, her results are inconclusive, equally selfless, brave, and smart. It is called being Divergent, and it should be secretive, because people don't like free thinkers?
Well, Beatrice, now Tris, chooses Dauntless, as she always liked them. Now she has new friends (Zoe Kravitz), and has found out that just because she chose Dauntless doesn't mean they have picked her. Of the recruiting class of like 40-50 students, half will be cut after weeks of training based on physical skill, and then another half will be cut after emotional/mental training. So only like, 10 or so people will actually make it. Yep. This movie is mostly a training movie. Ha ha! Fooled you guys!
This gives us characters like Four (Theo James), her main trainer and probably love interest. Or Eric (Jai Courtney) a much meaner training guy. Kate Winslet is a mean smart woman, Miles Teller is a mean new Dauntless recruit, and Ray Stevenson is a mean Abnegation leader.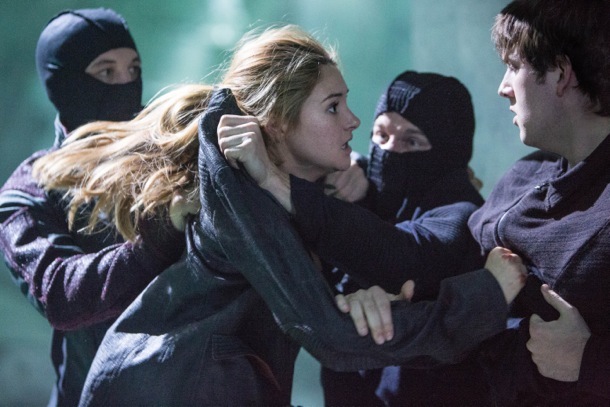 And shit, this movie has ninjas too!
So I felt like again, if I had read the book, parts of this movie would make a lot more sense. Just like every other damn young adult adaption. Here are brief thoughts about my ramblings, that as far as I can tell didn't get answered in the movie. Some are just world building questions that would have been very helpful.
How often does this choosing ceremony take place? Multiple times a year? How old are you when it happens? I guess the main character and her brother are not twins, but born close enough that they have to choose the same year? Does every faction have a long ass training process for when people join? I wonder how strict it is to train to be a hippie. Why did Tris not learn about what a Divergent is until her test, and only because she was one, but as soon as she does, it seems to be common knowledge for every other person what it is? With all the cuts the Dauntless people made, they literally only gained like what, ten recruits? How the fuck is that helpful? Did the plot really need to wait for the ten new recruits for something other than training to start taking place?
If the point of the faction system is to keep people in their place and get rid of human nature, why even let them choose what faction they live in after some random age? It seems like it'd be better to have the false notion of a choice, but in general, make everyone stay where they came from. Honestly, how does early life in other factions like Dauntless even work? Are there any parent type people there at all? It seems very messy to have people trained in a faction type for blah many years, and switch to a different faction, giving them awkward skill sets, that clearly they never lose after switching factions.
Really, this movie is literally just a high school movie, put into a Sci-Fi setting. We have cliques: jocks, nerds, hippies, normal people, and I guess gossipers or something. We have a high school girl, Tris, who feels like she doesn't fit in with just the normal people, so she tries sports. She tries to also be smart. So she is a nonconformists, and all the conformists want to get her for being different. Or something like that. That is what the movie boils down to.
It was a cool concept, but I also feel like the writer has no idea what the fuck she is doing. Just making an interesting story and hoping it works out. There is a good chance the second movie is better, given that it will take place outside of Chicago. Wait, why is Chicago now bad? They beat the main bad guys? It should be easy to fix now? Eh, whatever.
I guess I should also note the trailer is pretty misleading. It makes it look like because she is Divergent, she joins some group of underground fighters who train her and then they attack the government or something. Nah. Well, she gets trained, but the Divergent-ness seems to be mostly pretty pointless overall.
2 out of 4.