At the time of writing this introduction, Baby Driver was listed on Wikipedia as a British-American action crime comedy jukebox musical film, and when I first read that my heart skipped several beats. I am now dead. [Editor's note: I have gotten better, and the Wikipedia article has since been shortened.]
Those genre's together just seemed too good to be true, and it was. Because a jukebox musical means, 1) It is a musical, and 2) That the songs that the character sing already exist and come from the charts. But I knew this wasn't a musical, just a film that really, really, really, loved music. Music that yes, at different times, may have hit the charts. And even if the main character sings some of them, they still don't qualify it as a musical.
Which is sad, but I am mostly certain no one will turn a plot like this one into an actual musical. Or at least, not for film, but you never know with Broadway turning out 2 or more "Movie title, the musical!" films a year.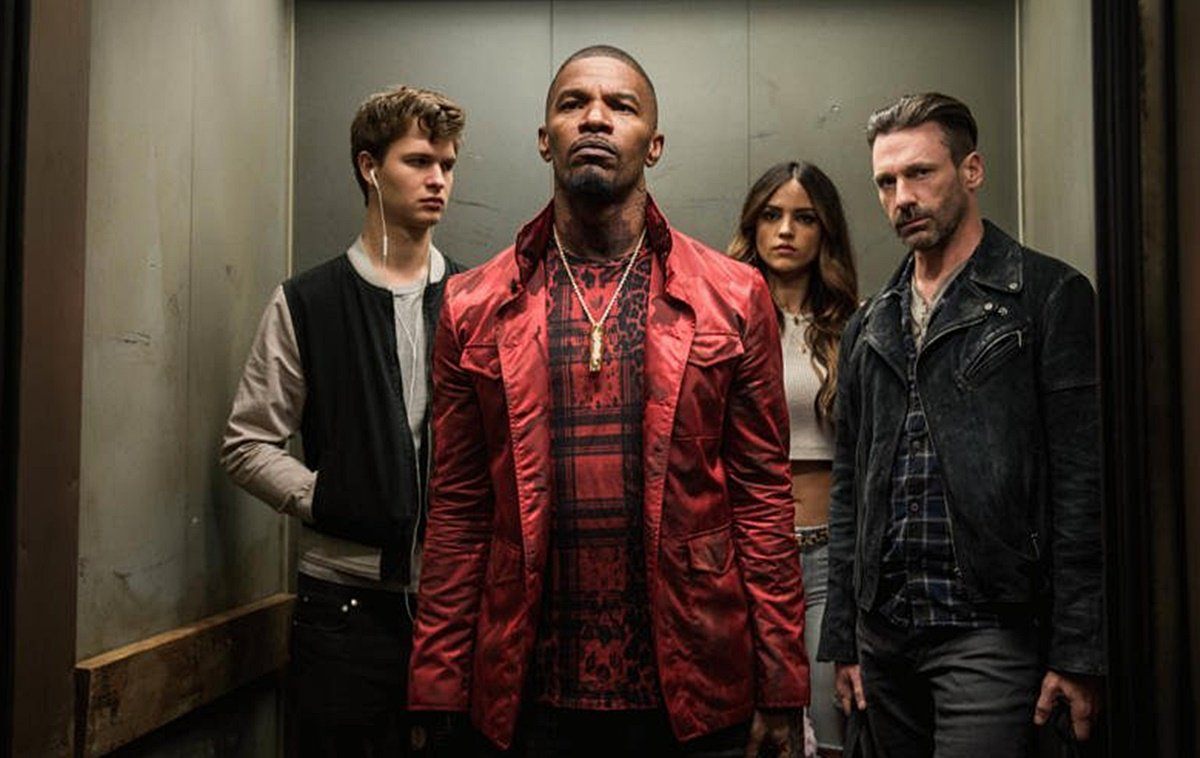 "Elevator, the musical!" is coming up and down this fall.
Baby (Ansel Elgort) loves music. It is a major part of his identity, there are always earbuds in his ears with an iPod playing a song to help the situation. When Baby was a kid, his parents got into a car accident with him in the back seat. They died, he survived, and he gained an ever persistent noise in his ears that won't go away. The music helps dull it out.
Baby unfortunately got into some trouble. He became very good at cars, being one of the best drivers around despite his young age. But one day, he messed with the wrong man, Doc (Kevin Spacey), and lost a lot of his merchandise. And now, to pay Doc back, Baby has been the driver for several bank robberies in the greater Atlanta area, with his share always going towards his payment. But as soon as he pays off Doc, he wants out. He just wants to drive and be free, he definitely doesn't want to hurt anyone.
Baby works with criminals, however. And criminals can be erratic and put his family in danger. His family being his foster dad (CJ Jones), who is now in a wheel chair, deaf, and needs a lot of attention. And Deborah (Lily James), a waitress at a diner he frequents who shares his passion of music and is generally a free spirit. So when the criminals start doing bad things, it is Baby's duty to get out of it while protecting those he cares about.
We have quite a few criminals played by actors like Jon Hamm, Jon Bernthal, Jamie Foxx, Eiza González, Flea, and Lanny Joon. Also featuring Sky Ferreira and Hal Whiteside.
Everyone knows that diners are the best place to go for music and pie.
Baby Driver, from start to finish, will keep you on the edge of your seat and the edge of your car seat as well when you are heading home. Don't watch this movie during the day, because you will want the roads empty so you can blast music and drive (responsibly) maybe a little bit faster. It will take over you, especially if you are a movie goer with varied music tastes.
Elgort has been in quite a few teenage romance / young adult films. The Fault in our Stars, Paper Towns, Divergent, even the Carrie remake. But Baby Driver is finally his jumping off point into something greater than all of his parts before combined. He is now part of a cinematic masterpiece, playing a role unlike his other characters, and hopefully will lead him to a lot of better roles in the future. Elgort might be a star, especially lucky after he didn't get the Star Wars gig.
The cinematography, the action, the variety of characters, the dialogue, and of course, the music, make Baby Driver a must see film. I especially appreciate at how diverse the music ends up being, from all sorts of decades and genres. In addition to that, having the action FIT the music is an incredible achievement and allowed me to sit in my seat in awe.
I can't talk enough about how wonderful an experience Baby Driver was. It is a film that I want to see again in theaters and will pick up on Blu-Ray day one of its release.
4 out of 4.