May 6, 2016
Captain America: Civil War
Captain America: The Winter Soldier before 2016 was the best Marvel movie to date. It was solid all around, had the best action, the biggest stakes, and was nearly perfect. Before that, Captain America: The First Avenger was probably the second most solid solo film of Phase 1, behind Iron Man and also behind The Avengers.
Despite the resounding success of Captain America films and the Russo Brothers at directing, I was worried about Captain America: Civil War. Like, really really worried.
First of all, it is one of the only full plot lines I have actually read the comics for, so it holds a special place in my heart.
Second, I had seen a few trailers and I was worried about a lot of things. If the trailers gave too much away. That the plot felt forced (unnatural) and the big fight between the two groups would be cheesy. That the previous films didn't set things up enough for the resentment to be believable.
A huge list of worries. I only need to state them out clear so I am not shown to be a fanboy. Especially after Batman vs Superman: Dawn of Justice, I was ready for disappointment.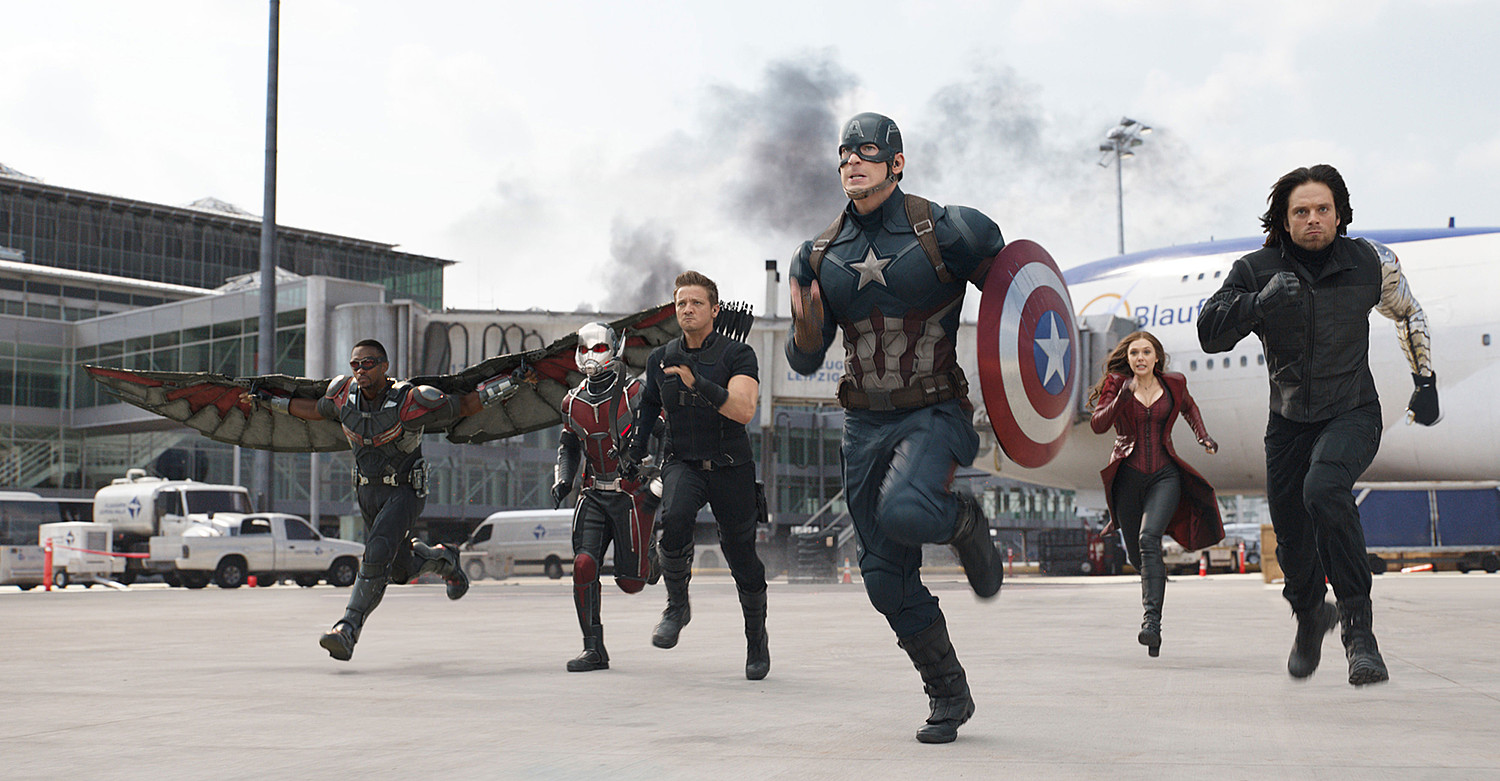 And no matter what happened, I would be Team Cap all the way.
This movie will make more sense if you saw Avengers: Age of Ultron and Ant-Man. I assume you did, because come on, Marvel.
The film actually starts out, after some flashbacks, in Lagos, Nigeria! Some current avengers (Captain America (Chris Evans), Falcon (Anthony Mackie), Black Widow (Scarlett Johansson), and Scarlet Witch (Elizabeth Olsen)) are staking out important buildings, looking for Crossbones (Frank Grillo). Needless to say, not everything goes perfectly and some civilians get hurt. Namely, a group of missionaries!
Based on those events, the events in NYC, in Sokovia, and more, the world has decided to stand up in unity and demand action. Over 100 countries have signed the Sokovia Accords, which states that the Avengers will now only act if they have permission from a UN Panel, and of course, have to act if they deem it necessary. A few of the Avengers agree with these accords. Iron Man (Robert Downey Jr.) is feeling guilty and War Machine (Don Cheadle) is on his side. Hell, even Vision (Paul Bettany) feels it is necessary to avoid problems in the future.
But not Captain. He has trust issues with these sorts of groups now, and doesn't want to be forced to step aside if he sees wrong doing, or be forced to do something he sees as wrong. So he doesn't sign the papers. The papers are led by the King of Wakanda, T'Chaka (John Kani), who is especially pissed that their primary export was used to make Ultron. And sure enough, more bad things happen. Apparently The Winter Soldier (Sebastian Stan) is at it again!
Fuck, so much shit. Captain believes Bucky is just brainwashed and wants to protect his old friend and not let the government kill him. So yeah, there is some conflict here. Captain and a few others agree to help him out, to get to the bottom of all of this, while the other guys have to stop them for negligently doing bad things to the UN and other officers. Fuck, who is right, I don't know?!
Also featuring the return of Hawkeye (Jeremy Renner), Ant-Man (Paul Rudd), and Agent 13 (Emily VanCamp). And of course, introducing Chadwick Boseman as Black Panther, Tom Holland as Spider-Man, Marisa Tomei as Aunt May, and Daniel Brühl as Baron Zemo. William Hurt plays the Secretary of State and Martin Freeman as the head of the UN Avengers Council thing.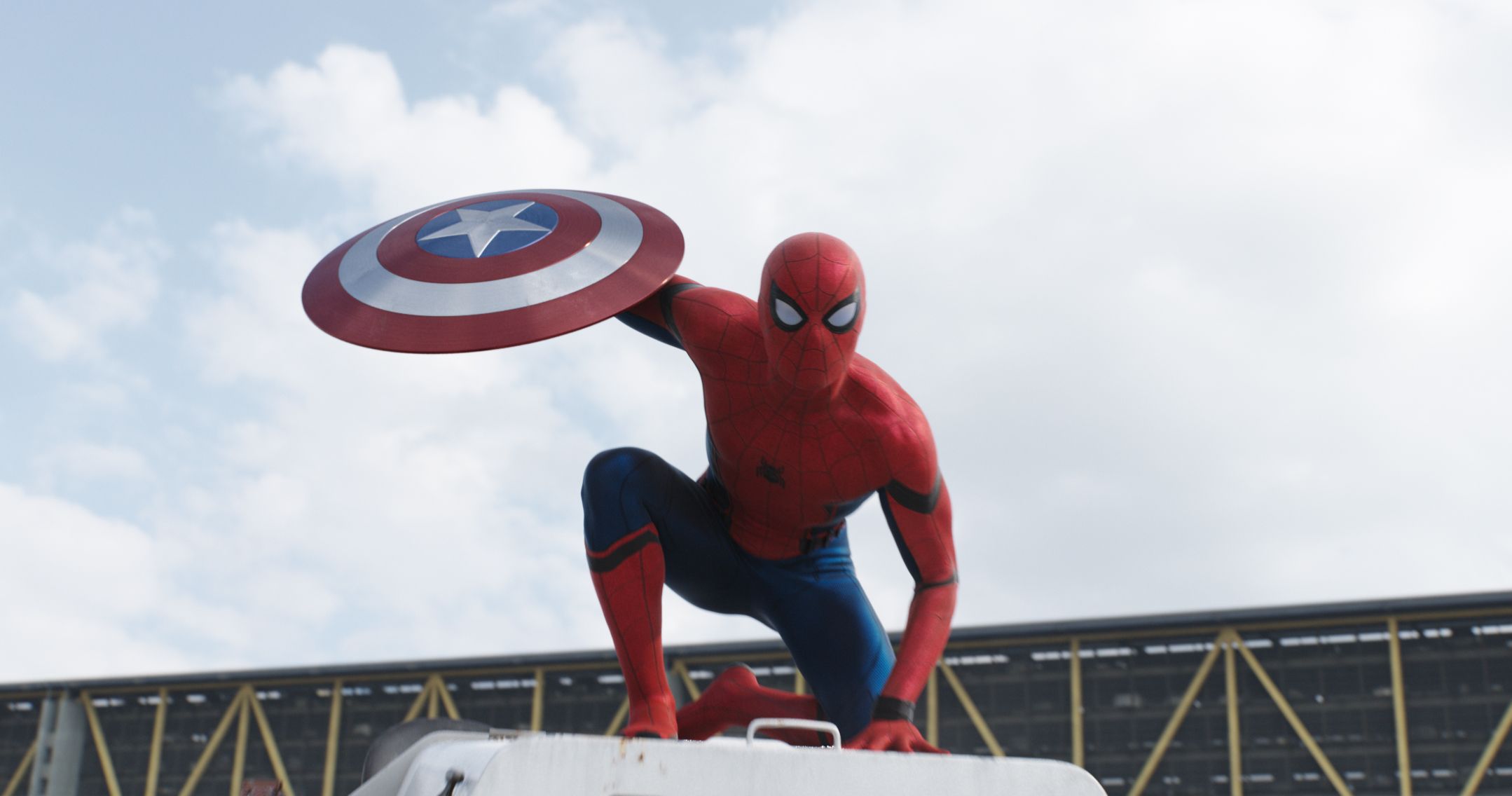 Shit Spider-Man, why do you gotta go and steal my boy's shield like that?
Captain America: Civil War is two and a half hours long, but I found myself wanting more. I needed more. More of everything! I could spend the next 500 words just comparing it to BvS, but that wouldn't be a review of this film, it'd just be a shitty comparison. So I will keep it short: Civil War did a lot of things right that BvS did not.
Civil War turns out to be a fanboy's wet dream. The action is incredible throughout most of the film. For each and every spout of athleticism, you can understand the fight. There aren't a thousand quick cuts or shaky cameras. You will not only see well choreographed fighting skill sets before your eyes, but each character fights true to their persona and powers, so no one ends up fighting the same. Of course, a lot of heroes end up fighting and battling with other heroes. We also get tons of team ups you haven't seen before. All of this creates for some intense scenes with a whole lot of fan service.
Now now, I know what you are thinking. If basically everyone is a good guy with future films, the tension can't be real. Well, for the most part you shouldn't expect people to die. Because it is a comic book movie and all that reason. I am not saying people don't die, but I am saying for sure a lot of people do get hurt, both physically and emotionally. This is not a movie that wraps up everything with a nice big bow, it changes the future landscape of the films…much like The Winter Soldier did.
On another note, Civil War doesn't go the obvious route throughout the plot. It didn't go the typical Marvel movie route. It didn't just keep escalating the odds to ridiculous levels. It had emotional backing behind it, on every side and even on the villain side. Some can complain that the villain is too calculating, but when I compare his plan to someone like Lex Luther's (fuck I did it again), his makes a lot more sense without ridiculous stretches.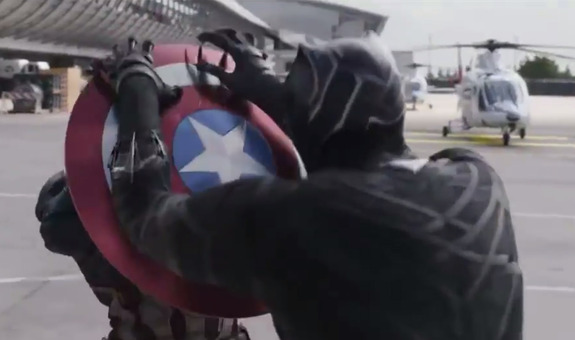 Thank's Black Panther. You are clearly just aggressively giving the shield back here.
Now here, allow me to hype things.
Black Panther HYPE! What a great introduction to this guy. He was shown to be strong, agile, moral with conflicting issues given his royal upbringing. His inclusion in this film was well written and explained, along with why he chose to fight. He is in this film a bunch, more than most of the other Avengers. I am so excited for this eventual film and future roles.
Spider-Man HYPE! Spider-Man was in this film a lot more than I expected as well. We got to see him as Peter Parker a bit as well for an introduction. His fighting was very spider like, along with his normal combat quips. They also showed his age really well, when compared to the old ass fuckers on the team, giving a clear and distinct gap in knowledge bases and general attitude.
Future films HYPE! I can't wait for more. Like I said originally, I wasn't looking forward to Civil War. After BvS, I certaintly wasn't looking forward to Suicide Squad. All of my hopes were riding with X-Men: Apocalypse, which I don't see as being good as the last two, and Doctor Strange, which I am pretty excited for. But now I have higher hopes for the future of Marvel films. Higher than I already anticipated.
On a final note, despite the large cast and significance of the plot, Civil War was worthy of being called a Captain America film. It wasn't just Avengers 2.5. His characters was largely the focus of the film, but at the same time he wasn't a simple protagonist. Chris Evans is GOAT, hooray movies.
4 out of 4.