I really don't have to spend a lot of information on this intro, do I?
Avengers: Infinity War (originally called Avengers: Infinity War Part 1, but people were nervous about half movies, and now the next one's title is a secret because of spoilers or something.
I was an ecstatic little girl when the first Avengers film came out, waiting for it as soon as the first Iron Man film finished. Since then, things have been a bit more middling. My reviews have generally always been positive, none of them ever received under a 2 out of 4, and some of which are maybe too highly rated. Not everything I am extremely excited for, but most I definitely have a higher interest.
Last year, no superhero movies made my top of the year list (although one of them was about a super hero, sort of). This year, I already had Black Panther as a 4. And yet this film, this one right here, has me just as giddy as the first one for so many reasons.
So let's just get into it.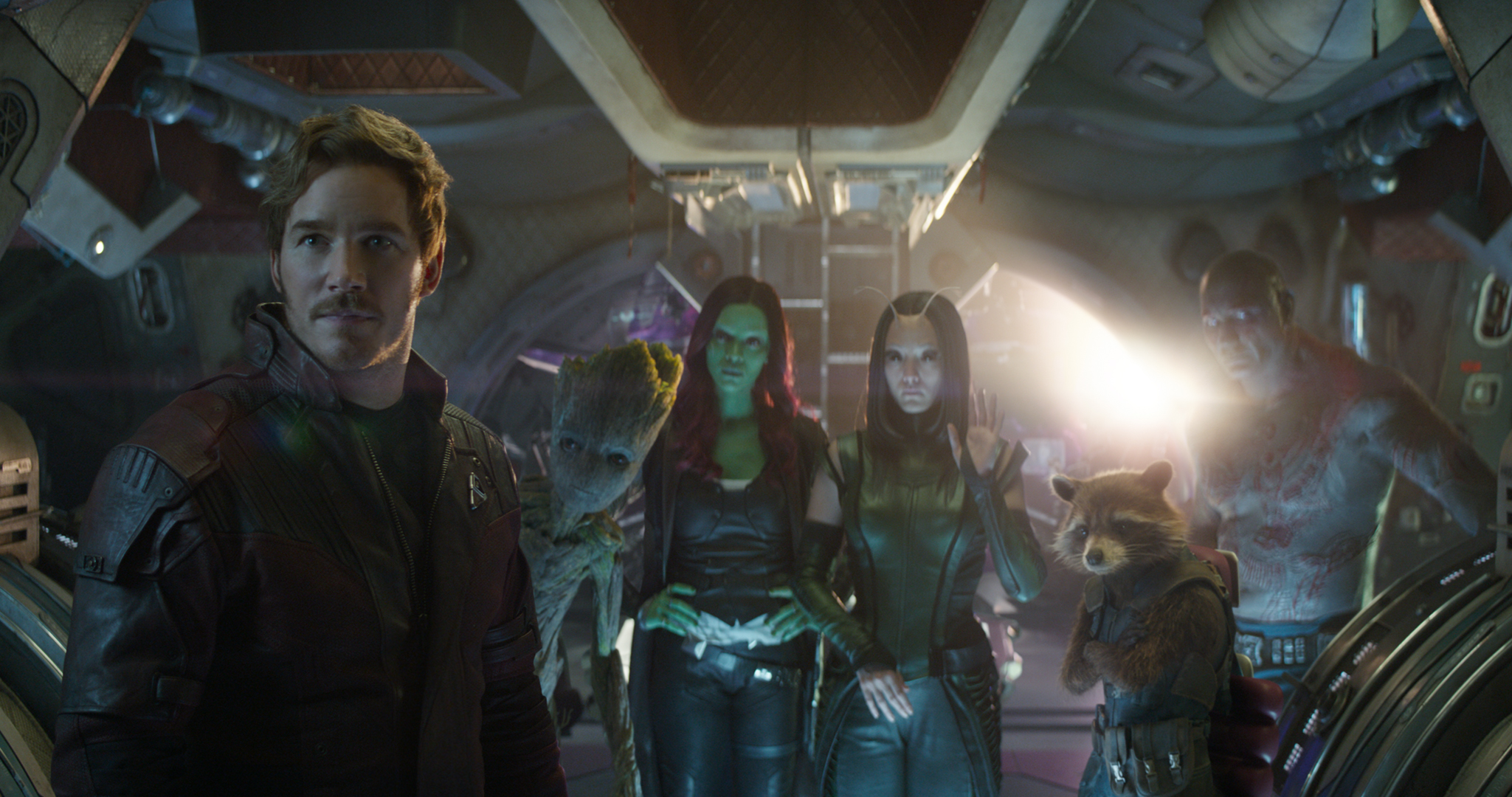 Oh yeah, look at these folks. Maybe this is just Guardians of the Galaxy Vol. 3?
At the end of Thor: Ragnarok, we had a surprise for Thor and his crew. This film takes place right after that point. Bad news for the Asgardians, Thanos (Josh Brolin) is here. At this point he has one of the infinity stones, out of six total. His goal? To wipe out half of the life in the universe.
Now presumably this just means sentient life forms who walk around and have languages. I don't think he has anything against puppies. Or plants. He isn't doing it out of spite, he is calling it mercy. It is sort of his thing. He has been doing it manually with his own crew for a while, but he wants the stones to do it instantly, so that the survivors can flourish. You know, by having more resources, more space, less crime, whatever. He is a benevolent God.
It turns out some people have some issues with him wanting to do this though. And with two of the stones (that we know of) being on Earth, he is going to have to come crashing down, where a few people down there are decently strong and going to have to put up a little fight.
Starring every goddamn person ever. You know, Chris Evans, Robert Downey Jr., Chris Hemsworth, Mark Ruffalo, Scarlett Johansson, Don Cheadle, Karen Gillan, Danai Gurira, Bradley Cooper, Letitia Wright, Winston Duke, Benedict Wong, Benedict Cumberbatch, Tom Holland, Chadwick Boseman, Zoe Saldana, Tom Hiddleston, Paul Bettany, Elizabeth Olsen, Anthony Mackie, Sebastian Stan, Idris Elba, Pom Klementieff, Dave Bautista, Vin Diesel, Chris Pratt, and Benicio Del Toro.
Also featuring some newbies, like Peter Dinklage and Carrie Coon! Two whole people! Wow! And some technically regular people like Gwyneth Paltrow and William Hurt. Damn, did I get them all?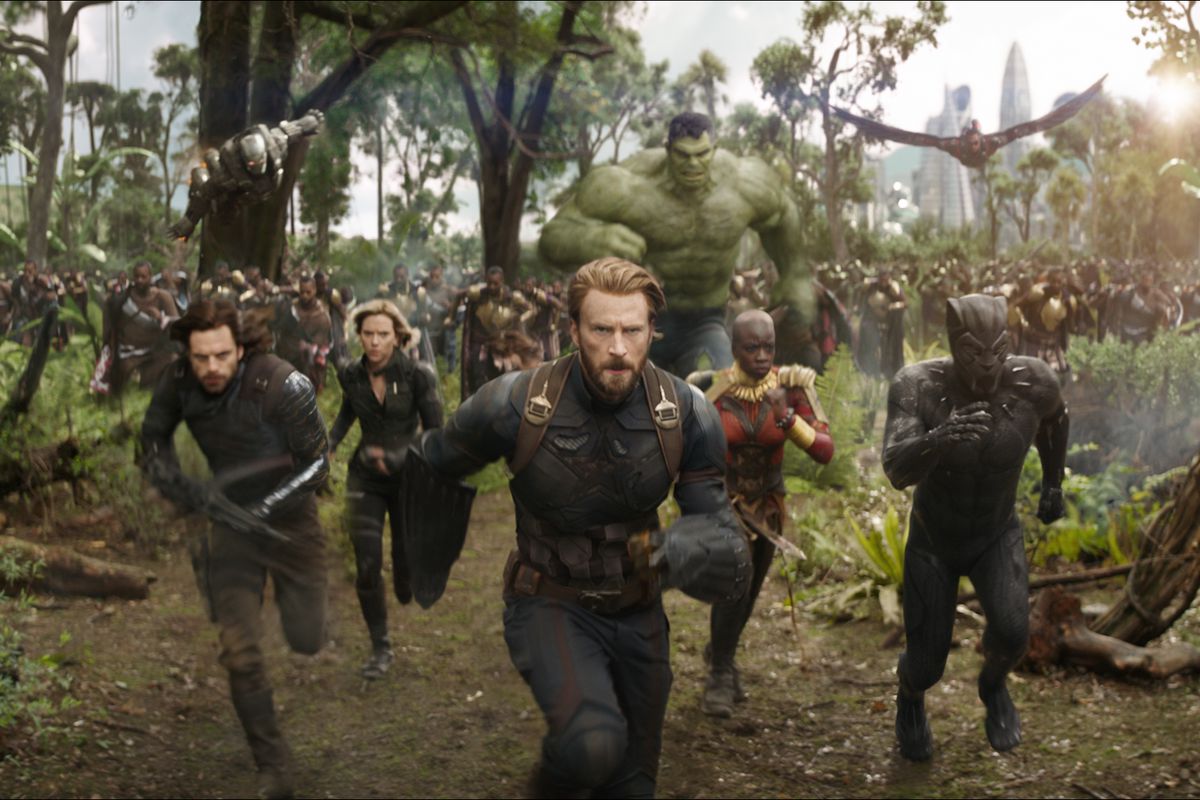 What is this a crossover episode?
What's to say that isn't already all over the internet?
Avengers: Infinity War is a fan pleasing romp across the universe, adding most of the cast we have come to love into a few surprising show downs, where the stakes have never been higher. It is certainly one of the darker and serious Marvel films at this point. People are going to get hurt, people are going to be sad, and people are going to cry. Well, maybe. I know I cried near the end, and almost another time before then.
Acting wise, a lot of the stars gave their A-game. Shout out to Cumberbatch who really felt like a leader of this group, despite being one of the most recent additions. Holland was brought in for his acting ability, and it really showed by the end. A lot of pain was on Evans' face throughout the film. Hemsworth is so goddamn Thor-y, its fantastic, and I am glad we got so much of him in the last few movies. And finally, Saldana, who is normally a low point from the acting carried a lot.
Of course I also have to talk about Brolin as Thanos, a role we have been waiting for for years and it really paid off well. This is a goddamn villain right here. It is really great writing when you sympathize with someone who is trying to kill half of the universe.
I don´t entirely know where Marvel is going with its ending, but I do have a feeling I will be incredibly annoyed by it in the next film. I think they are going to take what they did great here and ruin it with the second part, but that is just a gut feeling.
Avengers: Infinity Wars has some of the best fight scenes and team ups yet, and is just pure fan service through and through while giving an incredible story as well. I wish this film was longer.
I don´t have to tell you to go see this one, I know you will, and I can´t see anyone who likes the series to be disappointed with this milestone achievement.
If there is anything to be disappointed in, it is Marvel´s poor decisions to not include their other people. I haven´t seen Agents of S.H.I.E.L.D. in forever, but it seemed to react to the movies but never impact them, but someone from there might have been involved. And the Netflix shows? Come on, there was stuff happening in New York. If the Netflix shows ignore this event (which they didn´t ignore the first Avengers movie…) then they are just making poor decisions.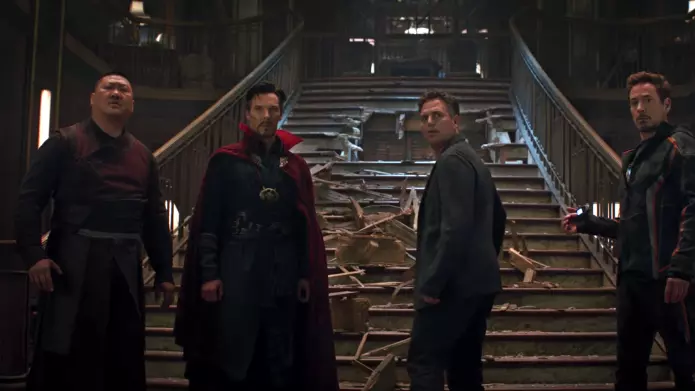 You'd think with three group shots I'd have gotten all the heroes. But nope.
4 out of 4.