Here we are, the epitome of strange film franchises.
Cloverfield was brilliant with its advertising, although it did leave a lot of people pissed off at the final product. 10 Cloverfield Lane came out of nowhere, announced about a month before it was released, and then ended up being pretty stinking good, thanks to great acting performances.
And The Cloverfield Paradox, originally was supposed to come out in April, got pulled from the release schedule. It then got bought by Netflix. And as we all found out on Superbowl Sunday that yes, it had a release right after the game, with only rumors released earlier the same day that it might happen. And of course a 30 second advertisement letting the viewers note that its release date was very soon.
It was brilliant, but again, it was dropped from the calendar and sold to Netflix for a reason. I knew that going in, I knew that I shouldn´t expect much. And I also knew that the fourth film in this franchise is coming out sometime in October, so no matter how bad this one ended up, it wouldn´t kill the franchise.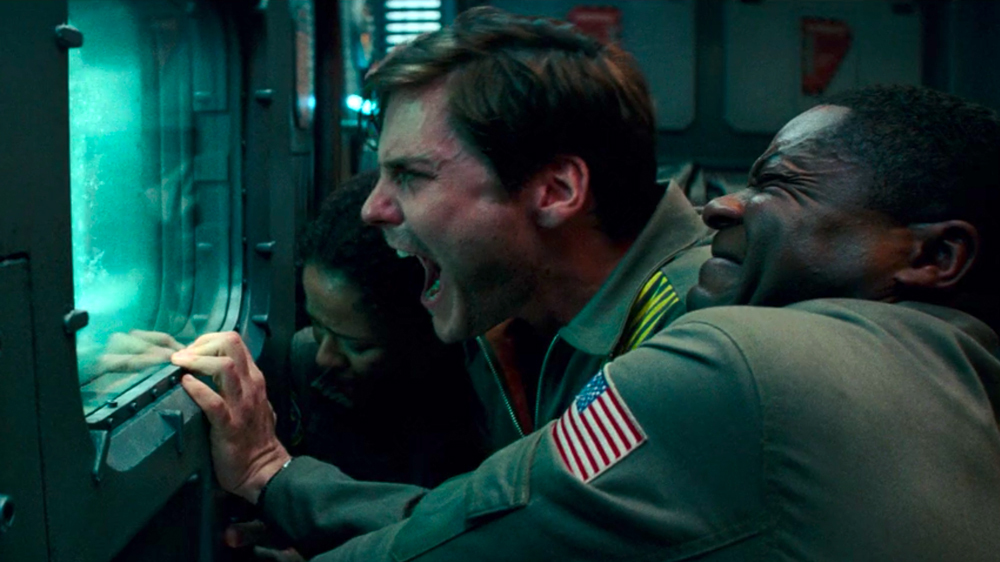 No matter how many times these characters scream, no one will hear it in a theater.
Aboard the Cloverfield space station, we have a team of international scientists working together to try and save the Earth. From what? From a global energy crisis. They have a large particle accelerator up in that space station to hopefully figure out how to get some sort of permanent, renewable, energy source that can save the world.
And they do not have a lot of time. Countries are ready to go to war for the limited resources left, and they only have three shots left of fuel to get things right. We have scientists from all over ( ) working to just make this thing work.
But wait! It finally reaches the good levels before shutting itself off! Did they solve the crisis? Maybe. Something still went wrong, and when they look around they notice that the Earth is completely missing. Did they move to a different part of the galaxy? Did the Earth disappear due to their science? Their compass is broken too, so they find themselves lost in space, where strange events start to take place on their space ship. People appearing, items missing, and a lot more paranoia.
Starring Gugu Mbatha-Raw, Daniel Brühl, David Oyelowo, John Ortiz, Chris O'Dowd, Aksel Hennie, Ziyi Zhang, Elizabeth Debicki, and Roger Davies holding himself together on Earth.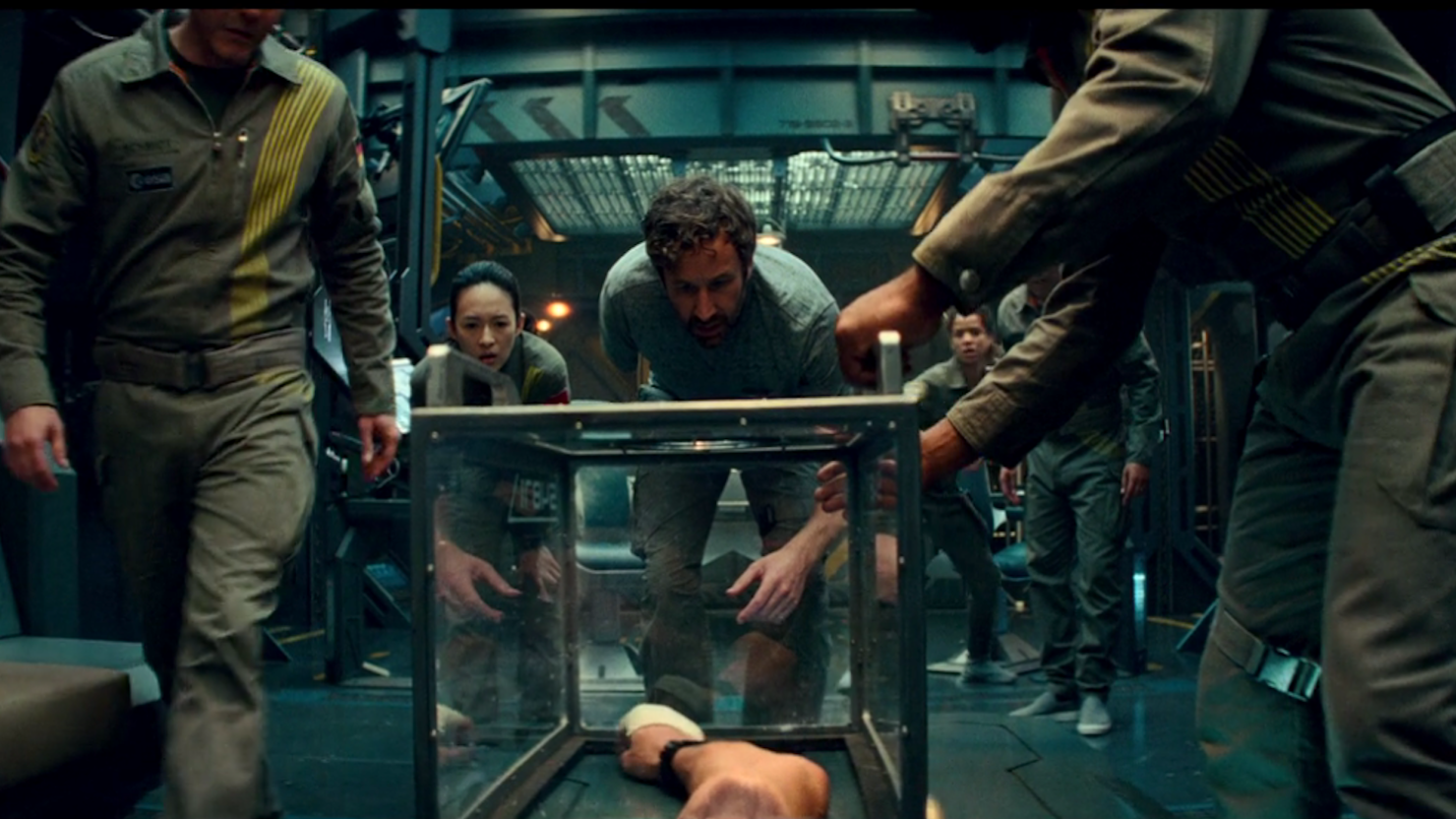 You got to hand it to this scene, it really strong arms the point.
I want to say that The Cloverfield Paradox is a film with a good idea and bad execution, but in reality, maybe it was a bad idea as well.
It is very obvious that this film was never intended to be connected to Cloverfield. More so than the previous film. Basically, everything on the space station was a different movie, but we had a character they added on Earth to communicate occasionally with, which connected the film to the previous Cloverfield. That and the last 30 seconds or so. So for the most part, this is just a space ship thriller movie.
But it did not do a good job of really deciding what it wanted. Was it a thriller? A drama? A strange comedy (Which was mostly O´Dowd. And his jokes/puns got annoying quickly, unfortunately)?
It featured a scene very early on of a news report that felt like a flashing neon sign letting you know what the movie was about to do, a very weak plot device. It then had our characters running around, coming up with solutions to problems that are never really fully explained. The viewer can understand the main problem, but most of the problems that happen in the film are just plot devices and never feel natural.
This film spent most of its time trying to set up something and just failing to deliver over and over again.
It was pulled from theaters for a reason, and put on netflix with no warning for a reason. Everyone everywhere has now seen it (Which is why I did not rush the review out) and it is a clunky, lame mess. Not even the several high caliber actors could save it. Instead, this film is more likely to be remembered for its stunt, not for adding anything valuable to what is turning out to be a very stupid franchise idea.
1 out of 4.