August 24, 2016
The Angry Birds Movie
When they first announced The Angry Birds Movie, you couldn't have paid me to see the prescreening of it. That is because I was steadily employed when it was first announced. Now, when the actually prescreening occurred, I would have gladly accepted money to go to it. Alas, if I went I would have had to go for free and that still wasn't good enough.
Now I played Angry Birds before. Yeah, like, in 2010, really early after it came out. I had an Android phone and it was 100% free, with a lot of components to it, so yeah, I played the shit out of it. Then I eventually stopped caring. I hated the space game, hated the star wars one, and well, just stopped caring, and never looked back.
At the same time I was annoyed by all the clothing and merchandising that was suddenly existing. It was just a small phone game, why would someone want a backpack with them on it? Oh well, I ignored it and then hey, six years after the game, a movie appeared.
Needless to say, waiting for it on DVD was always a safe bet for me.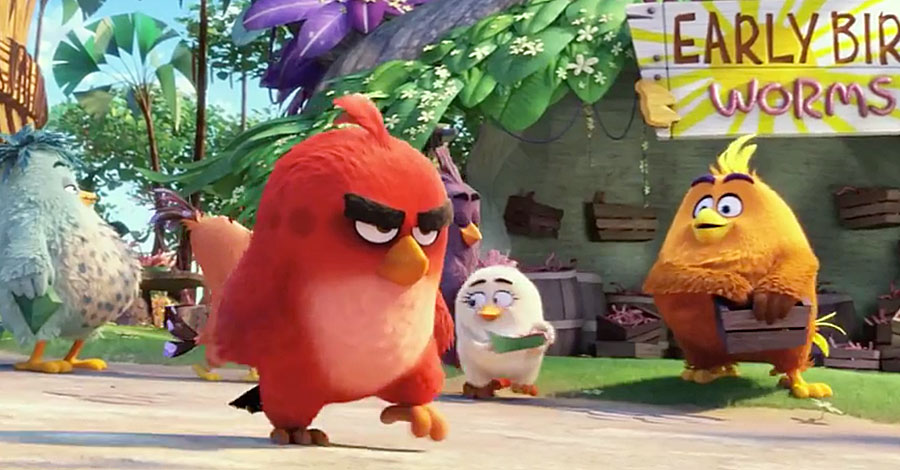 Oh yeah, they really captured his anger there.
Red (Jason Sudeikis), is a bird, and he is angry. Everyone else on this island is happy, but not him. He is pissed off. All the minor things really piss him off. And after a series of incidents, he has found himself face first in an egg, so now the chick thinks he is its daddy. So the family goes to court over the incident and the judge (Keegan-Michael Key) sentences him to Anger Management class, the harshest sentence!
At the class, it is run by a white bird named Matilda (Maya Rudolph). He also meets a yellow bird who is incredibly fast, Chuck (Josh Gad), a big black bird who explodes sometimes, Bomb (Danny McBride), and a very, very large red bird who doesn't talk a whole lot, Terence (Sean Penn).
But wait! A ship appears over the ocean. On it, a large pig named Leonard (Bill Hader), bringing gifts and technology to their small area. Everyone loves them, except for Red, because his house gets damaged in their arrival and he doesn't let it go. All of the other birds get annoyed at Red's anger and basically make him leave. Red decides that something must be up, as more and more pigs are arriving every day. He decides to bring Chuck and Bomb with him on a quest to find the Mighty Eagle (Peter Dinklage), famed super bird who can FLY to help save the day.
And if that doesn't work, well, then maybe they will have to fix things on their own before everything goes sour.
Also featuring voice work from Kate McKinnon, Tituss Burgess, Hannibal Buress, Tony Hale, and Ike Barinholtz.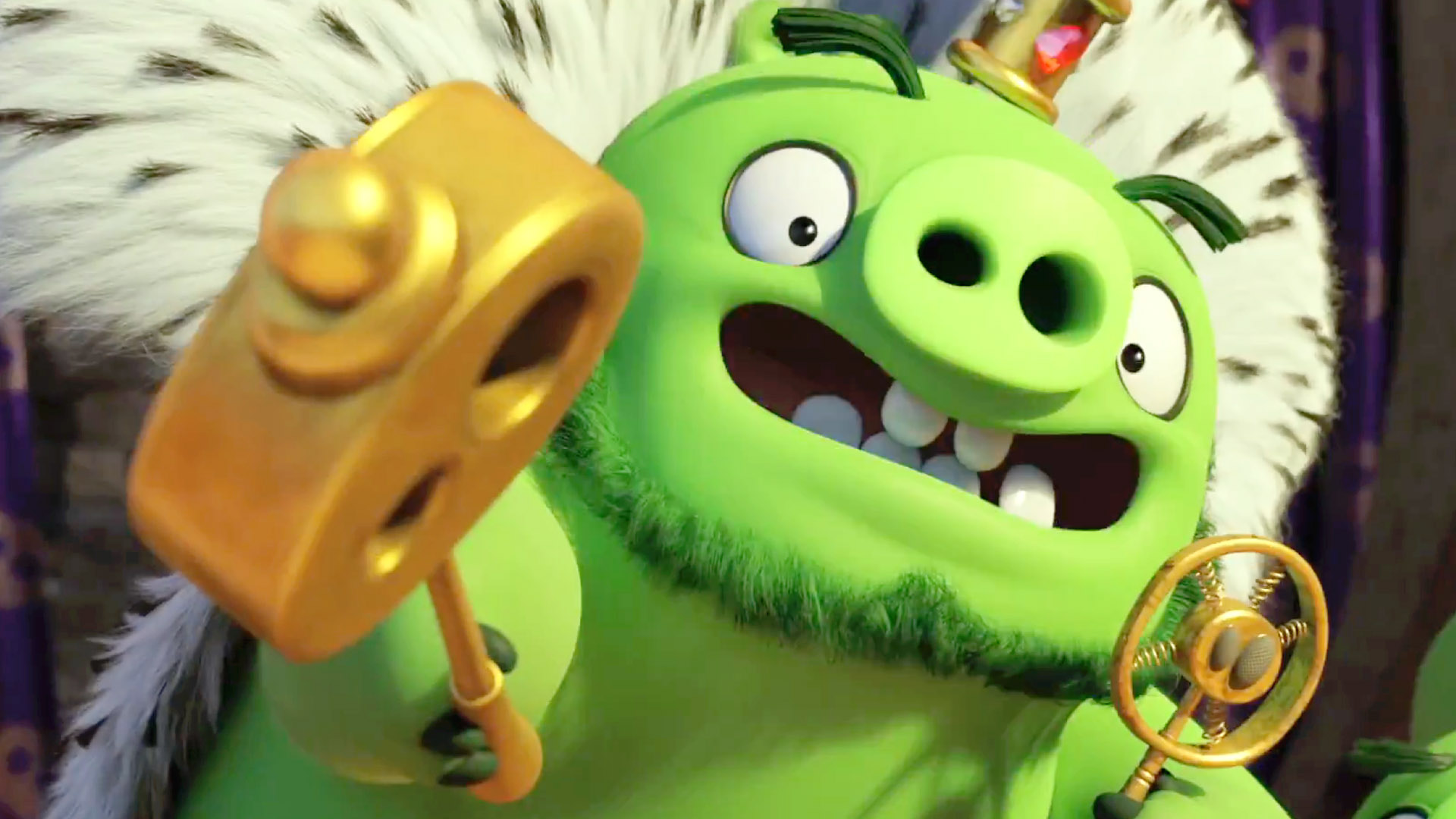 Oh, that pig is a king too. Royalty. King Leonard, the majestically hammy.
If you couldn't tell, I went into this movie expecting to hate it. A franchise that has become both forgettable and annoying, about a game with not a lot of plot. It seemed like a cash grab (and regardless of quality, it is still that). Judging from the animation style, I expected it to be just as annoying as most of the Minions movies have been.
And then I laughed. I laughed quite a few times. I was surprised at how much humor they actually smushed into the film. It has a pretty standard 90 minute-ish run time, but there are so many things going on, almost at all times. It was made for the ADHD crowd. Background jokes, frontground jokes, puns, double meanings, and more. And of course globs of reference humor. The last time I saw this many jokes in an animated film was Cloudy With A Chance Of Meatballs 2.
Despite how quick everything went, it still also took its time, surprisingly. It took almost a whole hour into the film before the pigs finally went bad and did the bad stuff, leaving just the last act to chase them down and tear down their city in retaliation, aka, the angry birds game part. Normally that would be an issue but time surprisingly flew by.
Heh, like the birds when you sling them.
The Angry Birds Movie has a shitty title and a shitty franchise, but damn it, it was a pretty funny film and a decent experience. It won't change the animated world, but it will make you giggle.
3 out of 4.