Seven years ago, Frozen hit the world one Thanksgiving week, and we weren't ready for it. I don't recall a lot about the trailers, but I do recall the teaser trailer, and it was very basic.
And you know what? I loved it. Most of the soundtrack was really good. They didn't use Menzel enough, and Groff was ignored stupidly, but they could have done better. It was still a really good sign of Disney amping up their animation department, and led to the also quite perfect Moana!
And let me say, that for Frozen II, I wasn't dreading it at all. I loved their first teaser trailer. It made this movie look darker, more plot focused, more adventure full. I was ready to be blown away.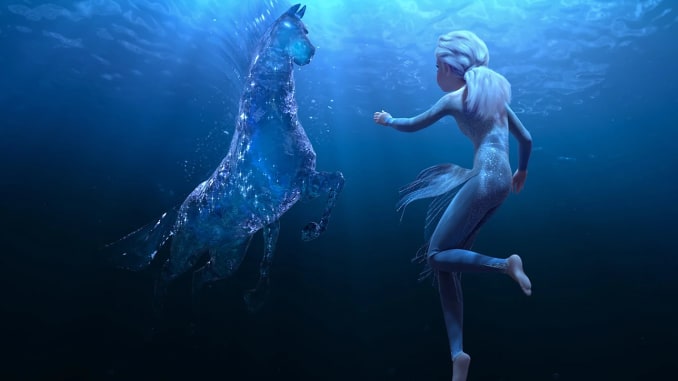 A water horse in water? That makes sense. Land horses are on land.
Three years after the events of the first film, everything in Arendelle is going so darn swell. The gates have been open, people are happy and prosperous, and oh golly gee gumdrops, everything will stay the same.
Except… Elsa (Idina Menzel) is starting to hear a strange calling in the distance, and only she is hearing it. And Anna (Kristen Bell) is helping run things, she loves having all these freedoms. Kristoff (Jonathan Groff) is about to propose to Anna, but she is so preoccupied with her sister things keep coming up. And Olaf (Josh Gad) is dealing with his strange existence, getting older and more mature.
All of this only slightly matters. What matters the most is that voice, and all of the exposition the beginning of the film talked about. There used to be an enchanted nearby that the old King saw when he was a boy, and the two groups tried to be friends. But, betrayal! Sadness! And a lot of magic left the world.
I guess Elsa just has that magical adventure itch, because she gets the gang together after a disaster in their city to try and enter that blocked off enchanted forest to see if they can figure out what is going on, or maybe just that voice.
Also starring various voices by Alan Tudyk, Ciarán Hinds, Sterling K. Brown, Evan Rachel Wood, Alfred Molina, Martha Plimpton, Jason Ritter, Rachel Matthews, and Jeremy Sisto.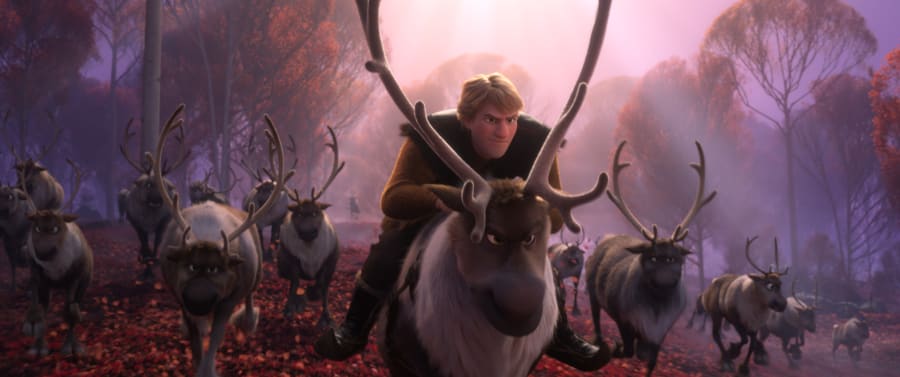 Reindeers rush better than people, Sven wouldn't you say that's true?
Really early on in Frozen II is when I realized things weren't going to be as good as I had hoped. It started with a scene from their childhood, pre trolls interfering with memory. And it had the long story their dad said about the forest, and a bonus mom song. And the entirety of the movie relies on the scene.
The entirety of a sequel relying on a scene that didn't happen in the first film? Ugh. There were a lot of plot points they could have naturally done based on the first film. Hell, they could have done most of this film without that scene. But really this just feels like changing the canon. Sure, that kid conversation could have happened in their life and not changed the first film at all. But it now just feels tacked on.
Another downgrade for me is the music overall. Now of course, I love that they gave Groff his own song and parts of other songs, keeping true to his character. They also used Menzel more. But most of the songs don't capture the spirit to me like they did in the first film. I already listened to the soundtrack a second time and I am not left with whimsy, I'm not wanting to hear and sing a long over and over.
Again, overall, the plot is okay. It has some good parts, some lame parts, some rushed parts, and some tacked on parts. Some of the Elsa and Anna scenes are really strong, but the film overall feels a lot weaker. And that is a shame. It will still probably win an Oscar for animated awards because the Academy is usually really lame though.
2 out of 4.