When The Angry Birds Movie came out a few years ago, I expected to hate it and to trash it and talk more about how many animated movies were crap.
And then I liked it surprisingly enough. Yeah, I don't get it either. My current theater is that I just like things with Jason Sudeikis attached far more than other people.
So now it is time for a sequel! A great title of The Angry Birds Movie 2, and technically I am not dreading watching it? I now have higher hopes for the sequel instead of zero hopes the first time around, and that will probably change my entire outlook. I still don't play the game anymore, and thought the sequel game series was terrible.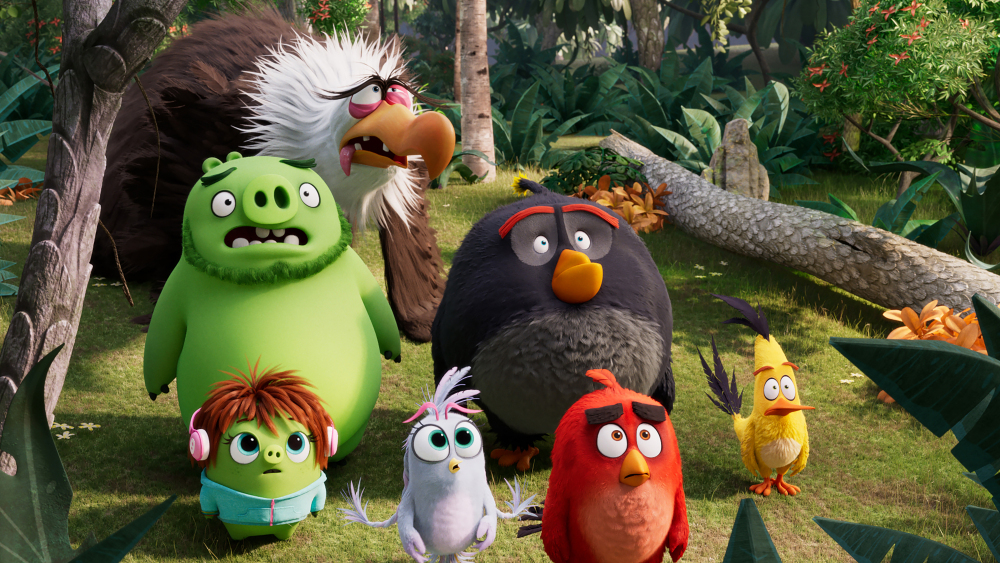 Ah look, a cast and crew of ragamuffins ready to overcome the odds.
At the end of the first film, Red (Jason Sudeikis), Chuck (Josh Gad), Bomb (Danny McBride) and friends helped lead an assault on Piggy Island. The pigs, led by Leonard (Bill Hader) had stolen all of their eggs and were gonna eat them. Despite being flightless birds, they were able to use slingshots to fling themselves to the island and destroy the hell out of that place.
This led to modern day. Red is now a hero! He is loved finally and not hated. There is a big prank war going between the two islands but Red is always on the lookout keeping things safe. Until Leonard wants…a truce?
It turns out they are now sacred over a third island, an Icy cold island further away named Eagle island. There, a strange purple bird named Zeta (Leslie Jones) is somehow able to send giant ice balls to their island, with the intent of destroying them so they can move in an rebuild. Once they realize this threat is real, both sides do have to come together and expand their teams in order to infiltrate the base and stop that cannon.
But they need someone smarter, and Chuck has an engineering sister named Silver (Rachel Bloom), who is super smart. Smart enough to be the leader. And being a leader is the only thing that is keeping Red in the limelight, so that will lead to conflict.
Can they save the day before every little piggy and birdy is wiped out by ice fire balls?
Ahem, also starring the wonderful voice work of Awkwafina, Sterling K. Brown, Eugenio Derbez, Tiffany Haddish, Peter Dinklage, Pete Davidson, Zach Woods, Maya Rudolph, Dove Cameron, JoJo Siwa, Tony Hale, Nicki Minaj, Brooklynn Prince, Lil Rel Howery, Beck Bennett, and Gaten Matarazzo,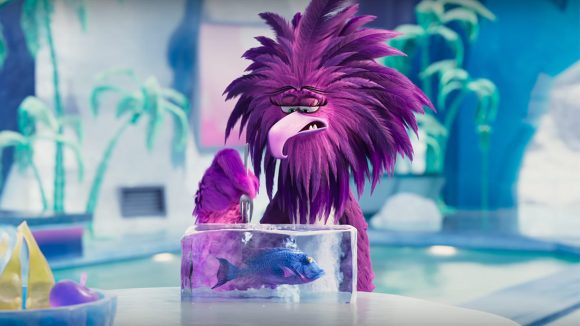 Fish. Fish is sad.
Again, I fully know that I liked the first film more than others, but this sequel drops so far in quality. If you hate the first film, this one is likely to be one of the worst films of the year for you. Easy. And as someone who liked the first film, I am incredibly disappointed with the sequel.
A large portion of the jokes are just based on current pop culture, which is not a good indicator of comedy. It will date the movie, firmly place it weirdly in 2019, and not age well. A really good joke actually occurred in the movie with Bomb about "taking out the guards" for their mission. It was clever and unexpected. And then the scene went on too long and they added Baby Shark to the mix, completely making it cringey.
Ferdinand was a bad animated movie and the worst part was an extended dance scene in that movie between the heroes and others, and that almost happened in this film as well. A dance off occurred, it just wasn't as long, and still completely pointless.
The jokes aren't as funny. The plot doesn't naturally follow the first film. The entire point of the ice/eagle island is strange. I could ask 20 questions they didn't explain, and its all just…pointless. The villain is not good, and the mission is not good, and they way the day is saved in the day is really weak. It sure does try to bring back women characters to the 1960's.
But let's make one really big irritation clear. At the end of the first film we got to see three tiny blue birds hatch. Those birds are in the game, and are used to help destroy ice structures. Oh hey, this movie involves an island full of ice structures. Clearly they would…NOPE. Those birds aren't in this movie at all.
THEY TEASED US WITH THE ICE DESTROYING BIRDS, GAVE US A SEQUEL WITH ICE, AND THEY NEVER APPEARED IN THE SEQUEL. What is wrong with the creators? Are they Satan? How could they fall so low??
1 out of 4.