August 25, 2013
Drinking Buddies
Video on Demand is a wonderful service, for indie movies. In my area at least, we never get them early on, it will take many many weeks later, perhaps months. At that point, I might as well wait to watch it in the comforts of my very small apartment.
But video on demand lets them complete the indie circuit and let me still get to watch the movie relatively early in a movies theatrical release. I feel like a celebrity, watching a movie before it comes out.
Thankfully, Drinking Buddies, stacked with a pretty famous cast and an indie comedy, has chosen to VOD UP, and let me get my review on. Thanks guys!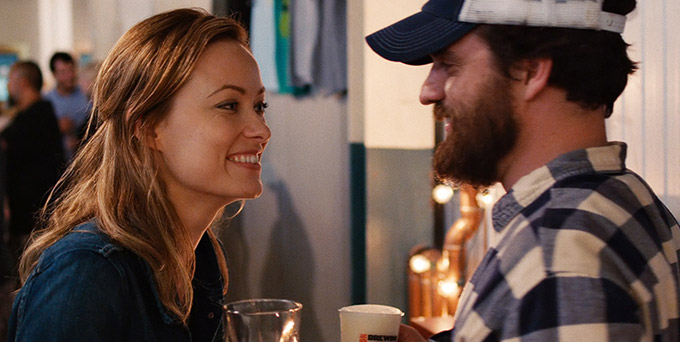 Wow, they really do look like buddies!
Ugh. Chicago. Okay, I won't judge the movie by the city. But still. Chicago.
Our heroes work at a craft beer company in Chicago! Hero is a strange term. Kate (Olivia Wilde) and Luke (Jake Johnson) are both high up the ladders, so they have extra time to have fun while on the job. Their boss (Jason Sudeikis) is fine with it all, as long as their work gets done.
But life is a playground when you work at a beer company! They'd be the perfect couple too, with all their flirting and shenanigans. Too bad they are both in long term committed relationships. Oh yes, what a bummer.
Luke is with Jill (Anna Kendrick), and they are even in marriage talks. Kate is with Chris (Ron Livingston) and he doesn't get to hang out with Kate's coworkers like ever. UNTIL NOW. That is, until they go to a cabin in the woods (not a horror movie) as two couples to experience nature and infidelity.
Whoops. That's no good.
Say one of them breaks up with their significant other anyways. The chances are not high that the other one will break up too, and even lower that it will lead them to each other. Right? Right!?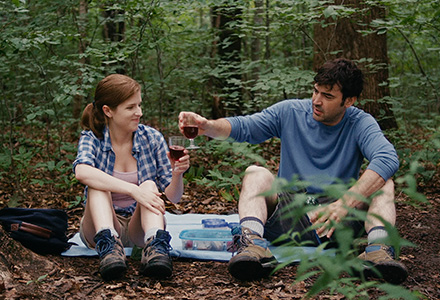 Fuck. This movie title is so aptly named.
Most important thing to note about Drinking Buddies is that I did not laugh once. Not a single time. The characters laughed, quite often, but there was nothing ever inherantly funny about what they were saying to make me laugh too. It was just friends goofing off with each other, shooting the shit. Character laugh, doesn't mean comedy. Shit, the term comedy doesn't even really mean happy ending.
Drinking Buddies ends up being just another strange "comedy" drama indie movie, that tells part of a story, without a real conclusion, and a lot of very real situations. Just this one stars four relatively famous people. That is it.
Okay, sure, you can see Olivia Wilde's boobs in this one, but only briefly, and that is just because sometimes you just NEED to go skinny dipping. But that isn't a good reason to watch a movie, is it?
Sure, things happen in this movie, but it doesn't feel like a lot when it is over. The acting is okay, but the story itself just doesn't seem like one that needs to be told.
1 out of 4.