December 14, 2021
Nightmare Alley
The last time we got a Guillermo del Toro film is when he directed the one about fucking a fish.
Will someone fuck a different creature in Nightmare Alley? Hard to say based on the title alone. I did not know until a little bit before hand that Nightmare Alley was an older book, and also an older movie from 1947. So we are getting a remake. And honestly, this is the exact reason for remakes in my mind. Often remakes are made for successful film that they just want to try again because people liked the first one. They should do more remakes either based on films that failed, or at least just more unknown work to give them a new fresh light.
Not to insult those of you who know and love the original Nightmare Alley film, but honestly, it isn't super well known now, regardless of how big it may have been in the past.
This new version promised to be closer to the book. Alright, whatever, I am just hear for the movies. Specifically, Guillermo del Toro movies.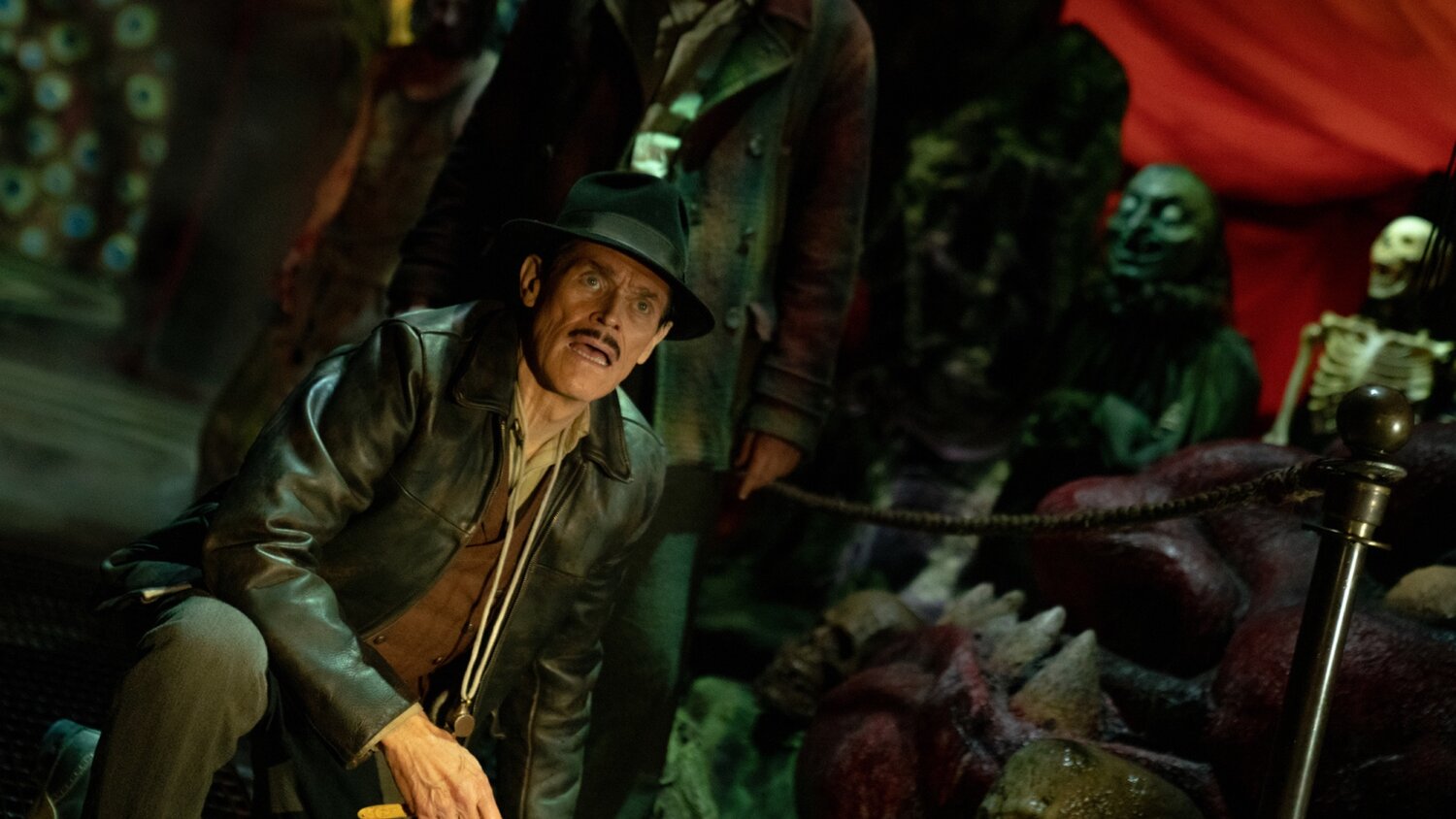 No, this isn't a screengrab from the next Indiana Jones flick…
Who is that mysterious stranger, Stan Carlisle (
Bradley Cooper
)? The one with the smooth outfit, the clean face, the twinkle in his eyes, the hat? The one who burned down that house for some reason and is willing to just…drift.
Stan finds himself at a traveling show, a carnival, full of lies and deceit. But he sees a geek show, and agrees to help load up for the night for a small payment. And then he gets offered a job to stay along more, because he looks like someone who just needs to be there.
So he stays, he listens, and he learns. Quickly. He learns the tools of the trade. He has plans and ambitions. He has been kept quiet and hidden for so long, he thinks he can take some of these skills and become famous. A celebrity. But if he becomes a man who deals with deceit, eventually, he will be deceited right in the ass.
Also starring Cate Blanchett, Clifton Collins Jr., David Strathairn, Holt McCallany, Mary Steenburgen, Richard Jenkins, Ron Perlman, Rooney Mara, Tim Blake Nelson, Toni Collette, and Willem Dafoe.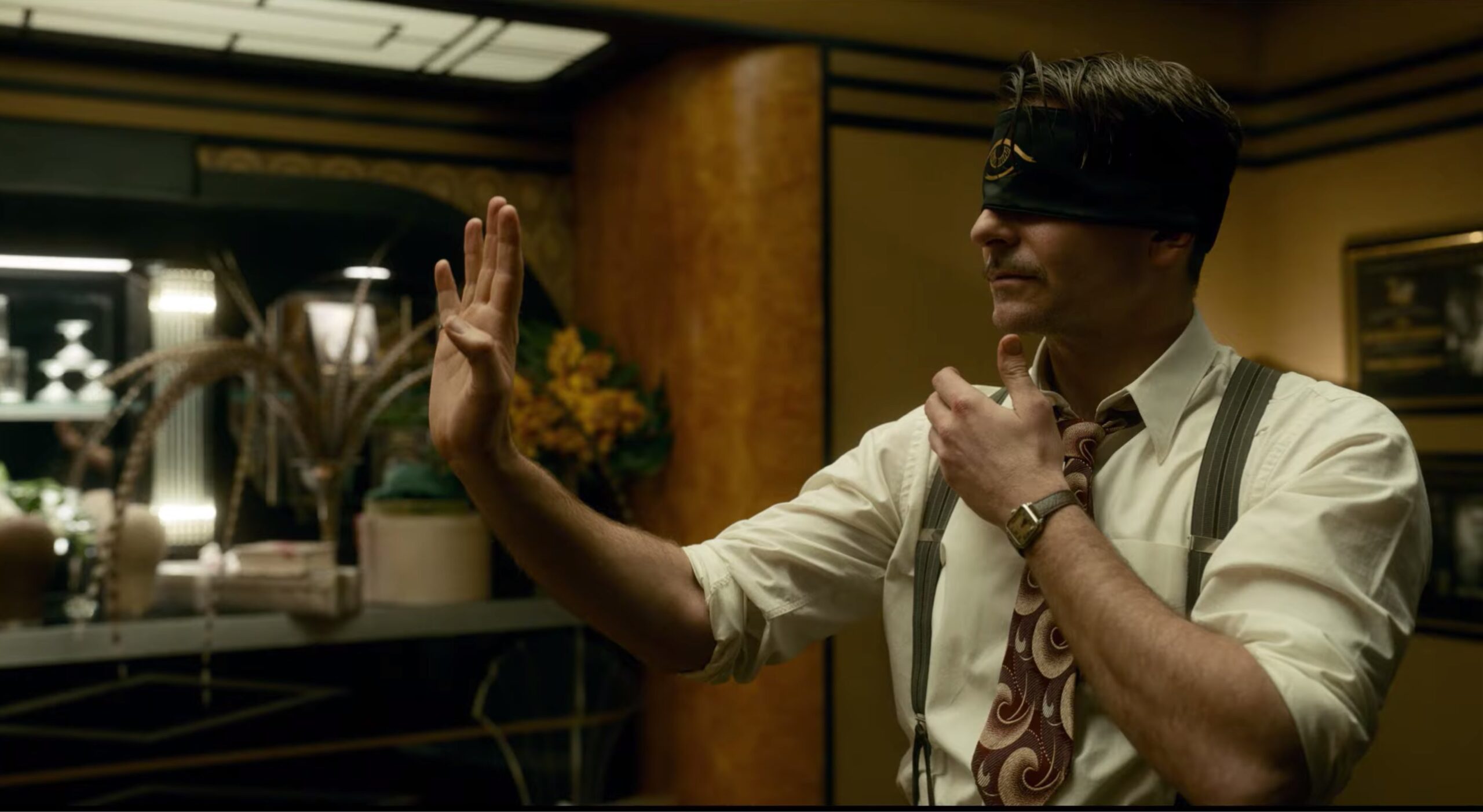 I bet his eyes aren't even closed under there. He is using those eyes and his blindfold eye. He is a phony!
Nightmare Alley is so damn aesthetically pleasing to look at. It is polished (some would even say, polished as fuck). I know it is getting harder and harder to really tell how much of a movie is made in front of green screens, but it feels as if this film was mostly main in real places and scenes, using fine cameras to make everything pop. That is what I truly hope and believe, especially since I know del Toro is a fan of using as many practical effects as possible, generally. But maybe most of it is CGI'd, who knows. It looks wonderful.
The big cast works really together. Some in much smaller roles than expected, but still bringing in their all to tell this strange story. It was good to see Perlman get some work in a non straight to video film. Blanchett is in particular quite a force, basically stealing the movie away from Cooper's character after she walks into it. She is given a really strong role and one that is hard to top. Cooper also does a wonderful job. It takes awhile before his character starts to talk. I wondered if he would be a silent protagonist for the whole film (like Cage was recently in Wally's Wonderland) but once he started to actual talk, getting him to stop was the harder part.
The actual story for the film is also a pretty good one, if not slightly familiar in some ways. The ending is the type of thing you can see miles away, because they foreshadow everything really hard. However, it is okay knowing how it ends up, because finding out the lengths someone can fall and also rise is often the most exciting part of a film.
Nightmare Alley, shockingly, has no puppet animals, or strange creatures, or any non humans getting fucked. Is this growth? Nah. That was a one time thing for del Toro. Until it isn't.
3 out of 4.