I wrote a shit ton for Star Wars: The Force Awakens. Like, 1300 words or so. I had to explain my history with Star Wars, my avoidance of hype, and the film itself, so it was a lot to say. Overall, I enjoyed it, but it had its issues. I won't reharp on any of that here.
I will instead just talk about Rogue One: A Star Wars Story and spin-offs. When they announced the new episodes and the spin-offs, I was honestly more excited about spin-offs. Finally, stand alone stories that don't involve a Skywalker. Of course then they announced a Han Solo prequel, which eh, whatever I guess. And I will sound hypocritical when I say I sincerely hope one of these movies ends up being a solo Obi-Wan Kenobi film, because I loved Ewan McGregor in that role.
The first spin-off makes sense. It is something giving us a whole lot of new characters, while also keeping it relevant to the main story line. It is a safe beginning, while also allowing them to show new characters for merchandising. Erm, for diversity. That is what I meant to say.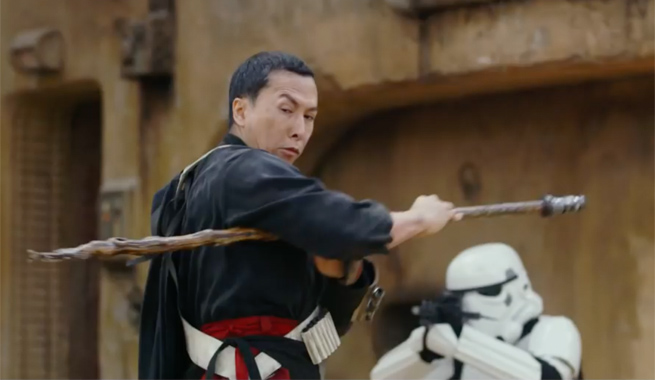 Oh please tell me I can have a Donnie Yen action figure now?!
Galen Erso (Mads Mikkelsen) is a brilliant scientist, and unfortunately with that, great at building weapons. He was working for the Empire, but felt pretty bad, went off grid to live with his wife and daughter as a farmer. But then, Orson Krennic (Ben Mendelsohn) finds them and forces Galen to head back to the Empire to work on this Death Star thingy. This leaves his daughter alone, parentless, and pissed off.
Now older, Jyn (Felicity Jones) is a bit of a rebel. Not a Rebel, just a rebel. And then she gets taken up by some Rebels, including Cassian Andor (Diego Luna) and his sarcastic strategy robot, K-2SO (Alan Tudyk). She gets pushed into a plan by the Rebel Alliance, wanting to use her to get to her father, Galen, before the Death Star is completed to put a dent into those dirty Empire scums.
And along the way they meet the blind Chirrut Îmwe (Donnie Yen) who loves him some force, his friend Baze Malbus (Wen Jiang) who looks like Mickey Rourke in Iron Man 2 sort of, Bodhi Rook (Riz Ahmed) a pilot who wants some redemption. Also featuring Forest Whitaker, Alistair Petrie, Genevieve O'Reilly, and returning Jimmy Smits and James Earl Jones.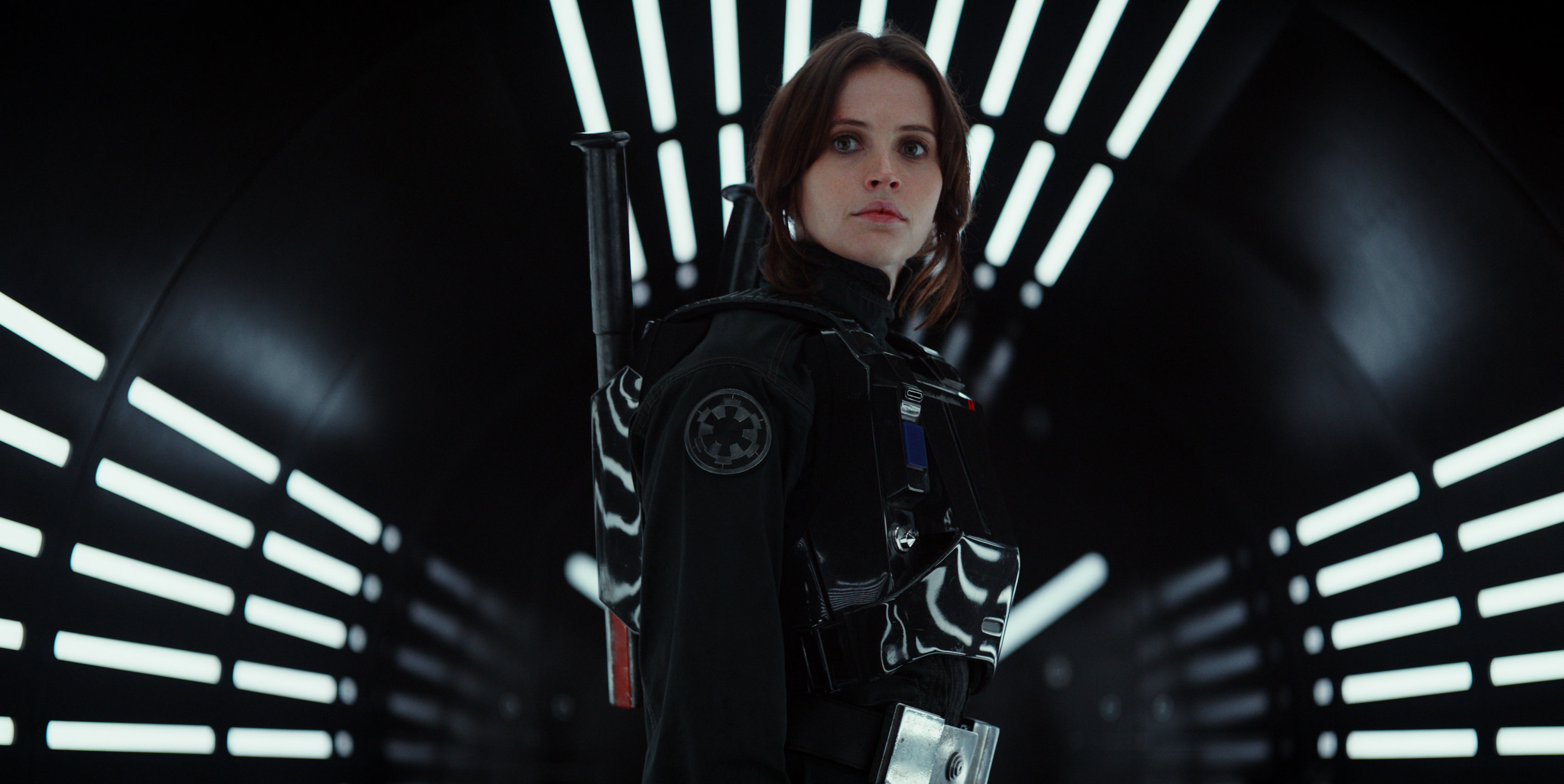 Oh yeah, and a strong female lead above this giant group of male characters.
Despite an over 2 hour run time, Rogue One flew by like a sweet, enjoyable breeze. The new characters were all three dimensional and most importantly, I cared about them. Even the one who ended up being sort of a recurring dick.
Jyn was a complex character and not just someone who seemed naturally good at every situation. I loved, loved, loved, Yen as Chirrut and happy to see him included in such a big movie. And K-2SO was a robot for my own heart. He wasn't as amazing as HK-47 from KOTOR, but gosh darn it, he must be my favorite droid after him.
Despite knowing how the film has to end (right into Episode IV's lap), the journey becomes a thing of beauty. There is danger at every turn and there is a real feel that at any point, a character might not make it. If this dealt with any character from the original trilogy, then you would know they can make it through to tell their story. But these are new people, unknowns, they are expendable. And it was refreshing to see.
There are a lot of call backs to the original movies of course. This film is almost like a giant wink to those extreme fan boys out there, and I admit that I wrote down the parts where people laughed and clapped that I didn't understand. Don't worry, I asked them afterwards for each reference.
Rouge One is certainly a step in the right direction and will be a wonder for Star Wars fans and regular movie goers alike. But at the end of the day, this film doesn't offer a lot of completely new elements to the franchise just yet. Like I already said, it was a good safe story to tell, keeping us in familiar territory. Once Star Wars gets away from the Skywalkers, Solos, and Death Stars, when it can tell a truly original story set in their universe, then it might truly reach a new greatness.
But until then, this is a good great stepping stone between the trilogies, with strong characters, and a film many will enjoy.
3 out of 4.