January 12, 2015
Whiplash
Whiplash snuck into theaters way back in October was a limited release and I obviously didn't get to see it. It left theaters quickly, and I was left on the internet cold and sad. You see, people kept talkin' 'bout Whiplash. About how good the acting was. What a surprise. How cool it was.
And I was all like "But, but, but, but…I don't know anything about this movie! :(". And then they laughed at me of course.
But now I am back, having seen Whiplash, before I compile any sort of top of the year list for myself. It feels good to watch things before awards season. It must be similar to how people feel reading a book before it was even announced that a movie version was going to come out. Pretty intense, I do say.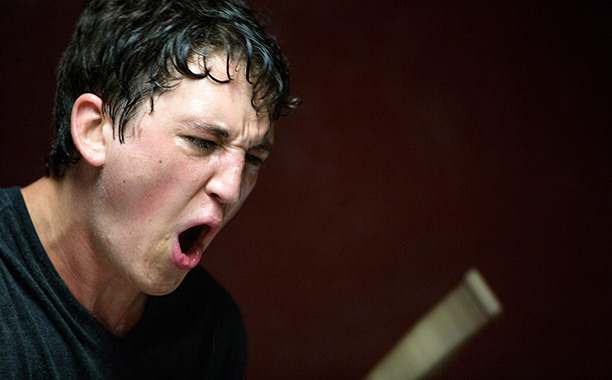 You can tell you are being intense if you have your mouth open.
Andrew (Miles Teller) is a drummer. He likes to drum, he is in a great music school for bands, and he thinks he is decent. But he is his biggest fan, and who cares what his opinion is.
You see, there is an elite jazz group at his school, led by the legendary Terence Fletcher (J.K. Simmons). Everyone is crisp, always finely tuned, always with the right tempo, and always winning awards.
Andrew wants to be apart of that band, but Fletcher is mysterious and only has surprise auditions in the middle of other classes. And somehow, Andrew is able to win himself a spot.
Fletcher seems nice to him at first, but it turns out he is kind of a hard ass. He yells, he screams, he demands perfection and he can tell who is the best after only a couple of seconds of play. He wants to develop the next great star by forcing people to move out of their comfort zones and become an elite player. He also likes to mind fuck people, which I am sure is very helpful.
(Zany announcer voice) It looks like Andrew should have been careful what he wished for!
Also with Paul Reiser as his dad, Melissa Benoist as his girlfriend (and yes, she was on Glee), and Nate Lang/Austin Stowell as other drummers.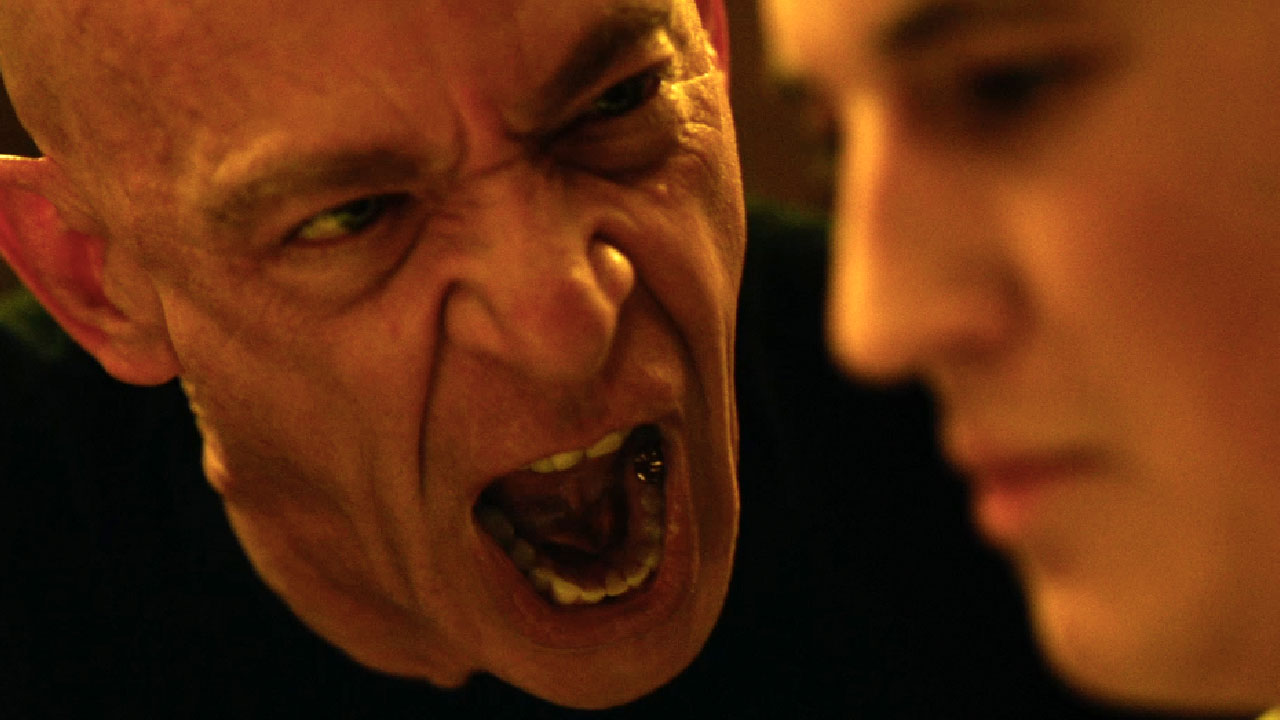 The closed mouth next to the open mouth amplifies the intensity levels.
Intensity is the key word of the review, because getting whiplash is an intense injury. Not as intense as a broken bone or falling off a cliff or anything, but it exists. The film is called whiplash for the feeling and the jazz song which is one of the main two pieces their group ends up playing.
And it is also the only way to describe J.K. Simmons' character. I could listen to him yelling at teenagers every day of my life. His voice is why he became J. Jonah Jameson and is why this role was made for him.
In fact, I am pretty sure this movie exists entirely to get him an award, because he was a huge asshat and acted his hatass off.
Whiplash on its own is also a very entertaining film. A lot of energy is put into what most people would assume is just a drummer in a jazz band, but the quest for greatness has its costs. Hell, even the cinematography was great. The ending is basically a giant ball of emotion wrapped that is looking to escape, and then does, and hey credits.
Nothing I just said makes any sense. So I should just use the word intense again.
4 out of 4.