December 29, 2017
Brawl in Cell Block 99
Brawl in Cell Block 99 is a great title. It is descriptive, while also leaving enough mystery to make you wonder. It highlights a single fight, which means it is a fight that should stand out in a movie that probably has a lot of fights. And it just has good letters. Those B's are powerful, not a lot of B'S in movies lately, let alone multiple Bs.
This is brought to us by S. Craig Zahler, who gave us Bone Tomahawk recently. It was well known and received for being a slow, well acted western, with also one really gross death scene that really rattled people.
And this one is about prison! I am sure it will be perfectly quaint, although, not your average action film. Its run time is over two hours, so it better have a lot of story to tell in between punches.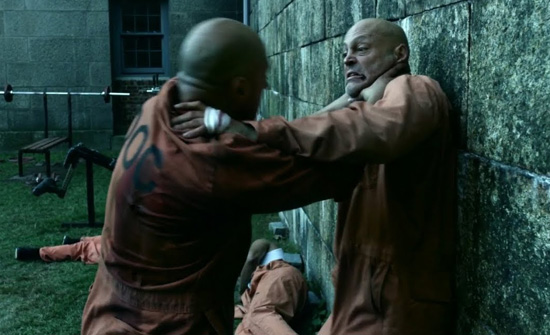 This is not the titular brawl, just the Brawl in the Prison Yard.
Bradley Thomas (Vince Vaughn) is an honest working man, a bit of a tall muscular freak, but hard working. He is a tow driver, which makes below average pay. But he has been fired from that. And at home, he found out his wife, Lauren (Jennifer Carpenter), was cheating on him. He deals with his anger the only way he knows, and not on her. They agree to work through it, to go for a baby, and Bradley will go back to being a drug dealer (not a user), where his size and strength can come in handy.
And now, a year and a half later, everything is fine! They have a bigger house, a baby girl on the way, life is looking up!
Until Bradley gets a job he does not want to do. The thugs involved with the deal look like users. They look like no good people who will try and kill and steal and put him in the line of fire. He agrees reluctantly only because if he does that he will get three months off paid once his baby is born. See, even if the drug business has better parental leave than the USA!
Bradley takes the deal, things go south, and sure, Bradley is in prison. He is blamed for the deal going south of course, so he is told that unless he kills another prisoner, they will get someone to perform a very late term abortion on his wife, and his not yet born baby girl will, well, stay that way. The only issue is, this guy is in a much more extreme prison, so he has to "earn" his way there by going against his own morals and code and hurting people to save the ones he loves.
Also starring Dan Amboyer, Don Johnson, Geno Segers, Marc Blucas, Tom Guiry, and Udo Keir.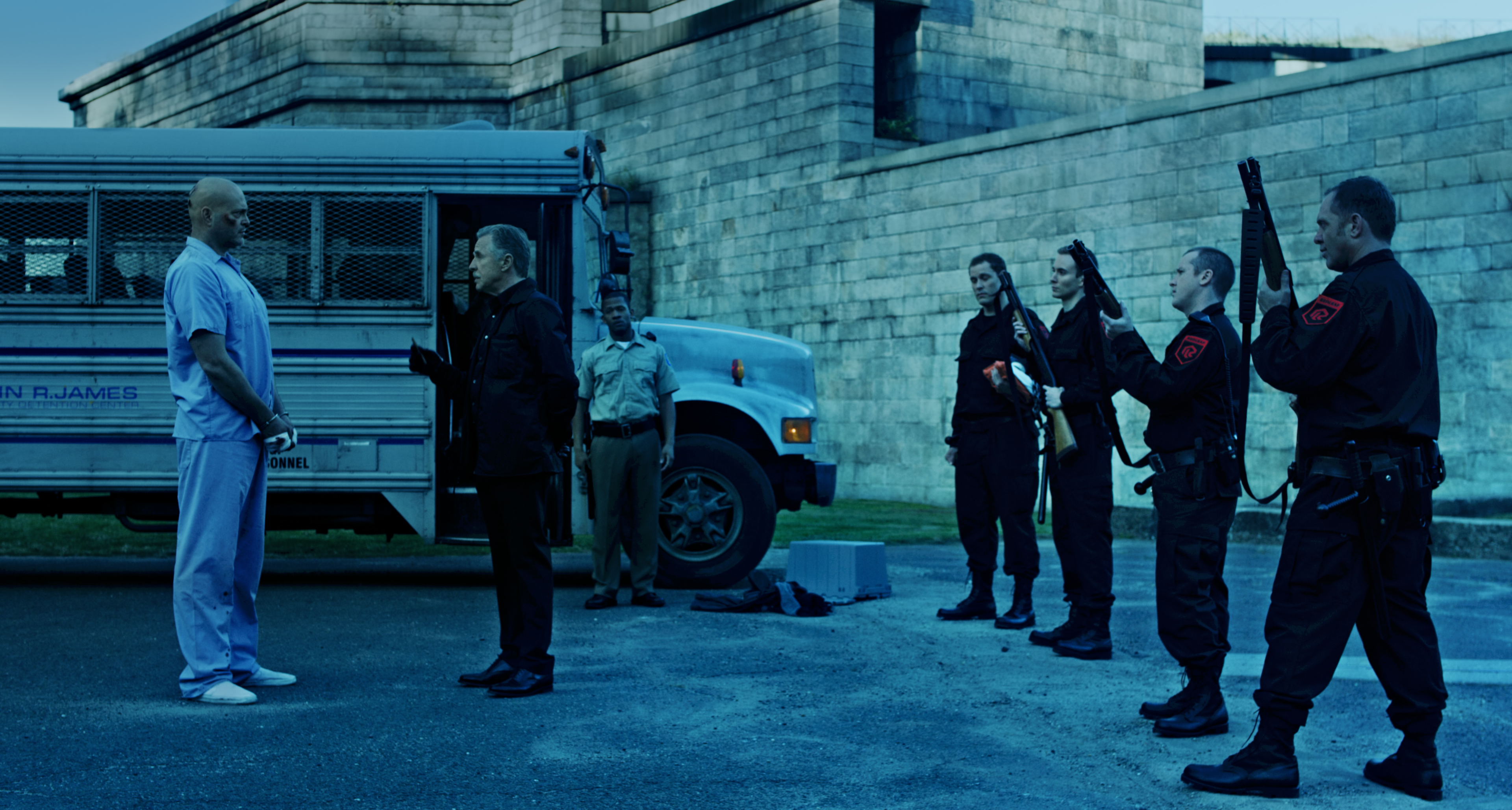 This is not the titular brawl, this isn't a brawl at all!
While watching Brawl in Cell Block 99, I had two main thoughts: One, when are we getting to this brawl that they needed to emphasize in the title? and two, Vaughn is really carrying this power and weight in this role. I was intimidated by him and awed by him. They made his character smart, strong, and oddly moral. When you expected domestic violence, you got instead a calm rational human, who didn't even yell. It was odd and satisfying.
Anyways, there are a handful of action scenes pre-brawl to entertain those who ned punching. Of course some of that is just people straight up beating up one person, some of it is Vaughn seeming like a super hero.
Okay okay, at this point I am stalling. Once the brawl started to happen, it got really tense as it first had to involve a breakout attempt. Watching our moral character beat up guards at a level of realizing he is doing wrong, trying not to hurt them too bad, while also doing it for his wife and unborn girl. And then the actual part that matters, well I HAD TO STOP WATCHING ONCE IT STARTED. IT GOT REALLY INTENSE, REALLY QUICKLY AND I COULD ONLY GAG AND COUGH AND SHRIEK TO MYSELF. After that, it wasn't that bad BUT IT STILL GOT REALLY INTENSE.
I had to type in caps there to properly show just how freaked out this movie got very quickly. It ramped up several notches, and frankly I wasn't ready for it. The high rating isn't just for those scenes, but for the whole build up, for seemingly telling a unique story in a familiar location, and just how strong Vaughn was in it.
I should have known what I was getting into with the director, and next time I won't be caught unawares. After all, the next film is called Dragged Across Concrete, which is extremely descriptive and I am already gagging in anticipation.
4 out of 4.