The phrase "battle of the sexes" always feels cringey nowadays, and it has for years. There was a board game with that name recently, and it is just one that is based on poor stereotypes and no one should really ever want to play. And yeah, that is the point of the phrase. To talk about the differences between the most common genders and fuel masculine and feminine behaviors.
But the movie Battle of the Sexes is beyond all of that. First of all, the title is given due to the real event that announcers decided to call it at the time. So they are just highlighting history here, not their fault.
And second, it is a sports film that is also about gender equality and sameness, not stereotypical differences. This is the clincher here, this is why I want to see the movie.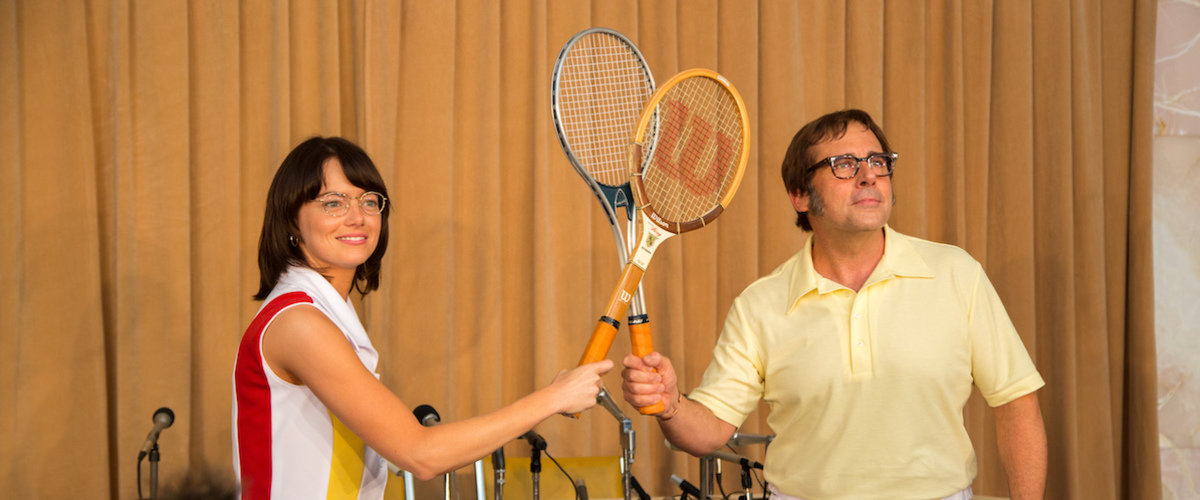 Maybe the actors involved was another important factor, but don't tell them. They have big egos.
In the early 1970's, Billy Jean King (Emma Stone) was on top of the female tennis players world. She was the first female player to ever each $100,000 in a year from prizes, and people really made a big deal about it. Things were on the up and up for the women's movement too! Except when it came time to sign a new contract with her fellow ladies for the main American tournament. The prize support for the women's players was significantly lower than the men players, despite sharing the same arenas, drawing the same crowds and all of that. So they decided to just up and leave. They started the Women's Tennis Association (WTA), had Virginia Slim cigarettes as their sponsor, and now had funding to play for real money!
This pissed off a lot of people. But King and a lot of her fellow players were riding high. King also started a relationship with her hairdressed (Andrea Riseborough) while on tour with a husband (Austin Stowell) at home!
This story is also about Bobby Riggs (Steve Carell), an older retired tennis pro who used to be number 1. He is a bit of a dick and likes to parade around like a fool to earn money. And he is a gambler. At the lowest points of his life, he decides to challenge Margarat Court (Jessica McNamee) to a tennis match, really playing up the male chauvinist angle. It seems like he is around just to ruin the modern women's rights movement! The prize amount gets even bigger when he is finally able to challenge King, and it becomes one of the biggest spectacles of the decade, where apparently the question would be settled by the end of who is greater, man or woman.
Also starring Sarah Silverman, Natalie Morales, Bill Pullman, Alan Cumming, Elisabeth Shue, Eric Christian Olsen, Fred Armisen, Martha MacIsaac, and John C. McGinley.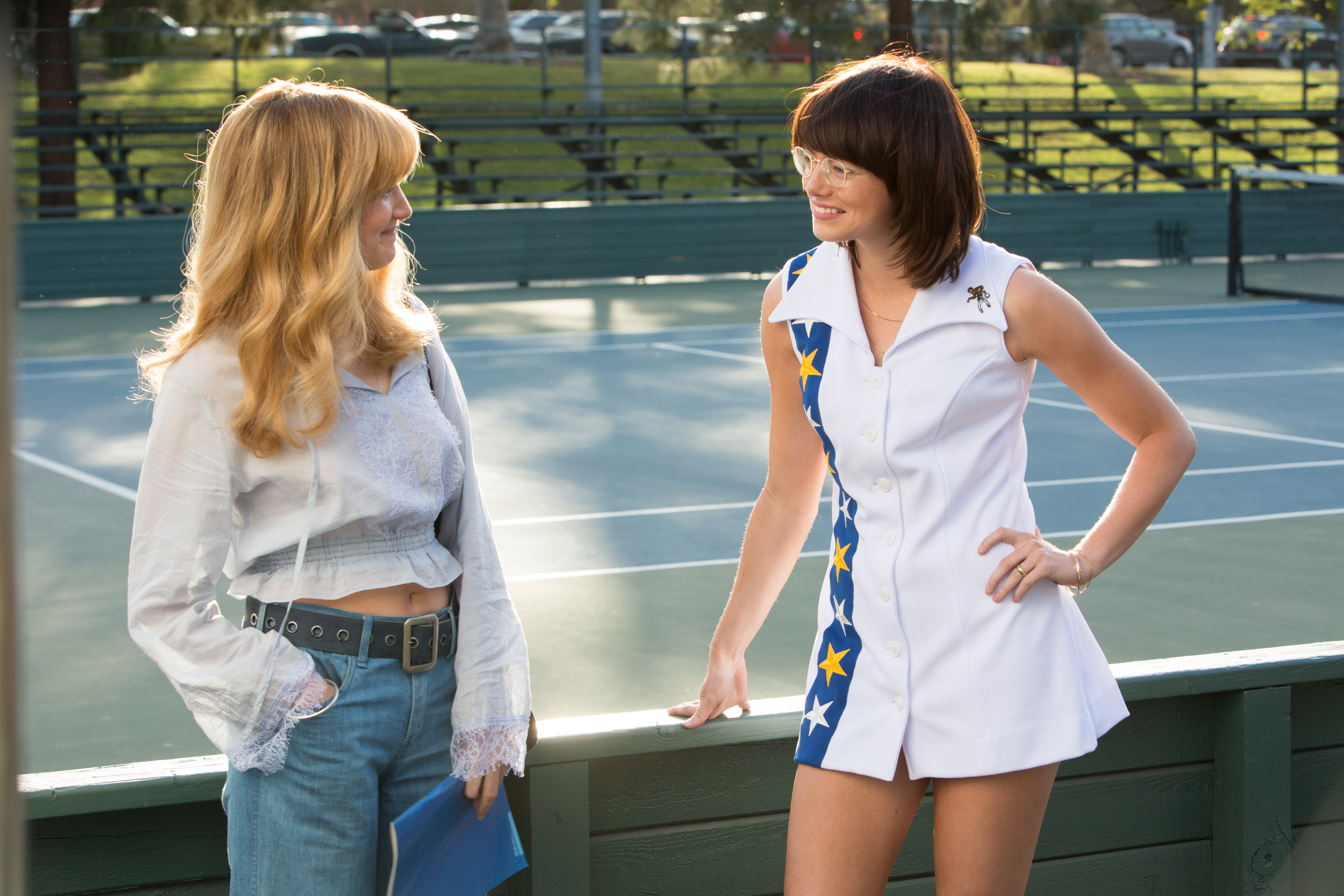 Courting in this film holds two different definitions.
Battle of the Sexes is one of those movie trailers you will see and you just know you will have a good time during the film. It is a period piece, so we get to see people we recognize fondly looking, from our current standards, ridiculous. Always a plus.
Stone and Carell have been in films together before, namely Crazy, Stupid, Love, where they played daughter and father, and now they get to play pseudo rivals! Because the reality of this situation is they are not, at all, in any way, real rivals. They would never play each other in a tournament, they both were not at their primes at the same time, they only played the one game together. But their lives are now forever entwined in history due to this moment, this festival, this, well, publicity stunt.
Because in all reality, it seems like it was just all about the money. King may have had other reasons for agreeing to the game (women's rights in sports and all), but all the people pulling the strings from behind the scenes just wanted to get rich. The events of this film are almost unbelievable, this is a time when reality if it was written as a screenplay would be lauded as ridiculous. But hey, what's the point of life if not to get really ridiculous every once in awhile?
I like that this story told much more than the game. A lot of the film is NOT tennis, but about tennis players. Finding out about King's husband and other relationships felt realistic and sad. Riggs himself was in a sad state in his life and he wasn't even a bad guy, he just played it up for publicity. And in all honesty, I didn't know who won going into the movie, so I am glad I never looked it up. It is interesting that the game was held in Houston though, in the now defunct Astrodome.
That last sentence is meant to appeal to the locals.
3 out of 4