September 12, 2012
The Lorax
I say a lot I try to make sure that movies based on books are given their own subjective look, without bringing the book into it. After all, they are different mediums. I need to judge the movie just on its movieness.
But The Lorax? That shit is classic. Here is an audio version for the lazy who have never heard of it. I think a movie version is definitely doable, but it will be weirder, and probably pretty short. Depending on what they set it in.
And just hopefully not extremely up in your ass on the environmental issues. That's all I want. Lots of rhyming, damn it. Also, lots of Lorax!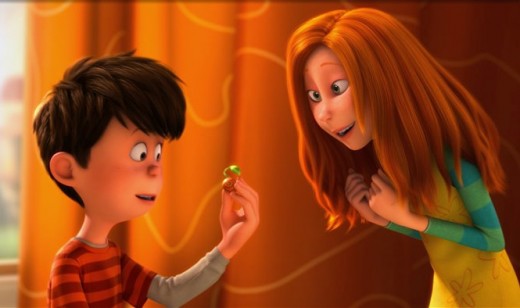 Well, these things arent the Lorax. Poor start so far.
The movie begins with Ted (Zac Efron) a very non Lorax human having big dreams in Thneedville, a completely "artificial city". Everything is metal, plastic, or synthetic in some way. No trees or plants, that is all fake too. But no worries, they love their lifestyle and capitalism. They even love the fact that they by air, from O'Hare (Rob Riggle) for whatever reason.
But Ted is in love. With a girl! A strange girl who dreams of the world outside the walled city that they cannot leave. Audrey (Taylor Swift) wants a real life tree so badly, she even said she'd marry a boy if he gave her one. Simple needs! Despite the wishes of his mom (Jenny Slate) and grandma (Betty White), he escapes the city walls and goes to the barren landscape! And obviously, as I just described it, it kind of sucks. No trees anywhere.
There is a creepy house though, hopefully that is where the Onceler (Ed Helms) lived, a rumor of a man who is said to have tree seeds in his possession. And does he? Who knows, because he wants to talk to Ted first and tell him his tale, about how he met the Lorax (Danny DeVito) when he first came to the fields to start up a business and become a success.
Then you know, we get a really long version of the Lorax story, with lots of singing and dancing, and animation explosions, and lengthening. After the seed is received, where the book normally ends, the movie then continues to explain what he does with the seed and his attempts at taking down the O'Hare foundation in Thneedville.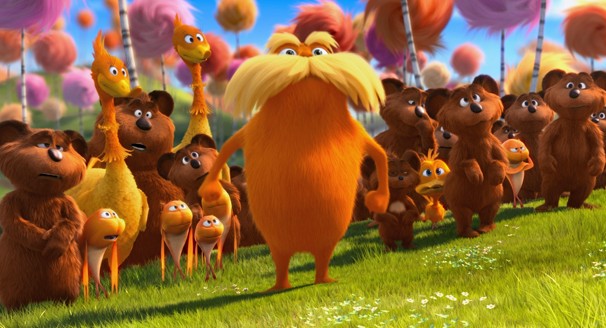 Aw, there is the Lorax. Super caauyuute.
Interestingly enough, the first scene actually got me hooked into the movie. The first song titled after the city was actually catchy and interesting, minus the weird parts about extreme capitalism and being a zombie. But yeah! I was excited. But then it went more and more downhill.
After that I didn't really like a single song, which is a shame. Especially the last one, Let It Grow, that stuff got weird. But after Ted meets the Onceler (who yes, you get to see in the flashbacks. Just hands would be weird in a movie), the story of him going out into the fields, finding the lorax, and then eventually destroying the ecosystem takes WAY TOO LONG. It is ridiculously long. And pointless. Especially since the destruction part doesn't take a long time, just the part after 1 tree to get to oh man cut it all down.
The morals associated with the Lorax novel are basically simple. Hey, don't over do it. That is about it. The movie kind of takes that message, amplifies it to show even further extremes (Thneedville) and smacks you over the face with it again and again. I didn't like that, it was far stronger than it should have been. The ending, after the return to the city with the seed, was just a long chase scene that felt pretty annoying too. I didn't hate the O'Hare character, minus the fact that he didn't make much sense, but the way they chose to portray him (not his portrayal?) was annoying to me. Just his general look. I thought "Oh jeez, thanks storyboard artists. Couldn't have made him more normal sized? Fuck your proportions".
There were some good moments, but man, I do think this would have been better at 40 minutes max and less acid trips.
1 out of 4.