January 24, 2017
The Founder
Michael Keaton has been on fire. Not actual fire, but his comeback has been great. Better than Matthew McConaughey's come back!
In 2014 he almost won Best Actor fir Birdman, but lost to Eddie Redmayne for The Theory of Everything. But hey, Birdman won best picture.
In 2015 he was probably hoping to get nominated for Best Actor for Spotlight, however he didn't get the nomination despite doing really good. But hey, Spotlight won best picture.
So what about this year? He is the lead in a movie again, The Founder. Knowing nothing about it, I knew it was suddenly a contender for The Founder. Could he be the lead in the Best Picture film three years in a row? That has to be a record on its own. Or you know, he won't and this is the beginning of the end of his come back.
At least the praise in the movie seems genuine!
Ray Kroc (Michael Keaton) is a salesman at heart. He finds an idea he likes and runs with it, hoping to make a living out of it. His current item is a shake mixer that can do five shakes at a time, so he is traveling around the US, making money to put a roof over his wife's (Laura Dern) head.
But he gets a strange order. A restaurant in California wants to buy SIX of these milkshake machines. So he drives over there to give it a gander. It is a small place, run by Dick (Nick Offerman) and Mac (John Carroll Lynch) McDonald. It is called McDonalds. They have a line around the block, but it goes fast. They don't have carhops, people have to come to the door. And the food is instant. People are waiting about 30 seconds for their food, it is cheap, it comes in paper so they can throw away their trash themselves. They can eat it on benches, in the car, at the park, wherever. And the line just moves so damn fast.
So Kroc takes the brothers out to learn how and why. Turns out they made the system themselves, took a lot of practice, and developed a system where quality is awesome, everyone is working and churning out food that the people end up ordering. Genius! But no, they don't want to franchise.
Kroc wears them down, eventually getting a contract between them, that will let him set up McDonald's restaurants around the US. He has to promise to maintain quality, to not let them make their own food choices, and every change has to go through them. But hey, it is a start. And when Kroc begins to churn out their restaurants, complete with the brothers idea of Golden Arches, people can't seem to get enough of them. And that is when the power dynamic starts to change.
Also featuring Linda Cardellini, B.J. Novak, Justin Randell Brooke, Kate Kneeland, and Patrick Wilson.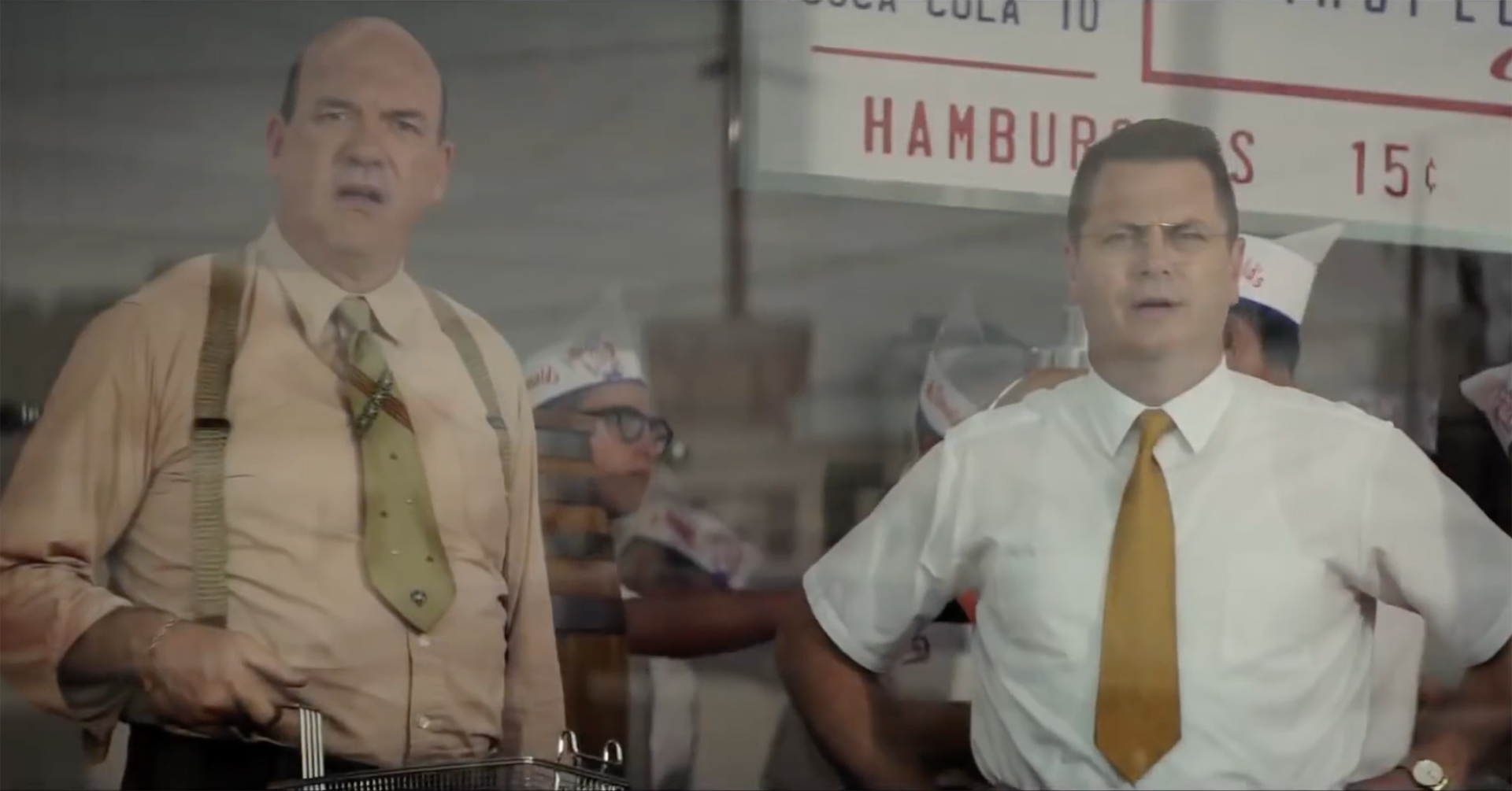 I really wish one or both of the McDonald brothers had a mustache.
The Founder begins with Kroc trying to sell a milkshake machine to reluctant buyer. Except he is staring right at the camera, looking right at the viewer, into your soul, as he monologues. And it is a wonderful introduction to his character. He doesn't feel like the most conniving individual, but he feels like a real salesman.
The Founder tells an interesting story that becomes easily relatable to most viewers. Everyone has eaten at a McDonald's, everyone knows what they are like and has seen them evolve over the years. But it turns out they started as something more wholesome, like most things in the middle of the 1900's. The scene where the brother's tell their story is fascinating and one of the highlights of the movie.
Unfortunately, after that, it didn't maintain its high level of enthusiasm. Once Kroc was able to get franchises off the ground, there were some problems, some successes, some shitty moments, some great moments. And despite being the protagonist, Kroc is definitely a jerk. And at times, so are the McDonald brothers. But the story isn't one that had me at the edge of my seat like I had hoped.
In terms of his last two films, Keaton might still act well, but the film just isn't the same caliber. Still a good movie, sure, but the second half just feels unimpressive compared to the first. This is not the film that will finally get Keaton his Best Actor Oscar, although I see the potential of nomination. Next year he will be in Spider-Man: Homecoming (which won't win him anything), and something called American Assassin which I guess will be his next big hope.
3 out of 4.