I hope this movie is something seen by all. I hope it remains in the conversation for decades to come. I hope people refer back to it with quotes and references and we remember its name.
Why do I care so strongly about this film? Just because of the title. It is a bit awkward. I Care A Lot. Oh okay.
But the awkwardness is fine. Because it has the words "a lot" in it, and maybe, maybe, if people see this movie and write it out and get it in their brain, they will stop trying to create the "alot" creature from hyperbole and a half.
One of those pet peeves is all.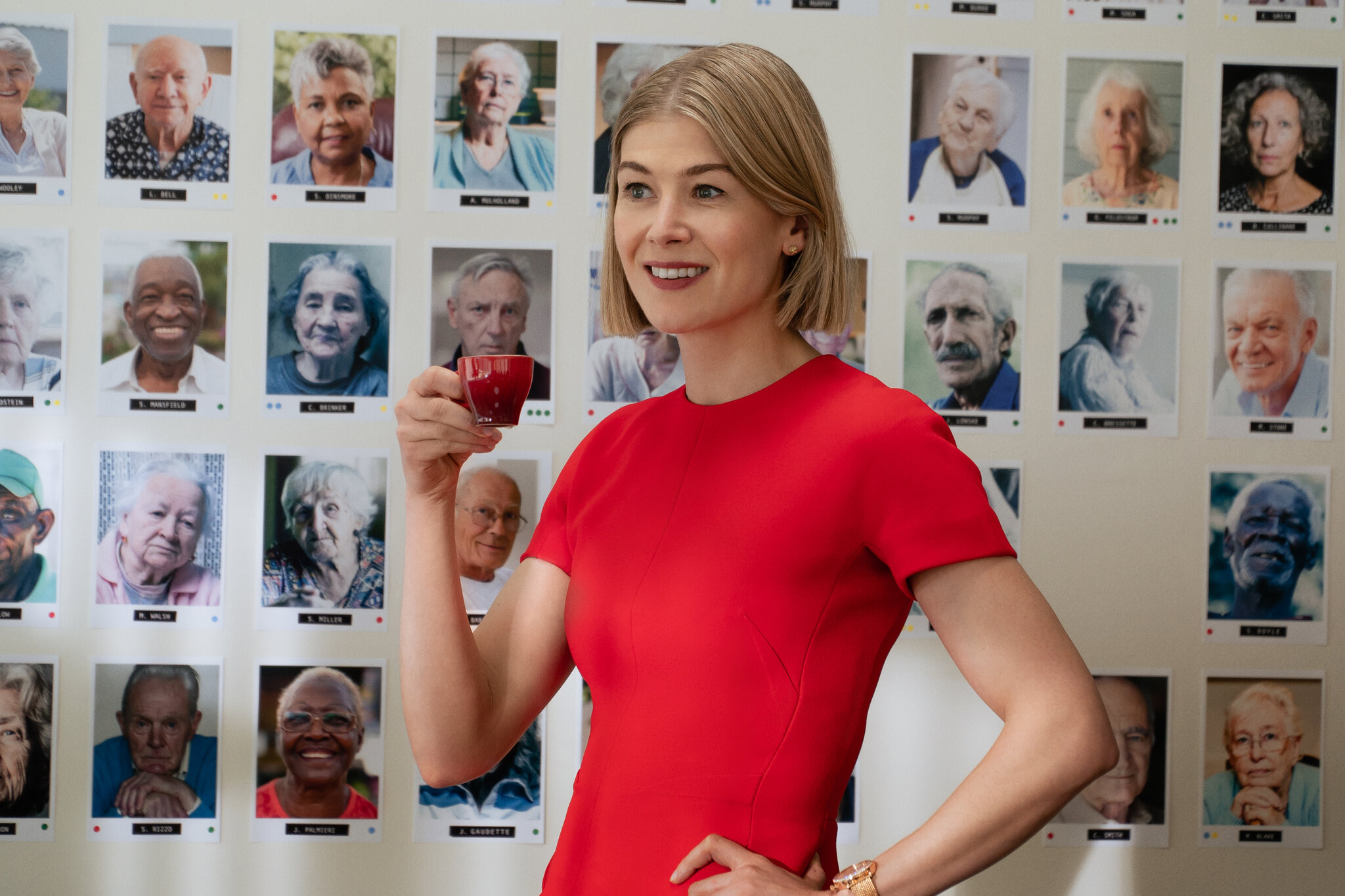 "I've heard of 'Binders of Women' before, but this is ridiculous!"
Getting old can be hard. Your brain can leave you behind, your memories can fade, you can become violent and really needy, but if you have no one to help you, what are you supposed to do? You kids, if you have them, might be able to take care of you. Or they may be too busy. You might get put in a home, but your kids may be too busy to handle your affairs, your doctors, and all of that.
So sometimes, you will get a court appointed guardian who will legally serve your best interests. These interests sometimes go against the interests of your family, but maybe that family might be trying to milk you dry and increase their inheritance? An unbiased third party is often useful.
Now if the unbiased third party is ALSO trying to scam you, then there is a problem.
Meet Marla Grayson (Rosamund Pike). She is that person trying to scam you. She knows the doctors, the judges, and is often trying to get appointed to people she can legally milk dry while getting kickbacks and looking like they are caring for their appointees. And in this film, she lands a big whale. Someone with no family to bug her and a lot of wealth.
But it turns out that Jennifer Petersor (Dianne Wiest) is not who she appears to be. And she does have a son (Peter Dinklage), who just so happens to be a mob boss in hiding, who doesn't appreciate what is happening to his mother.
Also starring Alicia Witt, Chris Messina, Eiza González, Isiah Whitlock Jr., Macon Blair, and Nicholas Logan.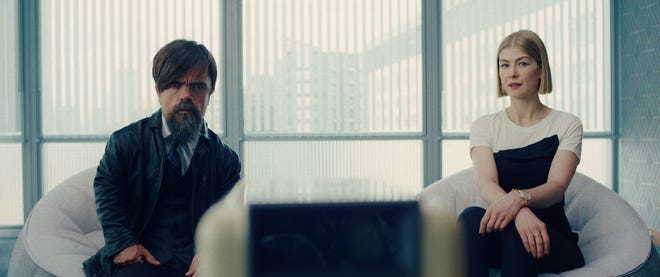 If a photo shows strong facial hair game, I must always comment on said facial hair.
Rosamund Pike knows how to play a sinister lady character for sure. Have you seen
Gone Girl
? You should see Gone Girl. It is great. Her character isn't as conniving and evil as Amy, but it is still a really evil character who has close to no morals in I Care A Lot. It is like the movie title is…a lie! So it is easy to see why she won a Golden Globe for her performance in this film. But I wouldn't be lying if I didn't mention I would have preferred
Maria Bakalova
. Oh well, as long as
Music
didn't win anything, we are all winners.
I Care A Lot is a very intense film and one that won't be for everyone. There are very strong shifts in terms of what kind of film it is, especially the larger second act. There is a chance you might love the beginning and hate the rest, and other similar situations. I was fine with all of them, and I prefer my films to keep me guessing, even on tone. It never rustles my jimmies.
I really enjoyed Pike in her role, and is the only one worth mentioning. Even Dinklage couldn't match her, but he did have more limited screentime.
Honestly, this movie's existence is a strange one for those who hate moral issues. We have bad person vs bad person. There isn't a clear person to cheer for, even if they are the antagonist, they are still a shitty human being. I now assume that things like this movie depict happen in America on the regular, and well, I hope John Oliver does a special on it so I can get the facts and start caring more.
Because it is on Netflix, this one is pretty easy to recommend for at least offering us something new. Mob stories are played out, but this is clearly a fresh take.
3 out of 4.