October 6, 2014
Gone Girl
It is October, and apparently what that means is some highly anticipated films are finally coming out. I feel like every week of October that there is something I define as a must see.
Gone Girl has had a lot of buzz, rightfully so. After all, it is a David Fincher movie, and everyone fucking loves David Fincher. Fight Club, Se7en, The Social Network, Benjamin Button.
Okay, maybe not that last one.
But more often than not, he is hotter than hot, in a lot of good ways.
And yet this is really the only picture they gave us to advertise the bad boy ahead of time.
Nick Dunne (Ben Affleck) and Amy (Rosamund Pike) have been married for five years. How wonderful. They don't have the perfect relationship, not anymore. Things have gotten bad and Nick is sick of her shit. She is miserable and judges him. He isn't perfect either. But on this, the morning of his anniversary, he can only find himself bitching to his twin sister Margo (Carrie Coon).
Unfortunately, when he gets back to his home, he sees a table overturned, Amy missing, and a lot of confusion.
So of course he calls the cops, and based on the scene and some blood spatter, Detective Rhonda Boney (Kim Dickens) and Officer Jim Gilpin (Patrick Fugit) have determined that despite the little time missing, it is a full fledged missing person case. They want to do a press conference and get people on it pronto. Thankfully, Amy's parents (Lisa Banes, David Clennon) are rich from a children's book series, so they bank roll the entire thing. Flyers, advertisements, posters, websites, volunteer centers, phone lines. The whole nine.
But as the clues start to get unraveled, and secrets about Nick's life get revealed, the signs begin to point that Nick did it and is undergoing a cover up. But did he? Did he?
Also starring Casey Wilson, Neil Patrick Harris, Tyler Perry, Missi Pyle, and Emily Ratajkowski.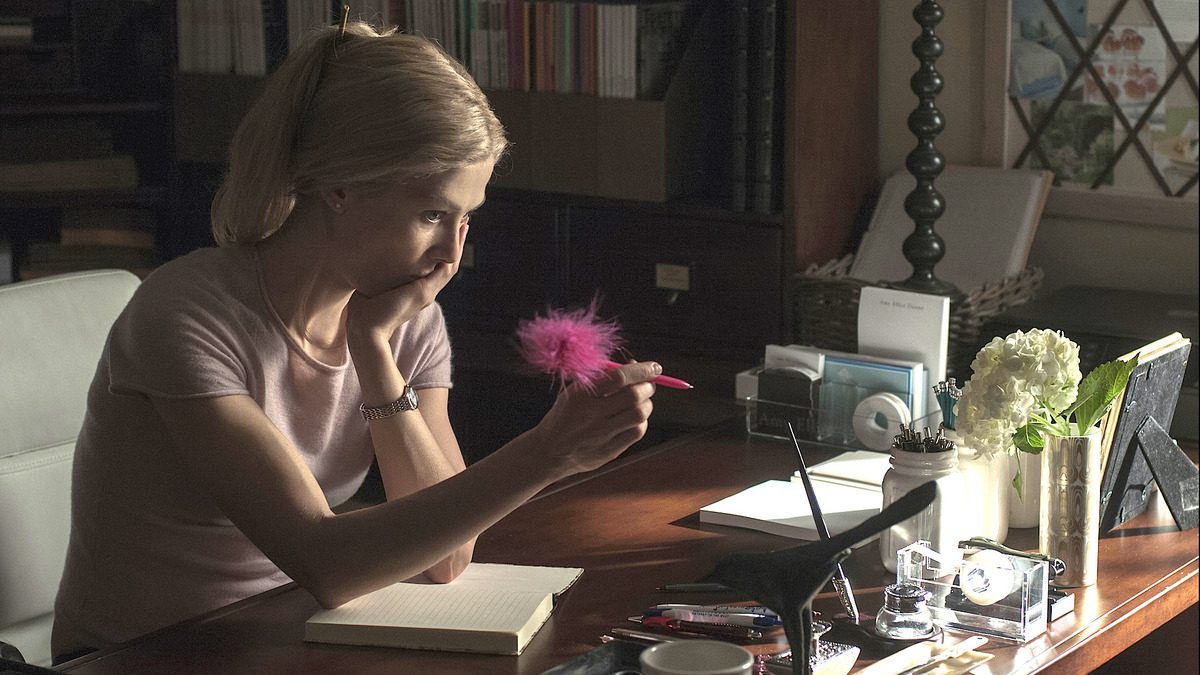 Maybe she is just upset because she was cast in a movie with the main naked girl in the Blurred Lines music video?
I find myself at a loss of words.
Gone Girl was awesome, amazing, awesome, and amazing. Synonyms are hard.
The movie is about 150 minutes in length and the time flew by. It flew by so fast, I was left just wanting more. I went from edge of my seat to cackling in laughter to holding my hands over my mouth. You know, because it opened in shock and I couldn't believe what was happening.
Everyone acted so well in it. I heard Affleck was chosen because he was used to public scrutiny from being Batman to J-Lo. I really liked the detectives. Neil Patrick Harris was interesting. Tyler fucking Perry did great as his role. And holy shit Rosamund Pike. That is some Oscar winning stuff right there, so expect to see her name being thrown around a lot.
I want to throw money at this movie. And awards. And watch it again and again.
This was a book first, so I can't wait to read the book later. That's right. Me. Books. Aggghhhh. Go see Gone Girl.
4 out of 4.