Hey kids, do you love Spider-Man?
Then why not check out The Northman!? He does whatever the…cold North can? Hmm. Nope. This is not a super hero movie. This is just a movie about Vikings!
We don't really get a lot of Viking movies. A lot of them are trash, remember Pathfinder? I unfortunately do. I wish I could forget. We are luck that the How to Train Your Dragons films are technically Viking inspired. But they are animated and they don't do a super lot with the Vikings religion and atmosphere. They are cute, they are good, but they aren't what you think about when you hear a Vikings movie.
We also very recently had the new Assassin's Creed Valhalla game, to get people in the spirit. I don't know if the God of War reboot counts as a Viking game, but it does deal with Norse mythology, so close enough. Not to mention we had several seasons of a Vikings show, which probably disappointed a lot of people without going too hardcore with it.
All of this to say, that time for something like The Northman to come out has been building up for a few years. And I know I was ready.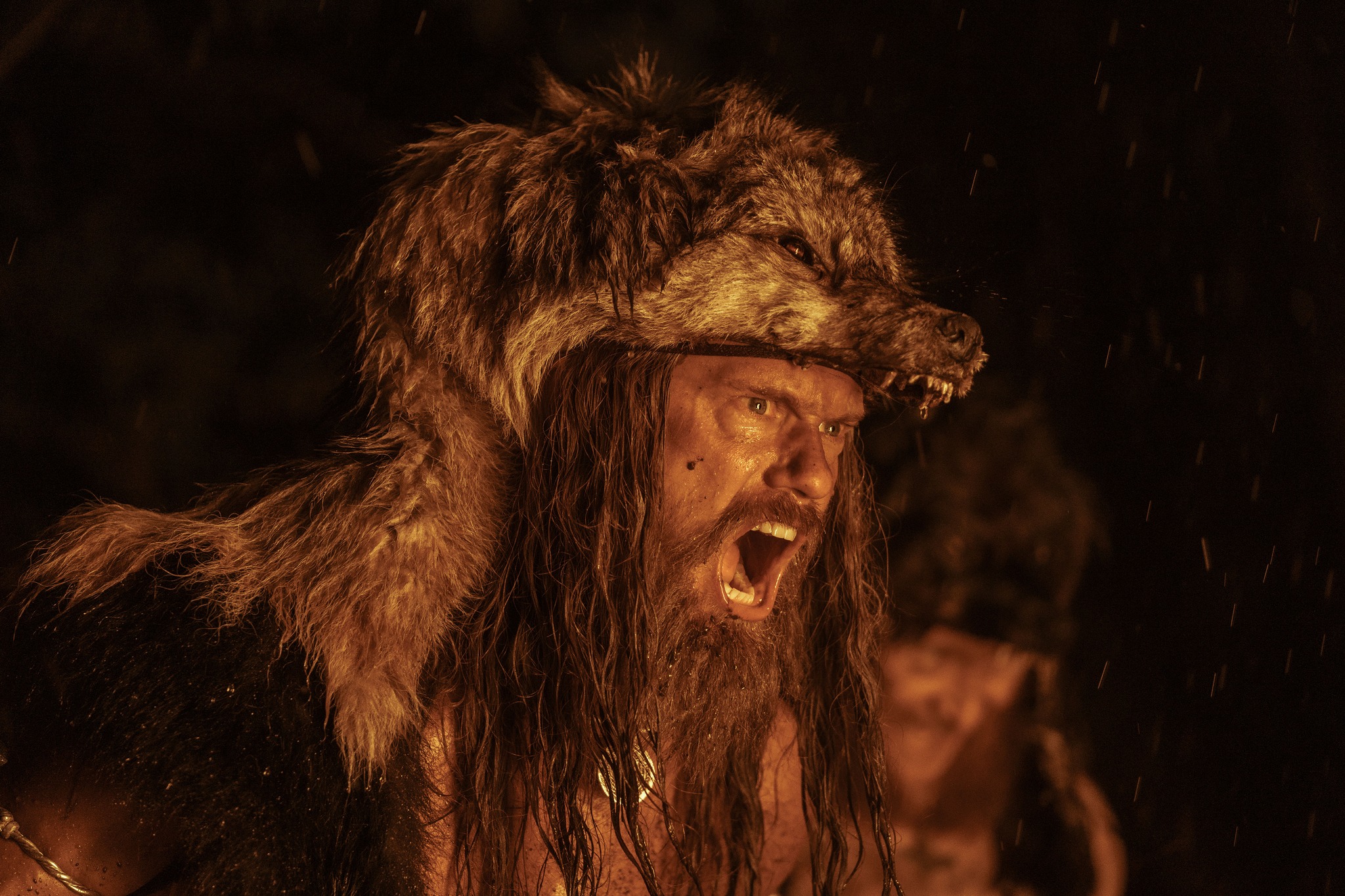 This was me screaming like a giddy little school girl.
Set sometime before the year 1000, we start off in some Viking kingdom. The king of this land is King Aurvandil War-Raven (Ethan Hawke) and he is a mighty warrior. His village often gets loot and slaves and plunder from their conquests. His son, Amleth (Oscar Novak), looks up to his father despite rarely seeing him. His wife, Queen Gudrún (Nicole Kidman) is loyal and true. And his brother, Fjölnir The Brotherless (Claes Bang), well…Let's just say that he earned that title by betraying the King and killing him to take his kingdom. Damn Auvandil, sorry to see you go.
Luckily, Amleth is able to escape by boat. He promises to enact vengeance for the life of his father and rescue his mother, who was taken by Fjölnir. He just has to grow up and get strong. So, several years later, Amleth (Alexander Skarsgård) does just that. He was found as an orphan by another tribe, and eventually joined their elite wolf fighter unit, and he was a mighty warrior. But thanks to a prophecy, he was eventually told about how he could find Fjölnir and finally complete his vows.
He just now has to journey to Iceland. He pretends to be a slave. A big strong man like him? Yeah. He just does what Clark Kent does. He hunches his shoulders and looks down a lot. But this gets him to Iceland, so he can find Fjölnir, complete his promise, and fulfill his destiny.
Also starring Anya Taylor-Joy, Gustav Lindh, Elliott Rose, Willem Dafoe, Eldar Skar, and Björk!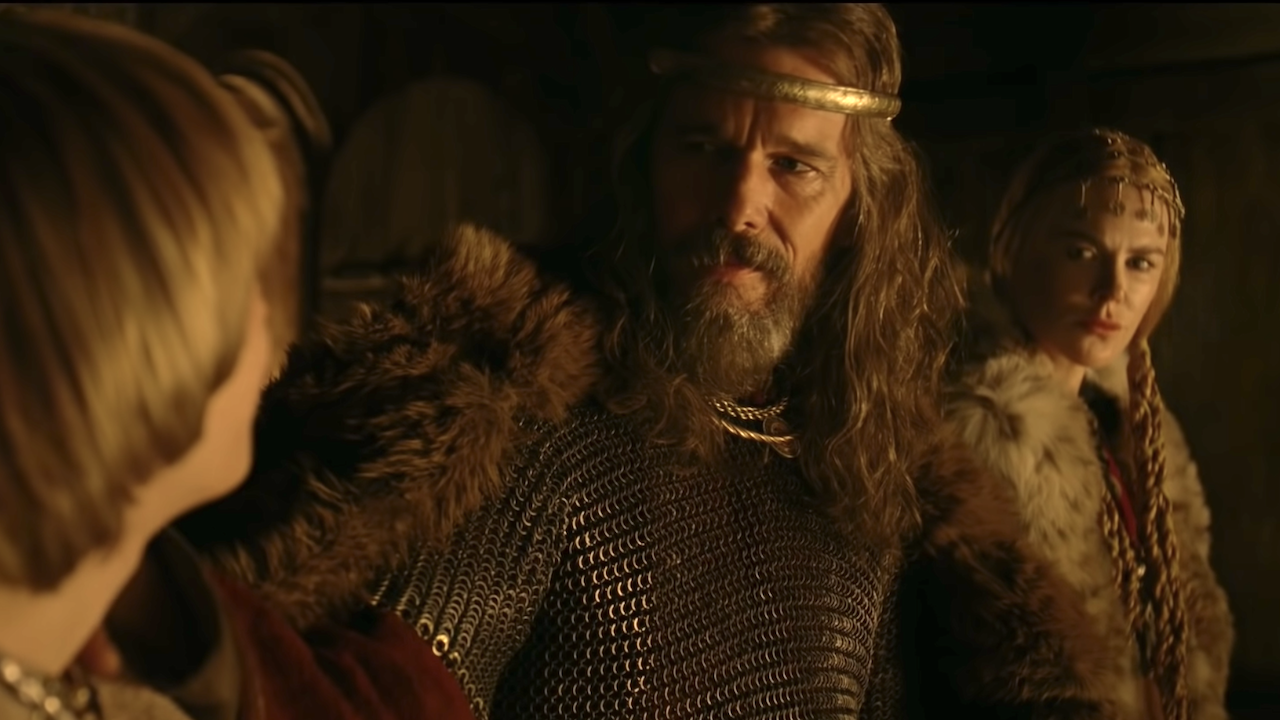 The face you make when you need this little weakling to avenge your future death.
I think I need to talk about Robert Eggers. Outside of a few video shorts, Eggers has now directed three motion pictures. I think most people who have seen his work would agree he is hitting all of the right notes. The Witch was terrifying, unique, and really felt accurate to the area, which was a nice surprise. It helped introduce the world to Anya Taylor-Joy. The Lighthouse was an strong follow up, an impressive visual film with excellent performances from the leads. I didn't love it as much as The Witch, but I recognized its ambitiousness.
The Northman however just takes the ball that is already knocked out of the park, and he knocks it into another park. The Northman is a lot of things, except for boring. This is a film that the trailer does justice for, while still giving you very little of the story. It is a revenge flick. It is kind of like Hamlet. It is not just a straight action fantasy film, it has a lot of deeper and slower moments. The film is tense, and intense at various points.
Honestly, I was surprised at so many moments of the plot. Big strong Amleth finds his uncle pretty early on in the film, I was assuming that it would be over fast. But the set backs that occur are not expected. They do make sense, and it just helps build up some of the bigger events, while still allowing teases along the way.
The Northman is just such a visually stunning film. It is gorgeous, and we get to see many different scenes and locations. There are some battles and scenes that take place in night, with unfortunate authentic lighting, but it isn't a majority of the film. It is a film that wants to be seen.
All of this build up from Viking properties have given me what, frankly, is probably the best movie about Vikings ever made. I don't think Eggers can keep up this pace. He might have to retire before Marvel has him make a film where he has no control in the output.
4 out of 4.