July 13, 2020
Mucho Mucho Amor: The Legend of Walter Mercado
Who is Walter Mercado? No really, who is Walter Mercado? I don't think I have heard of his name before watching this movie and review.
Now, I saw reviews of this, brief reports, and that it was now out on Netflix. And looking at the pictures, I just assumed he was an eccentric weather man on Hispanic based television. Boy was I wrong. Mucho Mucho Amor: The Legend of Walter Mercado isn't about weather at all.
For those of you who do not know, Walter Mercado was a famous (and likely, the most famous), Astrologist in the world. Astrologist? Yes, Astrologist. You know, zodiac signs and horoscopes.
Mercado grew up different than his friends, and was always seen as a spiritual person. Apparently in his community he was slightly worshiped as a kid because a neighbor saw him "heal" a bird back to life and fly away. So people wanted to come by and touch him. It'd be hard to grow up thinking you were a mini-god at that point I imagine.
After being an actor for awhile, with lots of substance, Walter was put on the air once to do an interview for an upcoming show. The interviewer didn't want to talk about the show, wanted to talk about horoscopes, because Walter talked about it a lot to the staff before the show. Because the show got so many calls during that segment, they asked him to come the next day and do it again with new readings. And the rest was history.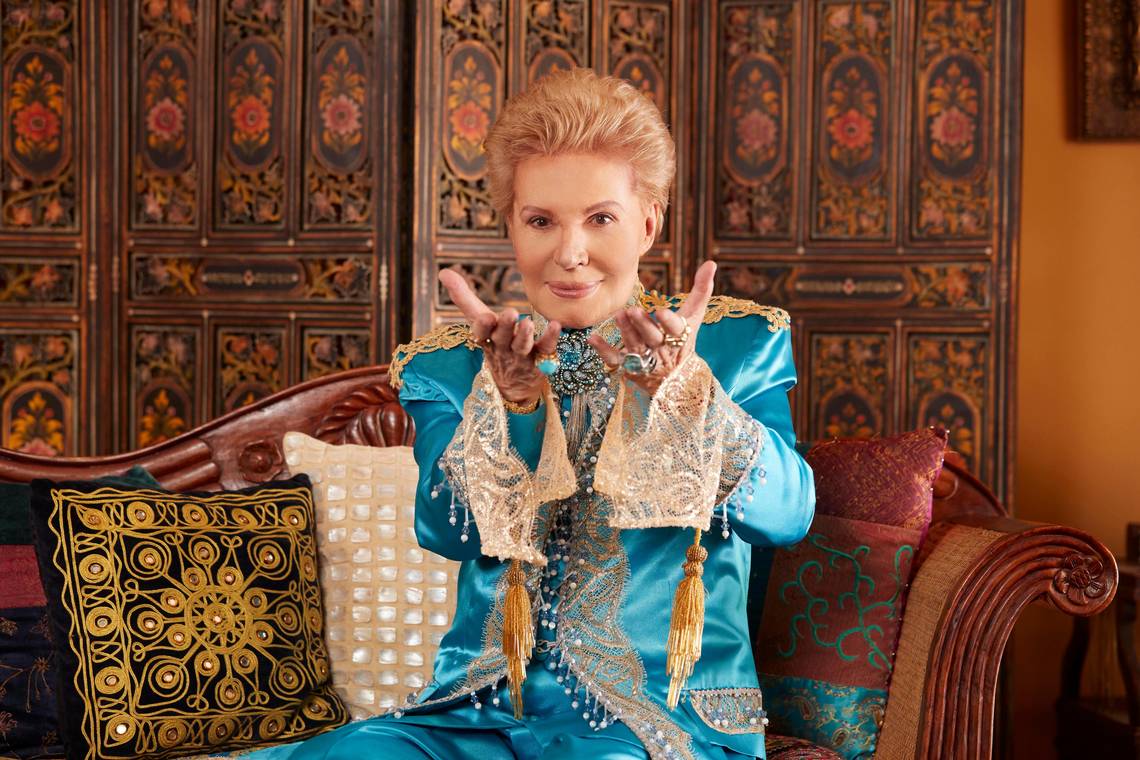 History is fabulous!
So what happened after that? He eventually got his own Astrology show, which had lots of ratings. That show led to another show. It led to him being on the news, and to traveling across the world to various shows and getting his readings out there. Basically, if you grew up in a Spanish home in the 80's or 90's (or 70's?) you likely knew about this mysterious man.
And then he went away at some point, and no one seems to know why, which is what this documentary wants to explain.
You see, it is all about law suits. He trusted a manager to be a good person, and this led to him signing a bad contract letting them do whatever they wanted with him. Once the money stopped flowing, Mercado wanted answers and out, but this led to big legal battle that lasted years. Overall, Mercado got to keep his name, but the company got to keep his likeness and old material and shows for profit. At that point, Mercado had tried a few comebacks but failed, and the rest, again, is history.
Now my biggest issue with this documentary is two fold.
First of all, astrology itself is all just made up, and that should not be a controversial statement to make. Vague statements that can be applied to most people, and if it doesn't, well, you usually remember the ones that are spot on. There is lots of information out there on this and similar topics. So Mercado got big and famous over lying to lots of people. Okay, whatever.
The second thing is that this documentary is 100% a puff piece documentary, not going to much nit or grit of his life. The entire last third of the documentary is preparing for and being excited about a museum show honoring his life in Miami in 2019 and just drags. But Mercado was involved with some shady shit. He had a psychic hot line and also was involved with selling "magic" jewelry (which the documentary left out) and the documentary swept it under the rug. They blamed his manager, said Mercado wasn't out to hurt people at all and then moved the hell on.
Come on, this is a documentary, lets be truthful. It is okay if you did bad shit. Talk about it, admit to it, and lets move on. Instead they focus on this person only being an angel and worshiped, but ignoring the bad stuff and that it is all based on a lie anyways. It just rubs me completely the wrong way.
This documentary will definitely inform you as to who he is and why he became popular, but I find myself skeptical at other parts of it due to the glaring obvious parts that are ignored.
And hey, Lin-Manuel Miranda and Eugenio Derbez are in here, and they are famous. The former also opens the documentary and has an extended part at the end. I also did like to hear about his long time best friend and assistant Willy Acosta, and I wonder what he is up to now with his life in his own hands.
1 out of 4.