Gringo had something funny occur with their PR screening ahead of time. Our screening wasn't until the week of release, like normal, but they actually sent out the real invite for it over a month early. Now, normally, these invites are a week to two max early. If any earlier, we get save the date notes or whatever to let you know it is coming up, but this was just the regular invite to respond to for RSVP purposes.
So of course I accepted, and the only reason it is much later a review is because I was sick that day, couldn't go, and had to watch it weeks later in the theaters. I wanted to see Gringo, it looked fun, and sure, it had a plug on The Joel McHale Show with Joel McHale. Let that be a lesson for you, advertising can work. Why else would I still be using old spice body wash every day?
Gringo has an interesting name, given what I think I know what it means, and that we had a film awhile ago called Get The Gringo, which was also a bit better than anticipated. I had high hopes for Gringo given it setting, its very fun looking cast, and of course, because of Mr. Copley adding his own weird style.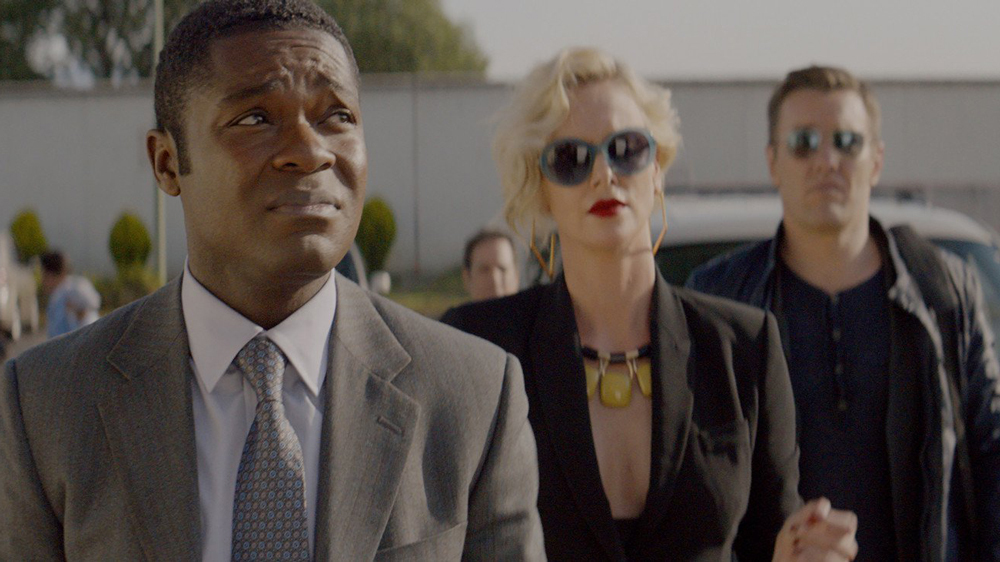 Which one is the gringo though, really?
Our story is about Harold Soyinka (David Oyelowo), a man who never can catch a break. He has a high job in a pharmaceutical company,but he isn't rolling in the dough like the people in the higher levels. His wife (Thandie Newton) is an interior decorator, but only has one client and is bleeding their money. His boss (Joel Edgerton), is a hardass, a dickwad, and all of the body parts between those two. But he makes that money, he is good friends with Harold, and he got him the job in the first place.
Harold has to work and travel to Mexico frequently for their job, where they have the pharmaceutical factory set up. They are making a weed pill, so to speak, so that when America starts lifting those bans, they will have the product and infrastructure in place to take advantage of the now open market.
Because we are talking about drugs and Mexico, it should be obvious that the Cartel is also involved. Harold doesn't know about that of course, he is a good guy, but when dealing with his boss's mistakes, he is about to see how little he matters in the grand scheme of events.
Also starring Carlos Corona, Alan Ruck, Kenneth Choi, Sharlto Copley, Charlize Theron, Melonie Diaz, Amanda Seyfried, Harry Treadaway, and Yul Vazquez.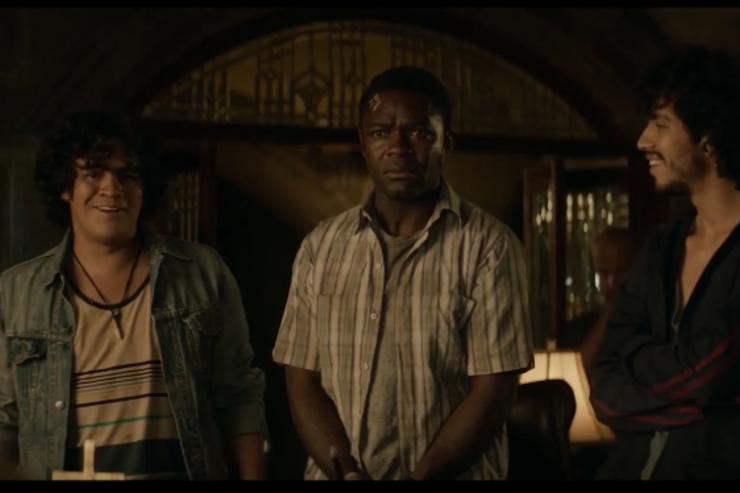 Ooooh, looks like they finally GOT THE GRINGO! Oh, wrong movie. Sorry.
Gringo is an example of a story with a lot of separate plot lines amongst the characters, where no one character is sure of what is actually going on, and all the chaos that occurs from these miscommunications and lies. But also, with death, violence, and comedy. So yeah, going for a Taratino film feel.
Out of all the many cast members, the only one to really shine is our star, Oyelowo, who seems to have perfected that scream freak out look that he gets to do over and over in the film as he continues to get shit upon. Because that is the movie. Bad things happening to his character, despite being a relatively good guy, and him never getting out of his situation.
If you hate crazy plot lines, you still might enjoy it for Oyelowo's performance, where he seemed to show a different side of him. A more excited side, compared to more of his very serious roles recently.
The movie did feel quite long, given the twists and turns along the way. And hey, I didn't know where it was going most of the time. So it was a surprising thrill ride that did still have me on the edge of my seat. A lot of bad people in this one, and one guy to root for. A good classic film position to be in.
Give Gringo a shot, at least just once.
3 out of 4.