We were supposed to get In The Heights last June, but, you know what happened. Sad things happened. We all know that. But the only good news about it is that they ended up releasing Hamilton 15 months early or so, straight to Disney Plus, to make up for the fact that In The Heights would be pushed back. It is not a compromise I knew I would have to accept, but one I did gladly accept overall.
In The Heights the musical hit Broadway in 2008, and earned quite a few Tony nominations, putting Lin-Manuel Miranda, lyricist and main actor, on the map. That lead to other things as we all know.
I had only knew one song from this musical really well, called It Won't Be Long Now, because it showed up on my Musical Pandora and no other songs from the whole show. I did give the sound track a good listen before hand the day before this screening, to get familiar with the tunes and lyrics, since I know they can sometimes be hard to hear on the screen. It made me cry once or twice on its own, so I knew there was no hope for my tears to see the whole thing in front of my eyes.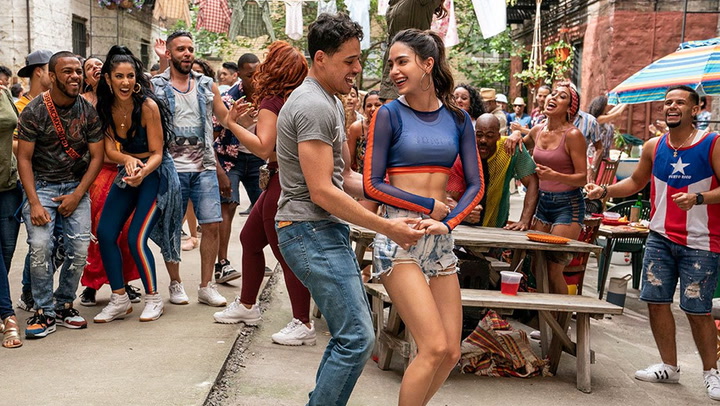 These people are all happy, but I know I'll end up sappy.
We are going to check out Washington Heights, a small area in New York City, or Neuva York if you want to call it that, I won't stop you. This is where will meet Usnavy (Anthony Ramos), owner of a bodega in this area, where almost all of the citizens stop by for his coffee that they have grown attached to. He runs it with his younger cousin Sunny (Gregory Diaz IV) who is still in high school, but politically motivated. Usnavy came from the Dominican Republic before he was 10 with his parents, but the best days of his life were back then, living on the beaches, while his dad ran a bar. Every day was paradise. And he has the chance to go back finally, buy his father's shop (now in need of repair) and location, and start the final chapters of his life, at home.
It is also about a few other characters. Like Vanessa (Melissa Barrera) who works at the local salon (run by Daphne Rubin-Vega), but has dreams of getting out of this area as well. Not as far as another country, but deeper into the city, to work as a fashion designer. We have Nina (Leslie Grace), the "one who got out", a girl who was so smart and full of learning wonder that she went to Stanford! But this is the summer after getting back and she has to tell her dad (Jimmy Smits) some not great news. And there is also Benny (Corey Hawkins), who works for her dad, is into Nina a whole lot, and wants to become a big money maker in the future.
And of course there is the Abuela Claudia (Olga Merediz), who never had her own kids but is like an Abuela to a lot of our characters, who wants to help everyone in the block and be a great person overall. So sweet.
In The Heights is about the dreams and aspirations of a few characters who live there, hoping to eventually find a home. And it takes place in the summer, before the hottest day and a blackout that will change all of their lives forever.
Also starring Ariana Greenblatt, Stephanie Beatriz, Chris Jackson, Dascha Polanco, Marc Anthony, Noah Catala, Olivia Perez, and Lin-Manuel Miranda as Piragua Guy.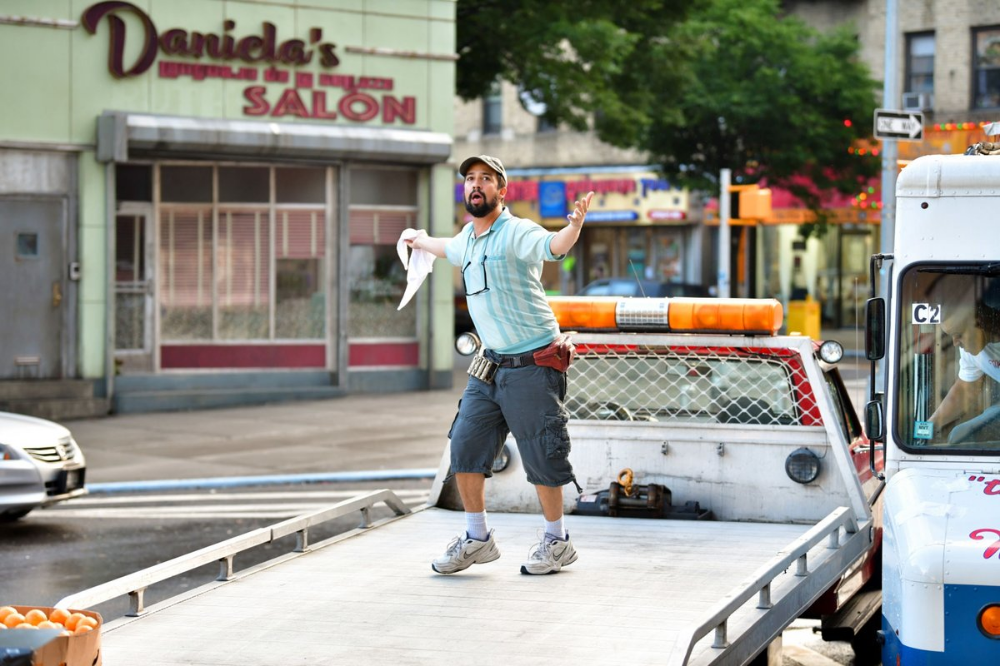 A man who can wear shorts to work is a man I inspire to be.
Jon M. Chu, director of In The Heights the movie, was the perfect choice for this musical, and frankly, all musicals going forward. His name really came into my eyes when he did Crazy Rich Asians, which was gorgeously shot, and every frame seemed to pop out of the screen. From the trailers of In The Heights, you can tell a similar story. Hell, he did mostly music videos before this, some Step Up films, and even Jem and the Holograms. Say one thing about all of these, you can say they at least look nice. Fuck. He is even doing Wicked once it eventually comes out. Can not fucking wait.
This movie is a goddamn spectacle. It is the first film I saw in theaters, since things started to shut down. I went 421 days without seeing a movie in theaters, and watched 440 films in that time, on my screens at home for the most part. And at the start of the film, in the "welcome to our theater" videos, I found myself already tearing up.
Because cry I did this film, early and often. Usually for just such heartbreaking soul crushing numbers, so well sung and choreographed. I wanted to help everyone. I cried from sadness and from happiness. It will give you that full range of emotions. I did not have any rage crying though. That would be hard to pull off.
Ramos, a few years out after starring in Hamilton, has to play the role Miranda made and feels like a great passing of the torch. He oozes charisma in this role, and having this musical be told through stories from him to children brings a lot of bonus personality to it. I wanted everything to work out for his character just mere minutes into the film.
There were awkward moments of the musical too. Don't worry. I don't think the film did a great job of fully giving a good reason for the arguments that occurred during the song Blackout. Except for some reason our lead character maybe has higher levels of anxiety and fear, with a little bit of alcoholism, that don't go fully explained or fleshed out, to make it make much sense. But in musicals, life can move fast through a song, so that also plays an element in it.
I honestly didn't know how I would feel about In The Heights, knowing the music stylings and lyrics were not my usual fair. Maybe I liked it more because of Hamilton's existence and getting used to the rhyming and rapping in musical fair, and the speed of the lyrics coming at me. Maybe I liked it on its own merits.
Oh, and for Hamilton fans, outside of actor cameos (of which we have just the three?), there is one other sneaky Hamilton reference that should be easy to see. Well, hear. And one other note. The Broadway songs have a reference to Donald Trump, which makes sense in there lyrically, but they definitely replaced that line in this film version. A good change overall.
4 out of 4.