Another killer doll. Why do dolls love to kill? Because they are given to children who might be rough with them. We all know that is the right answer. That is why we got Toy Story 3, right?
The real answer is because it is fun to take something known for being cute and put it in non-cute situations. Like killing. That is appealing. It is jarring. It stands out.
Well, it used to stand out. It has been done a lot, so there needs to be a great reason for another killer toy to come to life without just feeling like another copy cat iteration. Technically it doesn't have to prove its existence in order to be made. That sounds mean. But it does have to prove it is a worthy addition to cinema by my own snooty little standards. If it feels like more of the same thing, why should I bother.
Benny Loves You? That's good to hear. I would hate it if Benny was completely apathetic to my existence.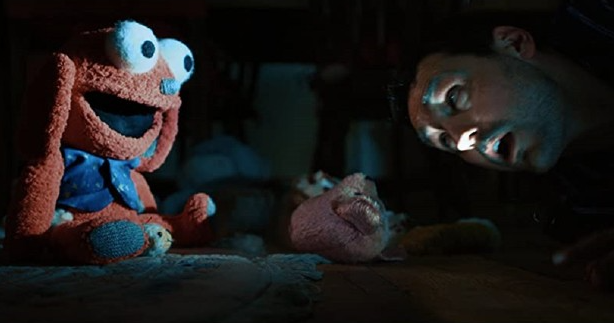 "Okay, Benny Loves You. But do you give a flying fuck about Benny?" – A Night At The Roxbury…ish
Dolls can be evil. But we will get to that. Instead we will focus on Jack (Karl Holt), who still lives at the same house with his famous. He thinks it is okay. Free rent. His job doesn't pay well, he helps design toys, but he isn't that great at it. At home, his parents still treat him like a kid, and he basically acts like one too. But in his 30's, on his birthday, he finally gets the house to himself! You know, after his parents both die in a freak accident.
It isn't even a year later that his house is now decrepit and falling apart, because he doesn't know how to function as an adult. He is behind on all bills, he doesn't clean well, he is about to lose his job. But then he finds Benny packed away. A toy from his youth. Well, he doesn't need that anymore.
Trying to get rid of Benny turns out to be something harder than expected. Benny has a mind of his own. He wants to protect Jack from anything that might hurt him, or anything that might try to replace Benny. Anything that Jack seemingly loves, or anything that is a threat to Jack, Benny will try to end, with extreme accuracy. Not a good time to finally find a lady, nor is it a good time to grow up, it seems!
Also starring Anthony Styles, Claire Cartwright, Darren Benedict, George Collie, Greg Barnett, and James Parsons.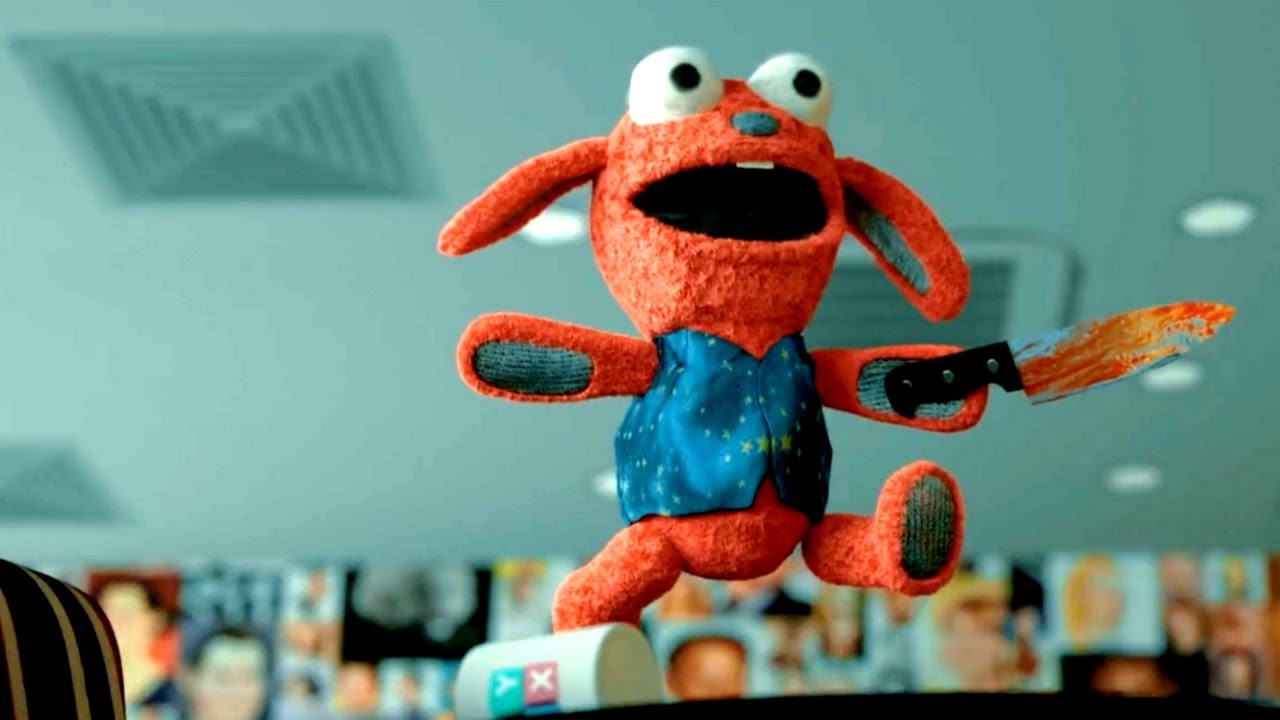 Bunny isn't a killer. That knife clearly cut something like a lasagna.
The beginning of this review might sound a little bit bitter, but that isn't the goal there. It is just to note what I am looking for in another killer doll story. Is there any originality?
Well, this movie is directed, written, and stars Karl Holt, who is a first time director from the UK who had this idea and put it on himself with some other actors. It is ambitious for anyone to do something like this, let alone a first time director. And in that scope, it isn't that bad. Maybe a little bit better than you'd expect from someone on their first attempts. But in the grand scheme of cinema, this was hard for me to enjoy.
It feels like its been awhile since I saw the movie before I was finally able to write it. But I feel like a few scenes early on really feel disconnected from the rest of the narrative. The death of his parents did come out of nowhere and was quite gruesome, but that ended up being the highlight of the movie for me. It is just another situation of trying to do a comedy/horror film that doesn't seem to excel in either genre, despite its best attempts.
The main character is hard to care about and so are the side characters. Live, die, whatever. Doll wins or loses doesn't matter to me by the end, because I became indifferent to the whole picture. It is just such a hard line to balance that comedy/horror genre. But I know I can leave double disappointed if nothing scares me and nothing makes me laugh. Again, outside of the ridiculous parents death scene, which shocked me. Just nothing could surpass it, leaving me disappointed for most of the rest of the film.
1 out of 4.