November 18, 2013
12 Years A Slave
I try to not go into movies biased, but with going to a lot of movies, I am forced to see a lot of previews. Mother fucking movie previews bias the crap out of me. I miss the days where I could watch most of my movies without knowing a lot about it before hand.
The good news is, I never saw the trailer for 12 Years A Slave, nor did I know what it was about. I mean, I can guess, with a title like that. But I don't know the real plot details. That is awesome.
However, I did know a lot of hype from my reviewer friends. Every single damn one of them loved this movie and there is much talk of Oscar buzz. I guess I should make note: that type of stuff biases too. Whoops. Oh well.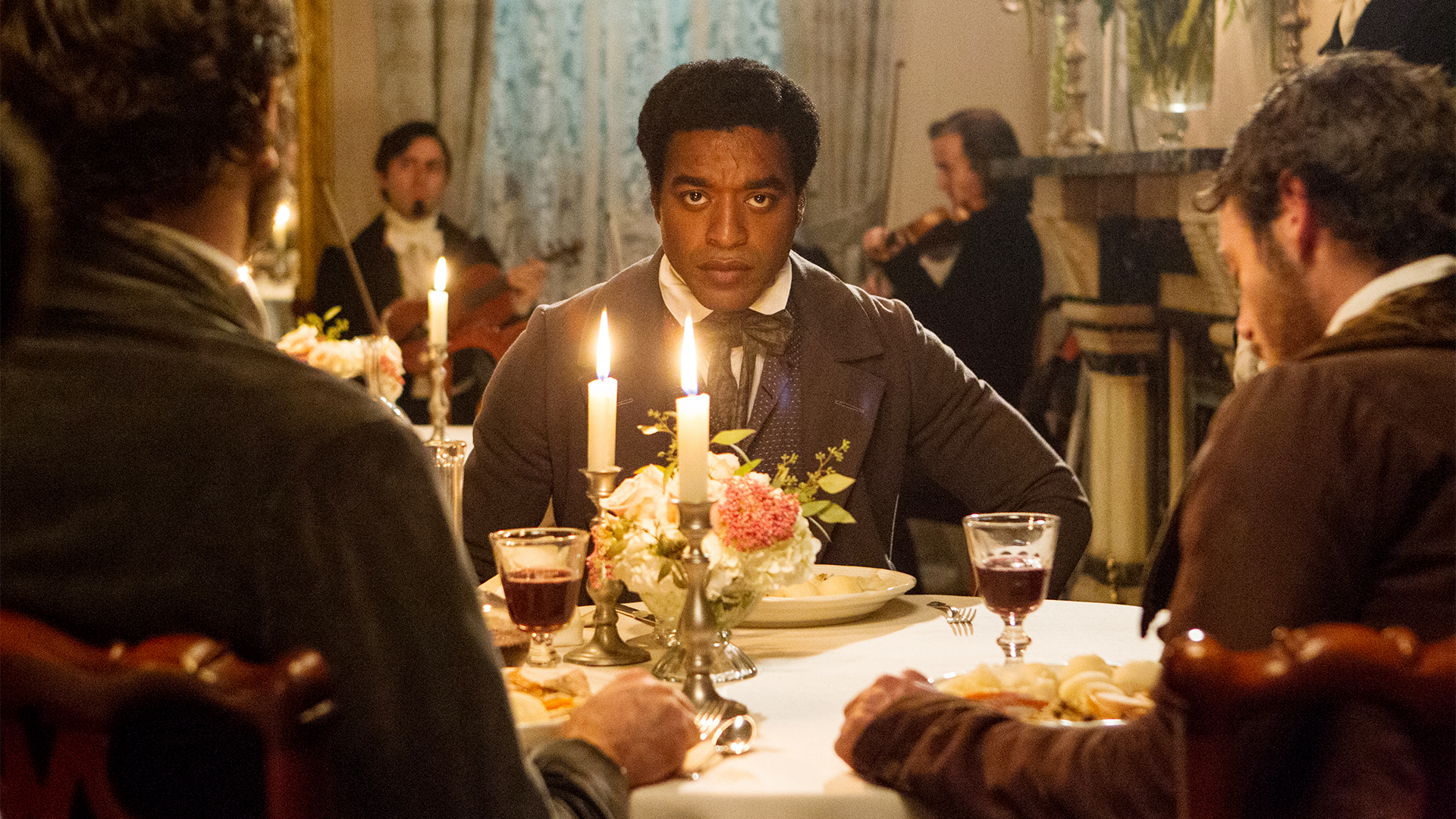 Oh man. Enjoy that dinner guy. It is all about to suck for you after this.
Soloman Northup (Chiwetel Ejiofor) is a free man. He lives in Saratoga Springs, New York, with his wife and two children. They are pretty well off too, living in a nice home, fine clothes, and instruments! Soloman plays the violin, and he is quite good at it. Performs at very exquisite dancing balls.
Well, his wife and children go on a trip that will take them away for about three weeks, leaving Soloman all alone. Later that day, in town, he meets two gentlemen, performers, who offer to bring Soloman on trip to Washington and back, overall two weeks. They need a man to play music for them and their other acts, a fancy circus of some sorts. He agrees, given his current free time, and hey, good money is good money.
Then, after a night of drinking in Washington, he finds himself in chains. Hmm. This must be some misunderstanding. A pretty serious and unforgiving misunderstanding. There is only so much you can do in chains however, and when people with whips say otherwise, you must listen.
And so began the unfortunate story of Soloman, a free educated and wealthy black man, kidnapped into slavery for, you guessed it, 12 years of his life. Away from his family, friends, and any sensible human being. There is a huge cast of characters in this film, including: Michael Fassbender and Benedict Cumberbatch as slave owners, Paul Giamatti as a slave trader, Brad Pitt a Canadian sympathizer, Paul Dano as an overseer, Lupita Nyong'o a hardworking female slave that becomes an obsession of her master, and Adepero Oduye a woman who becomes separated from her children.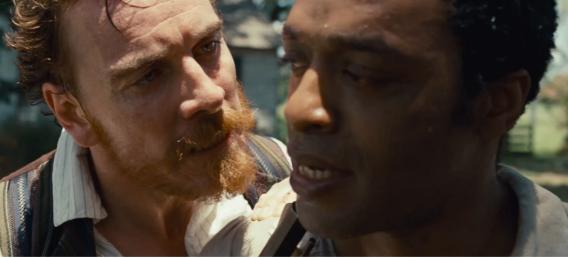 FUCK YOU FASSBENDER. I HATE YOU NOW. I HATE YOU. YOUR CHARACTER WAS A DICK AND NOW I THINK YOU ARE A DICK!
So gritty and unforgiving, and so true. The film is adapted from a book of the same name, written in the 1850s by Soloman Northup. The book gives a first hand experience of years of being a slave, by a man educated enough to accurately recall the events and get them written down. A vague book, that not a lot of people are aware of, but a book that will have sales boosted exponentially due to this movie. Shit, the book was even verified later as being very factual and accurate on all the accounts that could be fact checked.
But it being a true story shouldn't affect the rating of it as a movie.
Thankfully, it doesn't even matter, as this movie was incredible in every way. It was emotionally draining, as bad event after bad event occurred to our hero. Yeah, we know he obviously eventually gets out of his predicament, or else how could he write the book? That fact doesn't change any amount of agony that the watchers and character feel during the events in the story, and it is very eye opening.
I am super stoked this movie isn't political in nature or trying to change anything (because how could it? It already stopped), but instead focuses only on telling a full, accurate and strong story.
Chiwetel Ejiofor was stupidly good in this movie. The emotion he carried with his eyes alone made everything seem so believable. I already mentioned Fassbender, who had an almost equally powerful performance, enough to make me hate his real life self.
I will warn that there is some graphic stuff in here. I am talking whip scenes, rape scenes, just general beatings, and an incredibly long and well shot hanging scene. You might have to look away, and you might feel squeamish. "12 Years A Slave" is probably the current front runner for Best Picture this year in my book, with only 1.5 months left to go int he year. Shits good. Slavery is bad. I am sad.
4 out of 4.