August 7, 2014
When The Game Stands Tall
You know what sport has been unrepresented in film lately? Football. You might disagree with me.
First, let's ignore all the bullshit smaller titles, the made for TV stuff, the documentaries. I will not accept The 5th Quarter, it was a straight to DVD thing basically.
Looking at only big releases, we had Draft Day this year which is more a generic sports-ish movie since it could have been almost word for word with any other sport and still work. Just change name of positions and teams and boom, all football elements gone. The Blind Side? That is a dramatic biography, not a football movie. That takes us all the way back to 2008 where we had The Longshots and Leatherheads. Yeah.
So a movie actually about the sport, with sport stuff going on hasn't been out in a big release for awhile. When The Game Stands Tall is a true story, so it has that going for it at least.

Players wearing gear is one step above Draft Day already!
De La Salle High School is a Roman Catholic private high school in Concord, California. Close-ish to San Francisco. All men school, too. They never had a winning football season until they signed Bob Ladouceur (Jim Caviezel) in 1979. He then coached the team for decades, and starting in 1992, his teams had 12 years of undefeated seasons, leading to a 151 game winning streak. True story.
But the start of the 2004 season had changes. Their conference was tired of them destroying them, so they limited the De La Salle Spartans to only 5 games of league play, making them look elsewhere for opponents, where only the best of the best would accept. And wouldn't you know it? While playing their first game of the season against the Washington state champion Bellevue Wolverines, they lost 39-20, breaking their record.
Heartache. Depression. Sadness. What are they going to do? Well, apparently lose their second game too, but at least it was a closer game.
Can the coach turn it around? Especially before game three, against the biggest meanest school in California, in 100 degree heat? And can they also get back into a championship winning team? Maybe?
What about side stories? WE GOT YOUR SIDE STORIES.
Like Chris Ryan (Alexander Ludwig), a running back, going for the California state record for TDs in a high school career. Only needs like 36 this year and has a whole lot of dad (Clancy Brown) pressure. Or the friendship between Cam (Ser-Darius Blain) and T.K. (Stephan James), of where they are going to go to college, and how there is a lot of death in their lives, and how one of them totally dies.
Can Tayshon (Jessie Usher) stop having a superstar attitude and work with the team? Can lovable Beaser (Joe Massingill) do…good at stuff? Will Arturo (Matthew Frias) ever get to play and feel important? How about Coach's wife (Laura Dern), can she nag even more? And will his son (Matthew Daddario) get to have a good senior season with his dad as his coach?
AND WHAT ABOUT THE ASSISTANT COACH (Michael Chiklis)? WHAT ABOUT HIM HUH?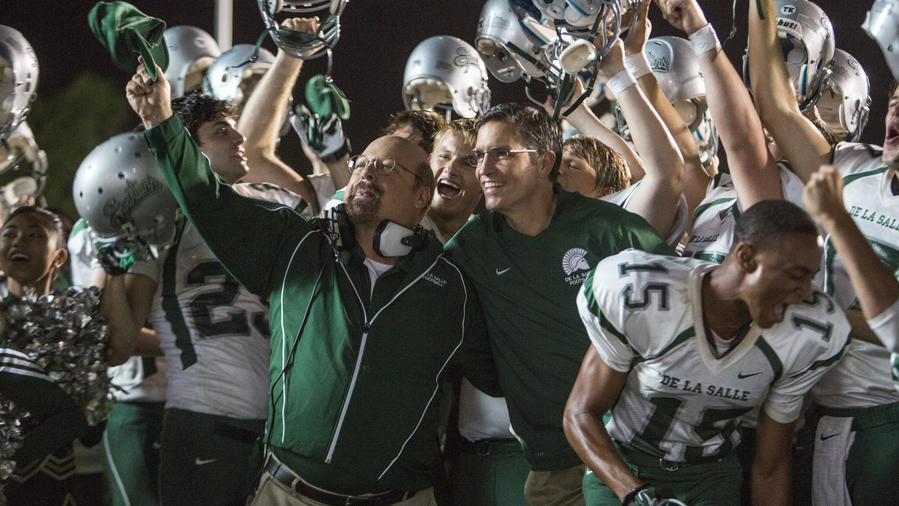 The most impressive part of this movie was getting Michael Chiklis to look like a cross between Jason Alexander and Wayne Knight.
From my estimations, 87.3333%, repeating of course, of this movie is completely made up. What? Something based around a definitely true event is fake? Well, let's go into spoiler territory. You don't care, you probably won't watch this movie.
For sure, there was a Bob Ladouceur. The streak was 151 games and it was De La Salle high school. The dates of most of the stuff they mention work out. There was a T.K. and a Cam and one of them died. His son was a player in their first losing game. Everything else is just made up and fabricated drama.
For instance? Chris Ryan was not a real player. There was no one ever on their team working on beating this TD record for high school and it definitely didn't come down to the final championship game. What really irked me and made me knew that this couldn't possibly be real is that the coach, for their final drive, winning by a lot, let the players call the shots. They get down to the 1 yard line with about a minute left. And Chris becomes the QB, and takes a knee, three times. That's because his dad beat him and wanted the record more than the son, and he thought the game should be about the team and not his record. Also because Jesus.
I knew there was no way that could have happened, it would have been everywhere on the news. The second tipoff was that at the end of the movie, they only did the "And here they are now!" screen for the coach, no one else. The other real players were either dead or failed at college ball, basically. So I had to look it up.
Then I found out they also made up the arrogant wide receiver on their team. Okay. Whatever. His plot sucked anyways. Most of the plot was the random death, the dad abuser/TD count, and the game winnings.
But then those fuckers even made up how they did that season. Literally the easiest part of a sports movie to get right. They got their first loss right and score. Sure. The second loss right after? Wrong team and wrong score. Made it seem like they were close. Then in real life they tied, they finally won in their first league game a ridiculous 49-0 versus a shitty private school team. The movie said they played the best team in California, had all of these problems, that team had a 100 player roster versus their like, 40 guys, and over 100 degree heat. They said they barely won that, then went on to win the rest of the season.
THEY DIDN'T EVEN WIN OUT THE REST OF THAT SEASON, WHAT THE FUCK? They had another tie and another loss.
They changed even the fundamental basics of their story, the easiest thing to get right, the records/schedule/score?
Outside of that, this is a huge First World Problems movie. Oh boo hoo, you guys are all sad because you lost a game after a bunch of guys before you never lost? Get the fuck over yourselves.
An inspirational sports movie has an underdog, a rag tag team, a group of losers, coming together to win over all. This one takes a bunch of winners, has them lose two games, and then go back to winning a bunch. Get the fuck out of here.
And it is a shame. If they kept to the real story, this would have been a decent movie. Because the football scenes were pretty interesting and shot really well.
1 out of 4.