October 27, 2020
The Wolf of Snow Hollow
Despite loving the crap out of it, I never ended up reviewing Thunder Road for my website. In fact, I am re-watching it now to get an overall sense for it and how the director/writer/star has evolved.
Let's back up. Jim Cummings created a movie called Thunder Road, and it was way better than I imagined an indie movie directed, written, and starring the same person could be. Especially if it is someone I hadn't know at all. Cummings has dealt with a lot of shorts before this film, and has been a producer on various works, and apparently did a movie eight years prior, but this is the first one that likely anyone saw.
It was good, and we wanted more. Apparently the more we get was two years later, with The Wolf of Snow Hollow.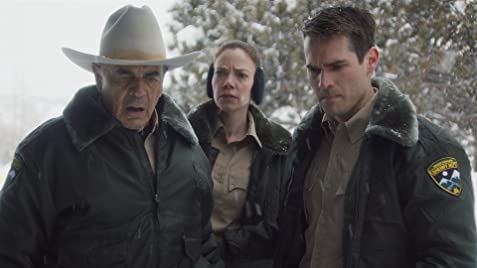 And cops? Is this another cop movie Jim?
John Marshall (Jim Cummings) is a cop. Yes you read that right. A cop. This time in a small resort town somewhere in Northern USA, that does good tourism during the ski season, and is quiet as heck when it ain't. John is going to be the head Sheriff someday, he has been groomed for it, because his dad (Robert Forster) is the current sheriff, and about to retire. John is a bit more fiery, but he has the heart and spirit to get it done.
And then a woman dies. Not only does she die, but she dies horrifically, with her genitalia ripped out. Oh no. That is graphic. The boyfriend (Jimmy Tatro) reported hearing wolves during that time, and also noted that some local dudes in a bar got feisty towards them, but that is all he knows.
And the town things it was a werewolf. There are people who say they see a two legged wolf running around, and future deaths to more women seem to add more to the mythos. Some in his department believe it, but John does not, and he needs to put an end to this circus quick before the national news jumps on this and makes their town a laughing stock. He also wants to protect his daughter (Chloe East).
With his second in command (Riki Lindhome), John needs to prove that werewolves are not real despite overwhelming evidence, putting his own career and the lives of many on the line in the process.
Also starring Daniel Fenton Anderson, Skyler Bible, Demetrius Daniels, and Kevin Changaris.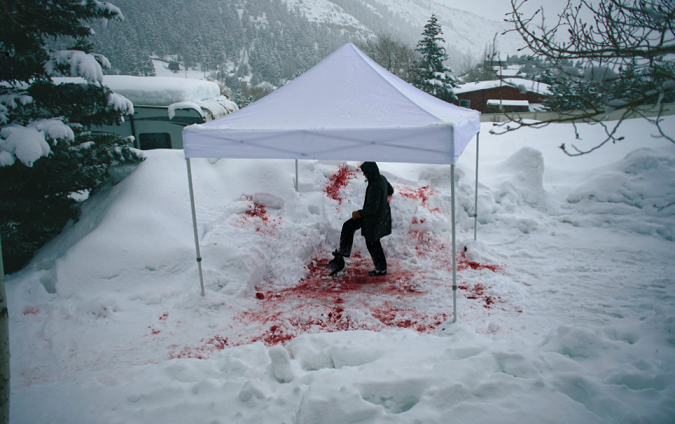 Blood is hard to get out of various substances and snow is definitely one of them.
Thunder Road is about a cop having a nervous breakdown on life because he is losing everything he knows and loves: He has lost his mom to death, his wife to divorce, his daughter to divorce, and his job and friends due to his bad ways of dealing with his grief. One breakdown after another.
The Wolf of Snow Hallow is about a cop having a nervous breakdown because of the stresses of the job. He also happens to be a single parent, and close to losing a parent, and lashes out in anger at many things with his rage problems. So there are similarities, but sure, they are different, because the stress of being a cop really didn't play into Thunder Road, while it clearly did in this movie.
I am weary of someone making roughly the same film over. Jim. Why are you playing a cop again? Do you love cops? Now is not an okay time to love cops. Which they do bring up in this movie too, so it is at least topical in that regard.
But in all honesty, The Wolf of Snow Hollow has a lot going on for it. It gets real stressful, we get long scenes of great dialogue, we get some good montages in this one, especially when it came to a crime happening and the cops investigating the same crime. Jim did grow as a visionary director here and had his movie try new things out.
The story itself is fine, it has twists and turns, but I wouldn't say it was easy to guess or anything the conclusion towards. Sort of came out of nowhere for me, so I wonder how obvious it was or if I missed anything.
Also if Jim is a cop in the next movie he writes and directs I am going to be pretty sus with him, but still watch the shit out of it.
4 out of 4.