Whoa whoa whoa, hold up. This movie Race is about a true story, inspirational sports figure, and it ISN'T made by Disney? They are dropping the ball!
Whoa whoa whoa, a second time. This is about Jesse Owens, famed Olympic runner, and he isn't being played by Chadwick Boseman? I thought he had the monopoly on super famous Black historical figures now, what with Jackie Robinson, James Brown, and T'Challa, prince of Wakanda.
And hey, that title, Race. It is about a runner. But he was also black. Dare it…might it… be about his skin color as well?
A double entendre! And neither side is sex related! A movie miracle here, folks!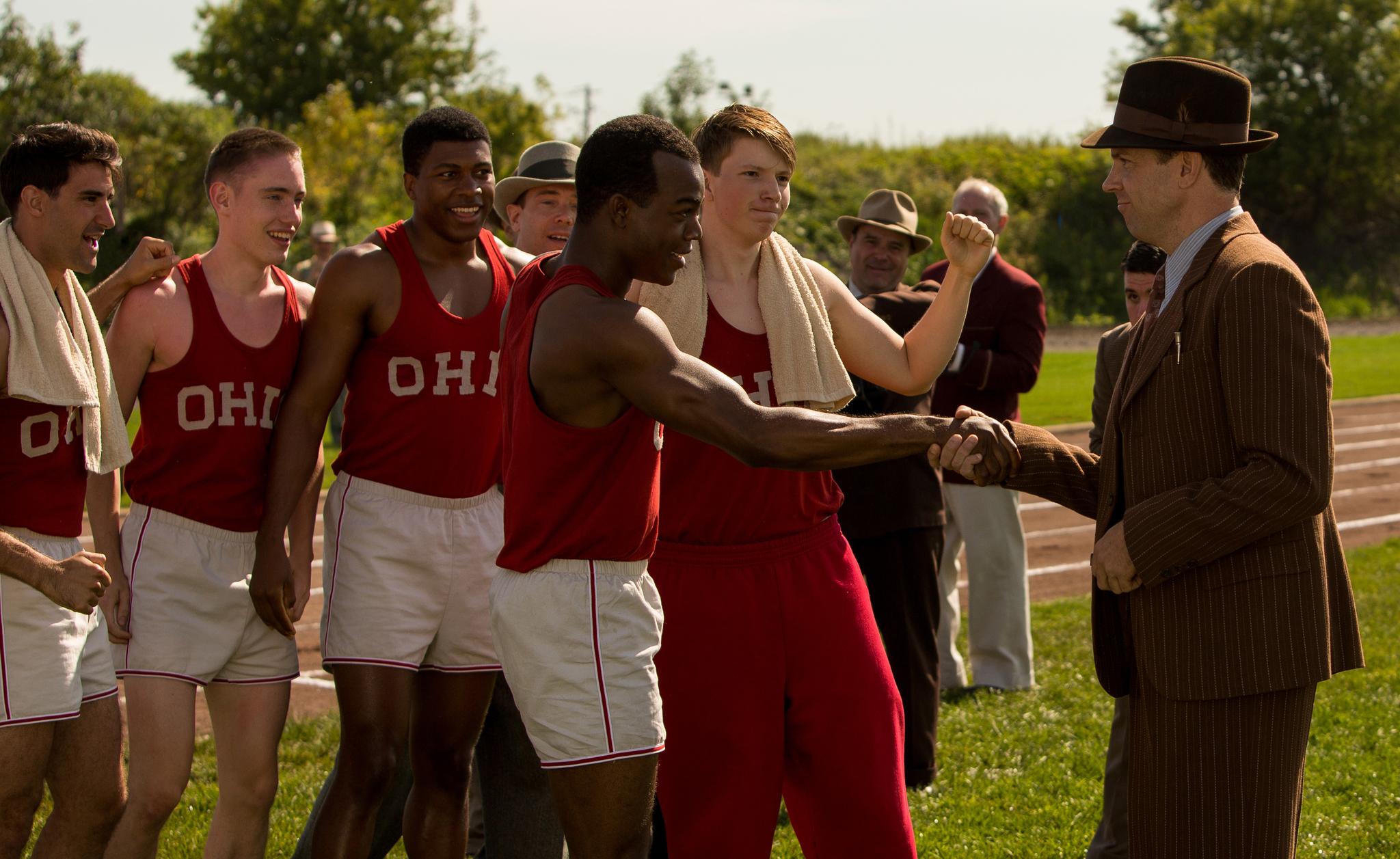 The only film that has made me care about the state of Ohio.
Early life be damned, let's talk about Jesse Owens (Stephan James) in 193. This man was college bound. He is headed to The Ohio State University, land of the Buckeyes and people too ignorant to cheer on Michigan. He turned a few heads during a high school track meet in Chicago, breaking records left and right. So he was able to get a scholarship to attend. He isn't a simple boy either. He has Ruth (Shanice Banton), who is working at a beauty salon, and a 3 year old girl he has to support. Sure he is going to college to run on the track team, but he also wants an education and a way to support his family, so he can marry Ruth and live a good long life with her.
Well, Larry Snyder (Jason Sudeikis) doesn't have time for all of that. He doesn't care about skin color, he just wants to win, like he did when he went to Ohio State. Almost went to the Olympics too!
And um. You know. Watch Jesse train, work, and make mistakes. He breaks many records, which the movie goes into, and qualifies for the Olympics! The Olympics that were being held in BERLIN, GERMANY, in 1936 before World War II (although they didn't know it at the time).
So we also have the side plot of America maybe protesting and not going to the Olympics. Avery Brundage (Jeremy Irons) wants us to go, so he heads to Germany ahead of time to make sure there aren't big human rights issues. Jeremiah Mahoney (William Hurt) leads the Olympic Committee and wants America to not compete.
Also starring Eli Goree and Shamier Anderson as fellow Black American racers. In Germany is Joseph Goebbels (Barnaby Metschurat), leader of the Olympic games, Leni Riefenstahl (Carice van Houten). director who wants to film the games, and Luz Long (David Kross), the best European racer.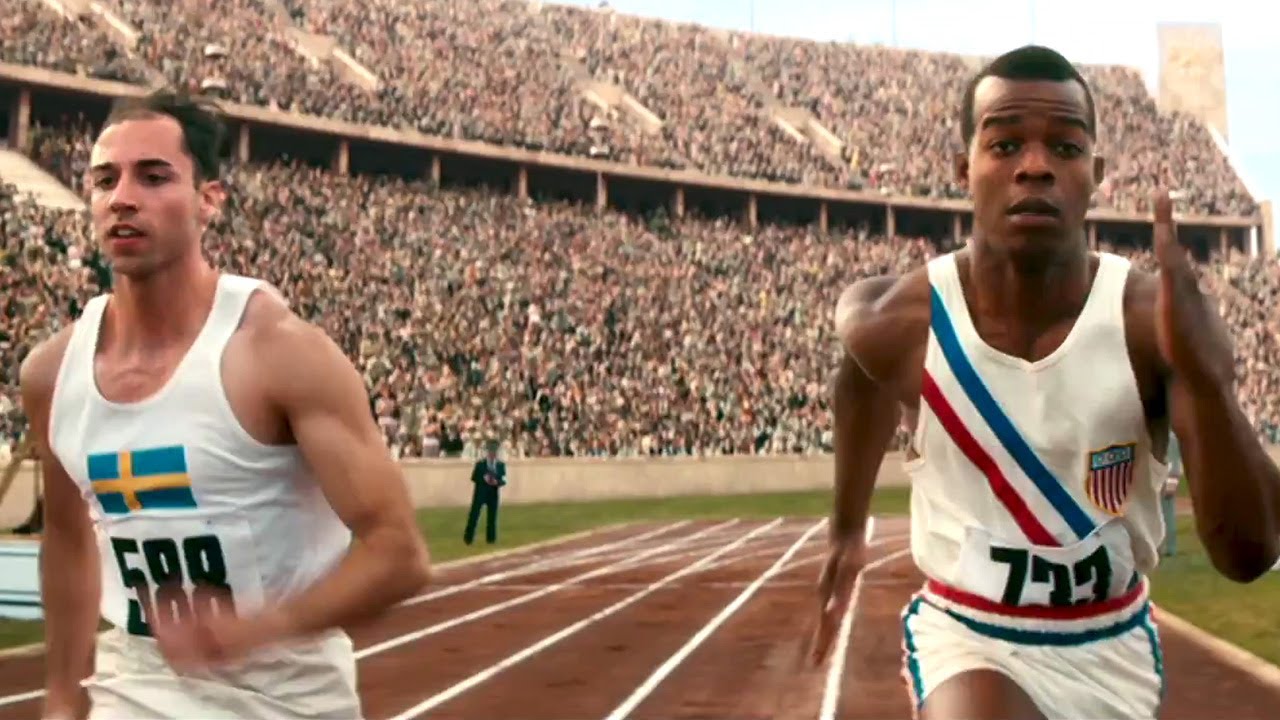 That's not him, he is Swedish, not German! But that is Jesse.
Race is 145 minutes long, telling the story of Jesse Owens, the fastest man in the world and winner of multiple Gold Medals. Kind of a lot of time for a guy who didn't take a long time. It also tells the story of the movie Olympia, which depicted the games and was directed by a woman director. It also tells the story of Avery Brundage, a rich architect, who might have had bad dealings with the Nazis.
Race is crowded and too long. The other side stories are a little bit interesting, but they can get the fuck right out of here. It seems messed up for someone like Owens to finally get a biopic, and have to share it with a scumbag and a German director. Similarly, Owens had to face a lot of racial pressure. The NAACP didn't want him to go, protesting Germany's shitty human rights laws and compare them to the USA. So if he went, he could let down his race. If he didn't go, he could let down his race. It was intense.
But this is also a true story. We know he went. We know he kicked back. The third or fourth time we had to see him threaten to stay home got ridiculous. Repetition only helps build the character so much.
It is a shame too. James acted great in this, and so did Sudeikis. I thought I had seen him as a coach before, but it was just a long commercial playing a Football coach. Check it out. They are the story here and you can tell they both care about the subject matter.
Race is just too bloated to tell the best possible story.
2 out of 4.