June 3, 2014
A Million Ways To Die In The West
Hey boys and girls! Did you like Ted? Well, then you might like the next movie, A Million Ways To Die In The West!
That is what advertisements told me at least. But I only thought Ted was okay. Was entirely pop culture based humor, so it was a movie that won't be as amusing in a few years because nothing will be relevant. Although it had a decent plot and Marky Mark, so that is fun.
But now we are going out west, back in time, and director Seth MacFarlane is actually going to star in it. Hopefully it is more than just a few dude's hangin' out.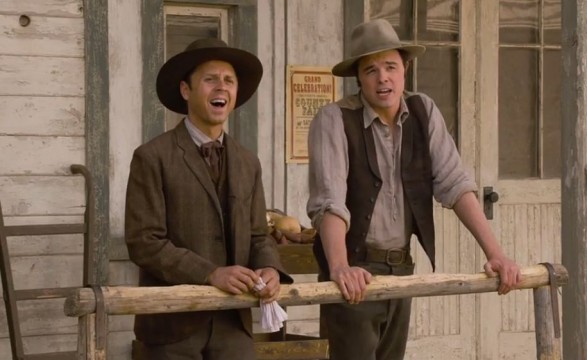 Damn it, this looks like two dudes just hangin' out!
Set in the 1800's in Arizona, near Monument Valley (like every other western), lives our hero Albert (MacFarlane), a sheep farmer and a pussy. He doesn't like to shoot a gun, because he never has, and thus he is bad at it. But somehow he keeps getting himself into shoot outs.
Albert starts to hate himself after his long term girlfriend, Louise (Amanda Seyfried) dumps him. Now he hates life. He also is a cynic, pointing out all the things that can kill him in the west. Thus the movie title. He does all this until Anna (Charlize Theron) walks into his life. Just kidding, he continues his moping ways, but now there is this mysterious woman who can shoot better than any he knows. Maybe she can change his life and stop him from getting into gun fights.
Just kidding. He does some stuff, getting him into fights with Foy (Neil Patrick Harris), the owner of the Mustacherie, and Clinch (Liam Neeson), an outlaw and the fastest hands in the West. Oh Albert, you are so silly.
Also starring Giovanni Ribisi, as his best friend, dating a whore Sarah Silverman.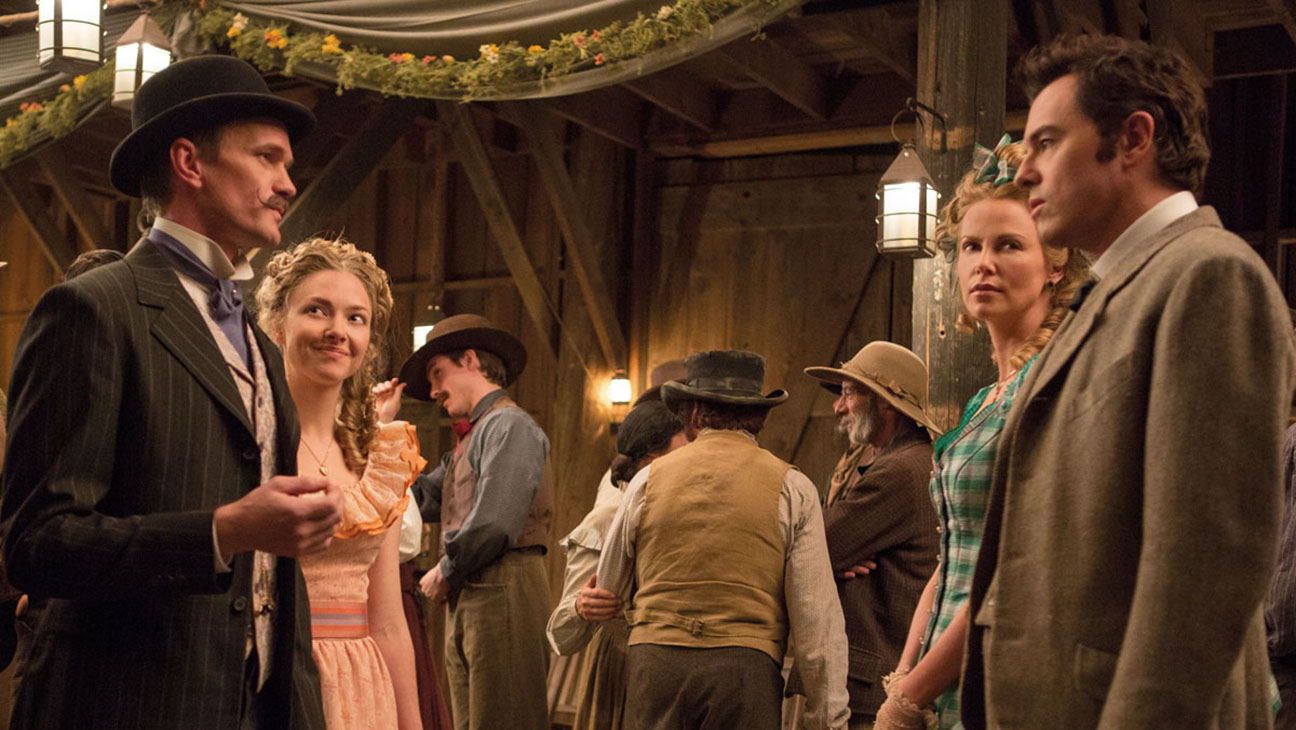 "Huh? Why would Neil Patrick Harris every run a mustache store?" – GorgView Hate Commenter
I think I would rather watch Ted in four years than see A Million Ways To Die In The West.
The humor is very Seth MacFarlane, I will give it that. You can go in expecting that, and if you enjoy that enough, you will maybe have a good time. Maybe.
To me, this comedy had huge stretches of time without a joke. Trying to maintain some western tropes, there were scenes of traveling and just looking at the scenery. But that wasn't the downtime. Literally just long periods of the movie moving on without very many jokes. It doesn't help that quite a few of the jokes were in the trailer, most of which giving the entire set up and punchline so none of it was left to surprise. I am most disappointed in even the TV ads giving away one 1980's related scene, which would have been amazing if kept secret.
Not that surprise is needed for comedies, no. A good comedy can keep you laughing through many viewings. The humor that was present just for the most part wasn't for me.
There were some okay moments. I really liked the mustache song. Sarah Silverman ended up making me chuckle on more than one occasion. So I guess I thought the small side plot was more amusing than most of the film. That happens some times.
TL;DR, for the most part, A Million Ways To Die In The West just felt like 2 hours of boredom, with an occasional chuckle. Having the main character be a relatively modern man felt a bit half-assed. And I didn't even get into how much of a unlikable character he was. Mr. Mopey. Ever have a friend who complains about everything, as if the experiences are unique to them? Yeah…

1 out of 4.