This is my fourth movie this year reviewing with Anna Kendrick in it, and it hasn't been a great year. Mike and Dave Need Wedding Dates was on top, above Mr. Right and Get A Job, all very mediocre to poor. Sorry, I haven't hit The Accountant yet and The Hollars looks good too, but that is still six movies this year.
After the year she had been having, I wasn't super surprised to see her starring in Trolls as well. Trolls is probably one of the most least anticipated animated movies of the year for me, after Sing.
I mean, I get it. Getting rights to old toys to make new movies for is in right now. The Smurfs movies did okay, why not create a world about Trolls? Gotta get that merchandising money back somehow right? Fuck new risks!
Sorry, I almost complained about films these days. Trolls just seems like a lazy cash grab, and they have been hyping it since Timberlake released that song like, six months ago at least. I am trolled out already and I haven't even been forced to see a real advertisement for it.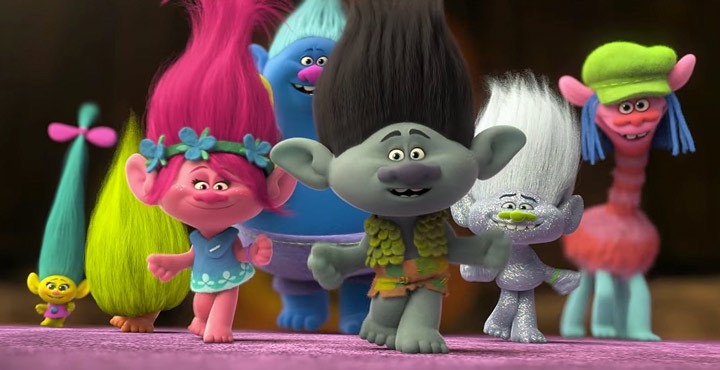 One of those trolls is a fucking giraffe what is going on here?
The Bergens are large, basically ogre like entities that are disgusting and sad, lives devoid of happiness. The Trolls are tiny creatures full of color who are always partying and full of happy. The Bergens hate them and are jealous of them and also found out that when they eat Trolls, they get to feel happiness inside of them and it is kind of a big deal. So they captured all of the trolls and every Bergen eats one on a holiday called Trollstice.
Except this year they have escaped underground, thanks to King Peppy (Jeffrey Tambor), saving every last troll, including his baby daughter Peppy (Anna Kendrick). This gets the Bergen Chef (Christine Baranski) into quite a big trouble, because King Gristle (John Cleese) cannot feed his baby, Prince Gristle (Christopher Mintz-Plasse). So the Chef gets banished from the kingdom. The Trolls find a new place to live and they party for ever after.
Until twenty years later. Princess Poppy is throwing a huge party to celebrate being free of the Bergens. Everyone is going to be there, everyone but Branch (Justin Timberlake). The weird troll who is grey, doesn't sing, doesn't dance, doesn't HUG. He warns them not to do the party like that or else the Bergens will come. And sure enough, the Chef Bergen finds them and takes all of Poppy's friends. All of them, even the spiritual one (Russell Brand). So Poppy decides to get the rest of the Trolls into hiding and trick Branch into coming along with her to rescue them!
Back at Bergen Town, the Chef is getting back into business with the handful of trolls she captured. The king is dead, so the new king is that poor Gristle Jr. who never got a Troll before and he decides to restore Trollstice to make his kingdom happy! There is also a small maid, Bridget (Zooey Deschenal), who likes the king. This plays a part in the plot.
So yeah, get into the town, save the friends, and you know, survive. Whoa re the friends? Well, a lot of them are played by famous people, but if you asked me their character names I would have no fucking clue, as they kept them kind of hard to figure out and match. But we have Gwen Stefani, James Corden, Ron Fuches, Aino Jawo, Caroline Hjelt, Kunal Nayyar, Quevenzhane Wallis, Walt Dohrn, and Rhys Darby! Oh okay, fine, I could figure out who Guy Diamond was based off of his name.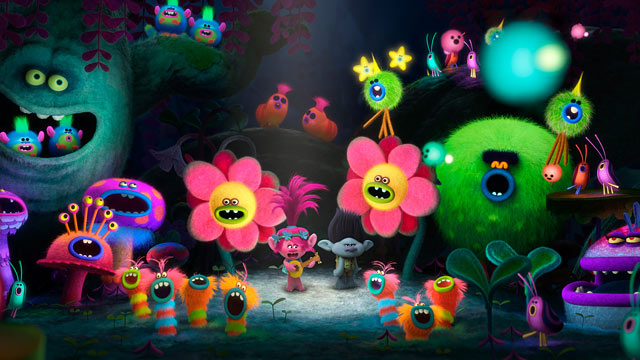 They live in a scary place where literally everything has a mouth and eats something.
Oh hey, Trolls. Of course it was a Jukebox Musical in some regards, and I hoped to see something creative. Instead, for the most part, the songs were bad mash ups with a loosely related theme and just choruses to get the little kids moving their feet. I don't hate Jukebox Musicals, I just hate bad music ones. It was overall a lesser Happy Feet in that regard, but better than Strange Magic.
Overall there were two really good musical moments, one was the song Get Back Up Again which is technically the only original song in the musical (Does the JT one count as original?), and another song near the end that captured the emotions of the moment extremely well. It might have made me cry, but crying does not mean I give the film a passing grade. There was also a very awkward song moment with Deschanel's character. She gave a unique voice for Bridget, but when Bridget sang it was uncomfortable as the voice did not transition at all into the song.
The colors are bright and kid friendly, but the animation style on its own felt quite dull. It felt too fuzzy and well, doll like. Again, their intentions I am sure to sell toys, but it wasn't too visually pleasing.
The world they created was an incredibly scary place, as there is a recurring joke of how almost everything eats something else. It frightened me and not in a sexy way.
Plot wise, about 20-30 minutes in it was pretty easy to figure out how the whole thing would end. And yeah, it was true. The love plot between Bridget and the King, although arguably necessary, felt like it was taking too much time from the rescue plot. There are not a lot of surprises in this film, nor intellectual humor. They have a character who farts glitter, and another character who shits cupcakes. Yay butt humor.
Overall Trolls is just okay, which is better than I expected. There are only a few more cartoon movies to go this year and the only place this one will make an impact in the awards is nominations for Best Song, I imagine. It is unfortunately also really dated. They decided to make the Trolls super modern, so they are saying YOLO, OMG and more terms to connect to the youth of today, meaning no one will give a crap about it in ten years.
2 out of 4.