October 16, 2020
The Opening Act
I have only been to a stand up comic show in the standard variety once. You know, a place that sells some sort of appetizers and drinks, with drink minimums. People all crammed in there to see one person, and they have to see other people before that who they likely don't know, but are there to hype up the crowd so the main performer can absolutely slay.
Yeah. Just once. I have seen comedians in bigger auditoriums, and they have a different feel than the comedy clubs. I have seen them in more open mic settings which are very very different feels, because of the short set.
But that build up. It is very interesting. Are the people getting funnier as they come out, or is it just because you are getting happier over time, with more material time to work with, or even…drunker?
Either way, the formula works. And in The Opening Act, it takes a realistic look at the first guy in the line up, who has the least amount of time, who has little experience in dealing with hecklers. Can he succeed? Or will he wilt away like so many before him.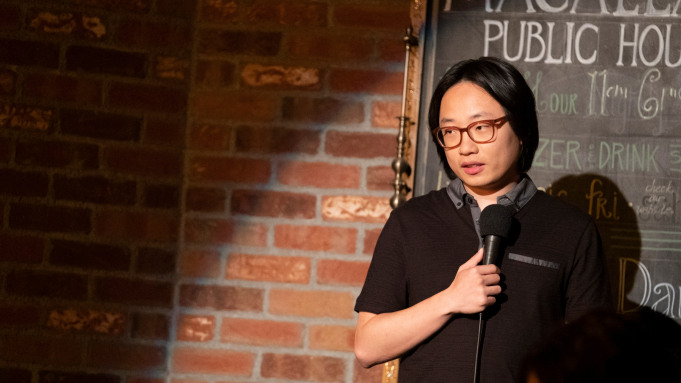 First thing you need to be able to do as a stand up comic? Stand up. Check!
Will O'Brien (Jimmy O. Yang) has grown up on stand up comedy. He lost his mom early on, but his dad was a big fan of stand up comics, so Will was a big fan of stand up comics. It was there way of bonding, it was their way of getting through grief.
Now Will is a man! An adult male man. He has a job that pays bills, a girlfriend who is supportive, and sometimes he gets to do stand up at open mic nights. But the only club he can get gigs at requires him to bring in paid customers to see him, and it is getting harder and harder for him to find people he knows who are willing to pay to watch him. He is at a point where his future in this career he wants to have is in question.
But then he gets an opportunity. To go out to another city and be the opening act (that's the name of the movie!) and mc for real big time comedians! Multiple nights in a row to do his own material and get exposure and meet legends.
Can he do it? Can he break from his norm? Or will his dream go up in flames?
Also starring a wide variety of comics you might have heard of before! Like Cedric the Entertainer, Debby Ryan, Ken Jeong, Bill Burr, Neal Brennan, Alex Moffat, Russell Peters, Jermaine Fowler, and Simon Rhee.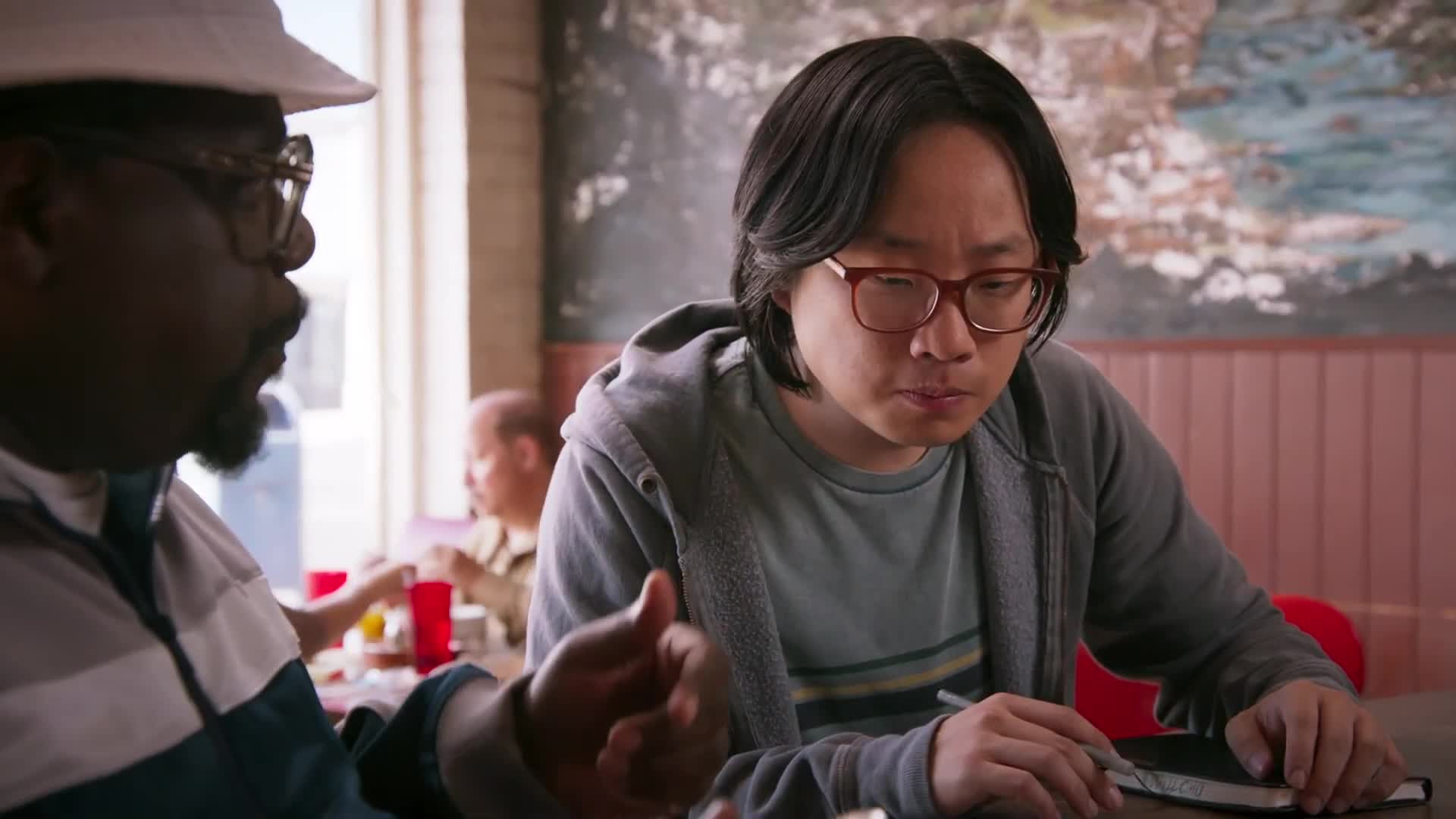 Second thing you need to know? Where to find the good food in cities everywhere.
I have seen movies about the hardships of being a stand up comic, you know, Funny People is sort of one of them. But they still are usually dealing with someone who has more success than failures. Sure there are pitfalls, but they usually exist further in the career and not at the humble beginnings.
In this movie, our lead is starting out as a regular insurance worker, who can sometimes tell some jokes. Getting to MC an event is a huge stepping stone for them. It isn't hour long sets on Comedy Central, but that is far in the future. This is where many find out that they are not cut out and go back to their day job. It is PAINFUL at times to watch this film, but it feels so realistic that we accept it anyways.
A lot of the film seems to be based on personal anecdotes from the films director, Steve Byrne, who is not just trying to tell his story and humble beginnings, but the beginnings for most comics.
I have only seen Yang before in Silicon Valley, so I was definitely surprised with his voice (he goes very English as a Second Language in the show), and he carried himself well as a lead. It feels like it is also his story.
The movie has a wonderful cast of secondary characters, all of them have their own personality despite limited screen time, and again, just feel like real people. One of the biggest surprises was the girlfriend, because the whole film she is supportive and understanding and hopeful. There is no added in relationship drama to pile on to our main character, which is an all too common thing to do in film.
If you want the experience of standing up on a stage and being unable to function while people judge you, this film probably gives you one of the closest experiences you will get outside of VR.
3 out of 4.