Before all of the hubbub, I just naturally assumed that The Hunt was a remake of the Danish movie, also called The Hunt. Because it was famous, got nominated for awards, and so of course it will be remade by America at some point.
And that film was about maybe a pedophile, but maybe not, teaching at a school. Apparently this movie is about hunting people as a game, a very unoriginal story!
And apparently, due to its violence, it was taken off the schedule until further notice. And further notice means March 13th, because we haven't had a big gun disaster in awhile, so it is okay to have a movie with violence.
I mean, minus the fact that people died, it has a pretty good PR campaign to get people talking about the movie. I will assume that was not their goal this whole time.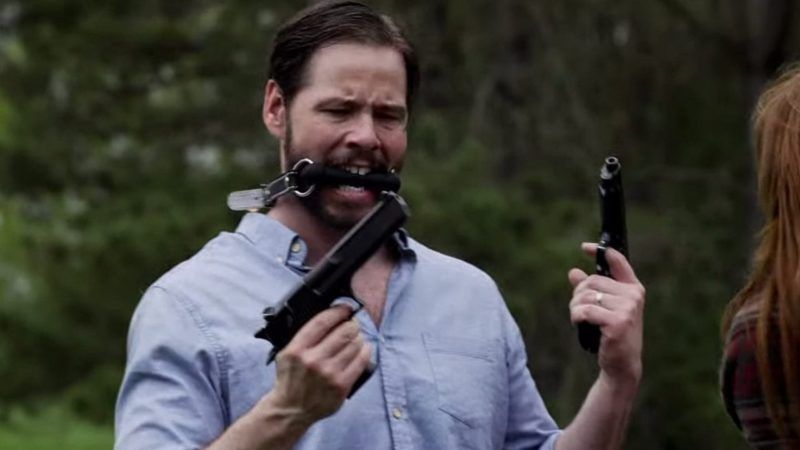 Ah fuck yeah, two guns!
Everyone knows about Manorgate. You know, the conspiracy? The one that says the rich liberal elite once a year steal "deplorables" from the society, to round up and kill them like they are animals. Deplorables can just be anyone they don't agree with.
You know. Card carrying republicans, gun nuts, conspiracy podcasters, anti-immigration, anti-gay, anti-abortion people. Any of those types. They just want to round them up in a small group and easily pick them off with traps and weapons, and slowly, this will be the rich's way of getting rid of the poor and shifting our country blue.
Everyone. Knows. About. This. It has to be true!
That's why when our cast of characters wake up, gagged, and find guns, they immediately know what is up when they start getting picked off. Can they survive? Can they put an end to this program once and for all?
A big cast of characters, on both sides of this hunt, including in no particular order: Ike Barinholtz, Wayne Duvall, Ethan Suplee, Betty Gilpin, Hilary Swank, Emma Roberts, Christopher Berry, Sturgill Simpson, Kate Nowlin, Amy Madigan, Reed Birney, Glenn Howerton, Steve Coulter, Dean J. West, Vince Pisani, Teri Wyble, and Steve Mokate.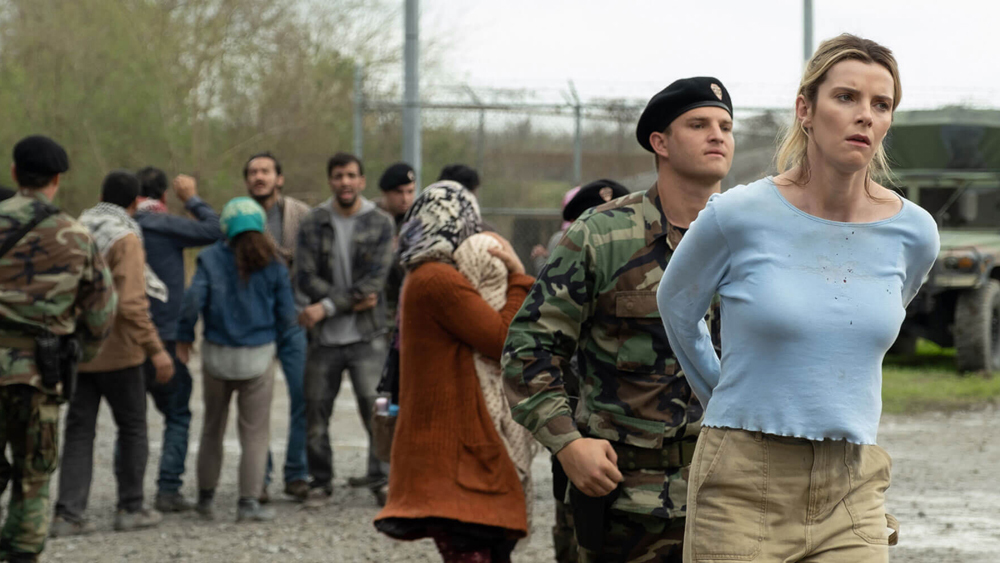 Shit, the military is involved as well? Better just add them to the Republicans side!
For a film about rounding up people and killing them (allegedly), they really knew how to drag things out and make it really boring. This is the sort of film that promises a lot of deaths, on both sides, and this is wasted on fast group kills that don't leave a lot left for the viewer.
This works in favor of the film early on, when people are dying when you might not expect it. Big names, with barely any lines, it is hard to know just who the main character is going to be. A lot of traps and explosions and more.
And then when we have only a handful left, it stalls really hard. Later on, a large percentage of the "bad guys" go out right around the same time, once again, why so fast? They needed to much better pace out the killing and keep it diverse.
In the second half of the film, I was left with a lot of slower conversations, like they really needed to pad the running time of this movie to make it last 90 minutes. I shouldn't be falling asleep as they get to the point.
And yet here I am. The Hunt is all hype and not enough substance. It doesn't go far enough on the killing, nor really anywhere with its message. This is a film that would only work as a short. Could have told the same sort of story in about 20 minutes and saved all of us time with a much better experience overall.
1 out of 4.