February 1, 2016
The Finest Hours
I am pining (Pine-ing, if you will) for a conspiracy here, so hold on to your butts, let's see what I can do.
Chris Pine is a weird guy. He does a lot of weird movies. Did you see Stretch? You should go see Stretch. At the same time he is a bit of a Hollywood pretty boy, so Disney wanted to get him in some of his movies.
They got him a small role as a Prince to make him feel important in Into The Woods, offering him the lead roles in future movies. Which brings us to The Finest Hours. I guess I am teasing a bit, because, I won't get to the point of this intro until after the second picture.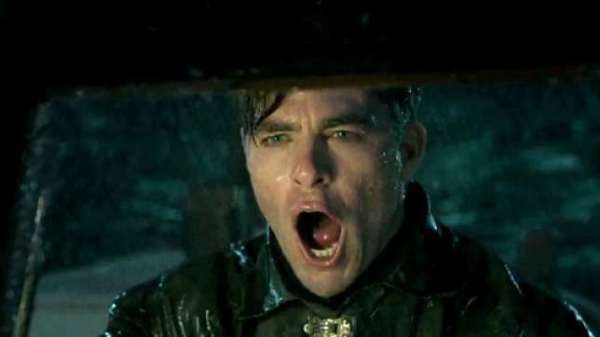 Chris Pine-spiracy.
This is one of those Disney true story period dramas that they do quite often, and half the time in Sports. So they picked a 1950's Ship Disaster, where two large Oil Tankers near Massachustes were ripped in half during the same storm. And during this same storm, the local Coast Guards had to attempt to save the lives of as many people as possible.
Our hero is 23 or 24 year old Bernie Webber (Chris Pine), a guy who grew up in a small town near Cape Cod and who has been sailing most of his life. So he joined the Coast Guard to save lives. There was a big storm the year prior where he was unable to do that and it has haunted him. So it comes to no surprise that he is willing to risk his life to go out into a bigger storm to do it again. His commanding officer (Eric Bana) isn't from the area and is inept, meaning that he shouldn't have sent out anyone due to the waves and the shifting bar. But then we wouldn't have a movie.
Webber and his crew (Ben Foster, Kyle Gallner, John Magaro) take a small 32 foot boat to find the half of an oil tanker that is apparently a few miles off the shore. They don't have an exact location, it is night time, and of course en route they also lose radio communication and their compass.
Meanwhile, on the ship itself, it is a giant vessel, in half, floating throughout the big waves. The crew consists entirely of workers, with the captain and "real leaders" being on the other half and totally dead. The de facto leader goes to Ray Sybert (Casey Affleck) a quiet type who runs the bottom of the boat. I am sure there is a real name there. He has to stop the crew from trying to mutiny and turn on each other, while also have them attempt the possible: to steer half of the ship to a shoal or a beach somewhere so they can maybe get rescued. They do this with the constant flooding and fear their engine/power will go out, which means no lights on their boat and no whistle to call for help.
The crew is made up of over 30 men, including Graham McTavish, Michael Raymond-James, Abraham Benrubi, Josh Stewart, John Ortiz and Keiynan Lonsdale.
Also featuring Holliday Grainger as Webber's new fiance to give us that love interest and pseudo Interstellar moment, and Matthew Maher, aka the Holy Bartender from Dogma, with a sizable role as angry tow truck driver.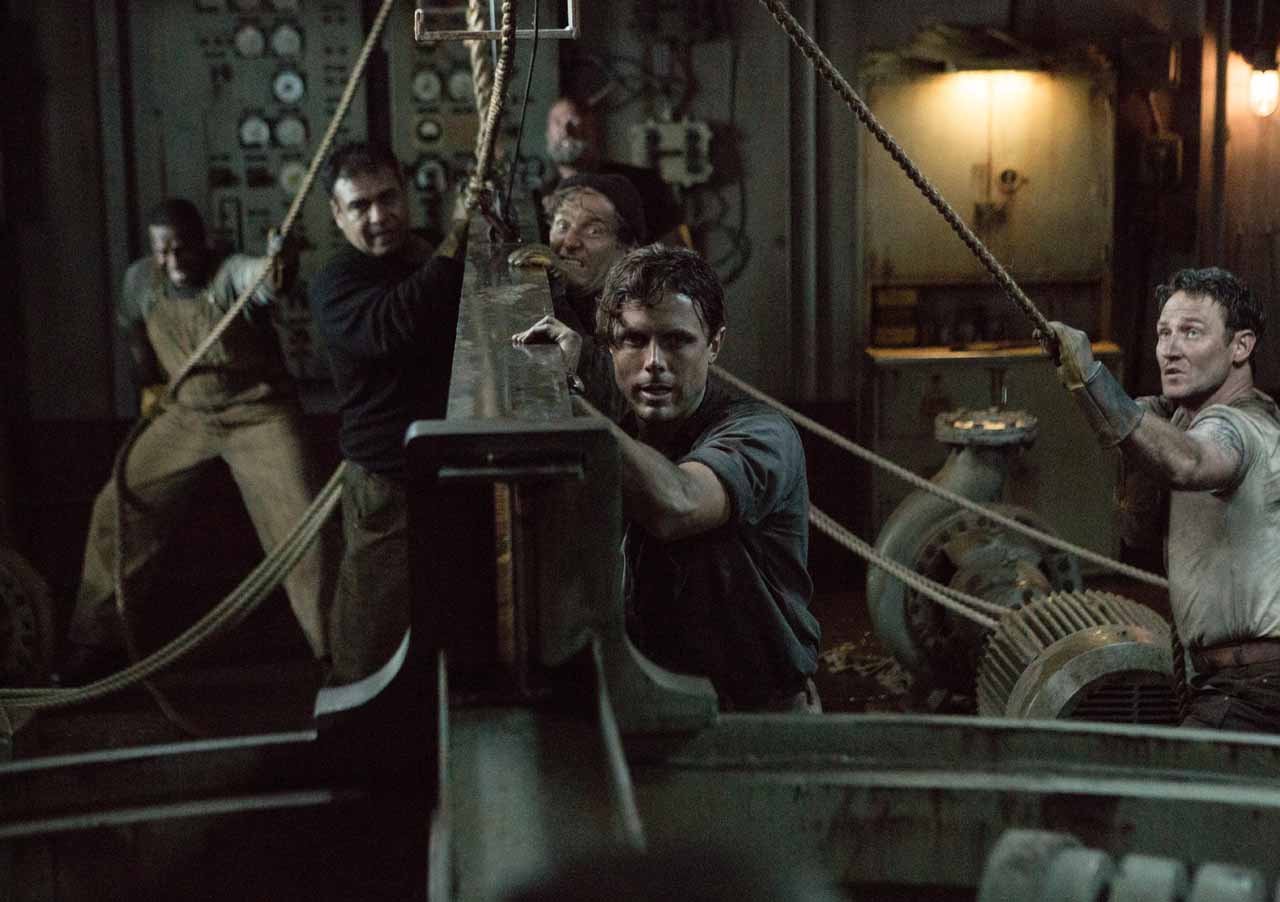 And dozens of extras who only grunt and scream and work. Dozens!
Back to the beginning. Disney wanted to woo Chris Pine because they wanted him to be a superhero in the Marvel movies. It makes sense. He is a big actor, in Star Trek and all. So they offered him a gritty-ish historical film to woo him hardcore and play to his interests. But Pine was sleeping around. Pine is now signed on to play a role in the Wonder Woman! Sure actors have played both sides of the field, but not since it has gotten to its current big status. So, thinking that Pine has made his decision, they decided to make The Finest Hours not as great as it should have been. They don't care about a flop. They have Star Wars money.
For a film with a lot of issues, I feel I need to mention to best parts first. Casey Affleck was wonderful in this movie. His character was unique and had a consistent personality and was a great watch. Well done Affleck! McTavish also did a good job of grizzled pseudo-assistant.
The rest of the film? Well, first of all, it probably should have had permanent subtitles throughout. We have accents all over the place, so many characters require a bit of a stretch to figure out their words. Add on a loud angry storm, with people trying to yell things, and shit. Half the movie feels almost inaudible.
The next sense that is betrayed have to be your eyes. The entire film is mostly ugly on the color scale. It is grey, dark grey, and occasionally white, but usually grey white also. An already dark movie is made worse with 3D, adding to the overall darkness. And yes, as you might have fussed, the 3D adds absolutely nothing to the film, making it an unnecessary hindrance. Every single wave looks fake, so it is hard to really get drawn into any of the tension. I spent good chunks figuring out where the green screens were and how much of the water was actually real.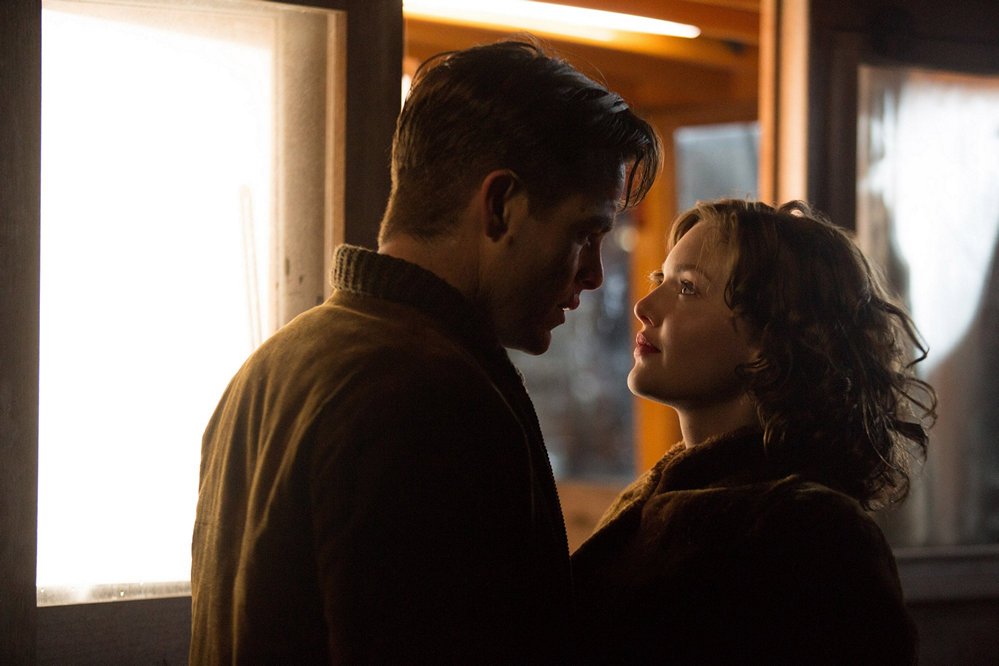 I don't think anyone is real in this picture.
As for the actual plot itself, the romance, despite real, feels incredibly shoe horned. They realized they made a very man focused film, so only one woman, a fiance, has any real screen time and has to do everything as a result. We have to see her be strong and do things that were unheard of at the time for women. Showing great women is movies is a good trend, but not if it is badly done and at the detriment of the film. Not every film has to have it.
These scenes just made the rescue more drawn out every time they cut away from the two groups. And the intro of the movie is entirely about their romance, which also feels overly long, while also not allowing the audience to feel emotionally connected to either of them.
As a final moment of disappointment, a big advertising/selling point of this film is that there were 32 survivors on the boat and the rescue boat was small with only room for 12. They made it seem like there would be a nice moral/ethical dilemma once the boat was found. In reality, it was entirely ignored and the issue was solved by just fitting everyone on the boat quite easily. More great potential suspense floundered.
The true story of The Finest Hours is great. It could have been a very inspirational tale. But it was filled with cheese and shoddily made, giving what feels like a half-assed feel good film.
1 out of 4.