July 13, 2020
Inmate #1: The Rise of Danny Trejo
Who is Danny Trejo? Okay, well, for this one, you might not know his name, but you have likely seen him in a movie. As of this moment he has 383 acting credits to his name, from TV shows, to movies, to things still in production.
The title, Inmate #1: The Rise of Danny Trejo, comes from the fact that many of his early roles in films since the 1980's did not have a real name for the character. He was known as Boxer, Inmate, Prisoner, Tattoo Artist, Chink's Gang, Costello's Bodyguard, and even once apparently "Mean" was his character, which I assume was not a name either.
So how did this man, this tough burly Mexican, get into acting at the age of 40, and how did he get over 300 roles in less than 40 years?
Well, the main and obvious part of this documentary is that he didn't start as an actor, but as a regular kid who was involved with crime. He was in a gang, his family members were in a gang, and he did a LOT of bad stuff. Robberies mostly, but having weapons and threatening his community, he was in and out of juvenile detention. And once he got to being an adult, he did more that got him put away for a long time. And when he was in prison for real, that is when his life really began to change.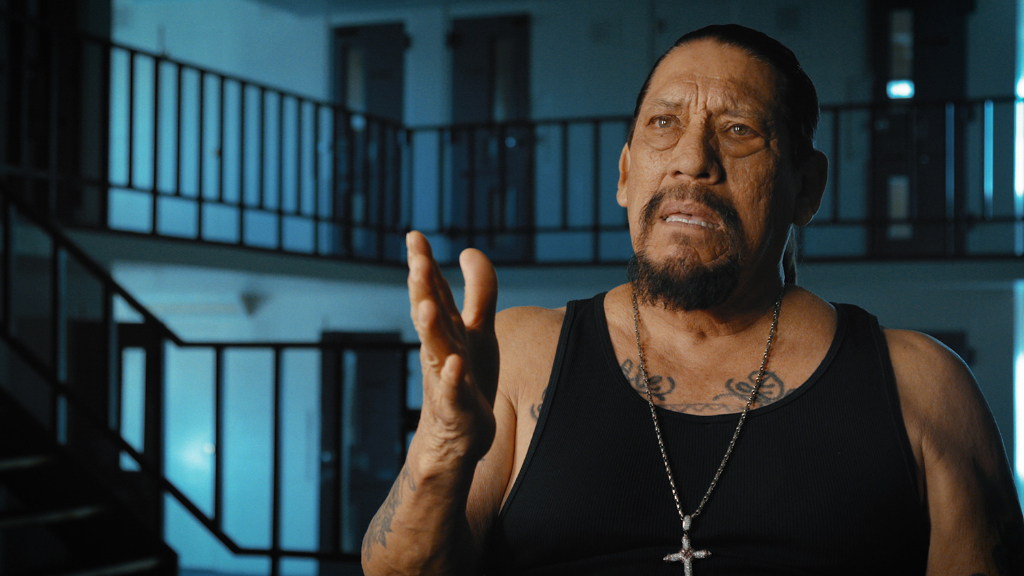 Let's assume that backdrop was a green screen. Would be fucked up to do an interview in what looks like an actual prison or…abandoned school or whatever this is.
So how can someone go from being a life long criminal, with lots of trauma in his life, to being an actor that no one seems to have any problems with, and is known for his huge amounts of work ethic? Well if I tell you all of that, why would you watch the documentary?
But needless to say, things happened in there that changed him. His life took on new meaning, and once he got out of prison he had a focus to make not just his own life better, but the lives of his friends, family, and the community he had wronged. He has spent the second half of his life writing those wrongs, and what came as part of that? Well, a vibrant movie career.
And he was able to take that and evolve from scary background Hispanic man, to friendly scientist in Spy Kids and eventual leading man of his own over the top franchise, Machete. He was SIXTY-SIX YEARS OLD when Machete came out, which is probably the oldest aged person to lead a new franchise (who also had never been the lead man before). Hell, Liam Neeson was in his 50's when Taken came out (but again, he was already known as a leading man).
The reason I liked this documentary is it presented Danny Trejo as a real person. His flaws, and his successes. He has a message of hope coming from someone who was a pretty bad dude into someone who wasn't. He has grown from his mistakes and in order to do that, you have to admit you have them. Pretty easy to admit mistakes when they are on public record of course, but still, admitting them is important.
Thank you Danny Trejo for bettering your life and showing people there can be a way out if you can get help from your community.
Also featuring some of his friends and famous people telling stories (along with his former crime buddies and family). You will see Cheech Marin, Michelle Rodriguez, and Robert Rodriguez in here, amongst others.
3 out of 4.