January 4, 2018
The Disaster Artist
When you claim to watch bad movies so others don't have to, you often get asked if you have seen certain bad movies. I would say the film I have been asked about the most by a landslide would be Cube. Because I like shit like that, and math. Didn't see that coming did you? Well I've seen Cube now and the first sequel.
The movie most requested after that would easily be The Room, something I didn't rush out to see. I saw the "best scenes" compilation on YouTube and just put that in a "one day" bucket. Then The Disaster Artist has to go and not only come out but receive awards nominations. shit. That meant I HAD to watch The Room finally. I couldn't go in blind. What's the point?
So I saw it still slightly reluctantly. Powered through. I get the appeal but I still won't see it again. And hey now I can watch others talk about it!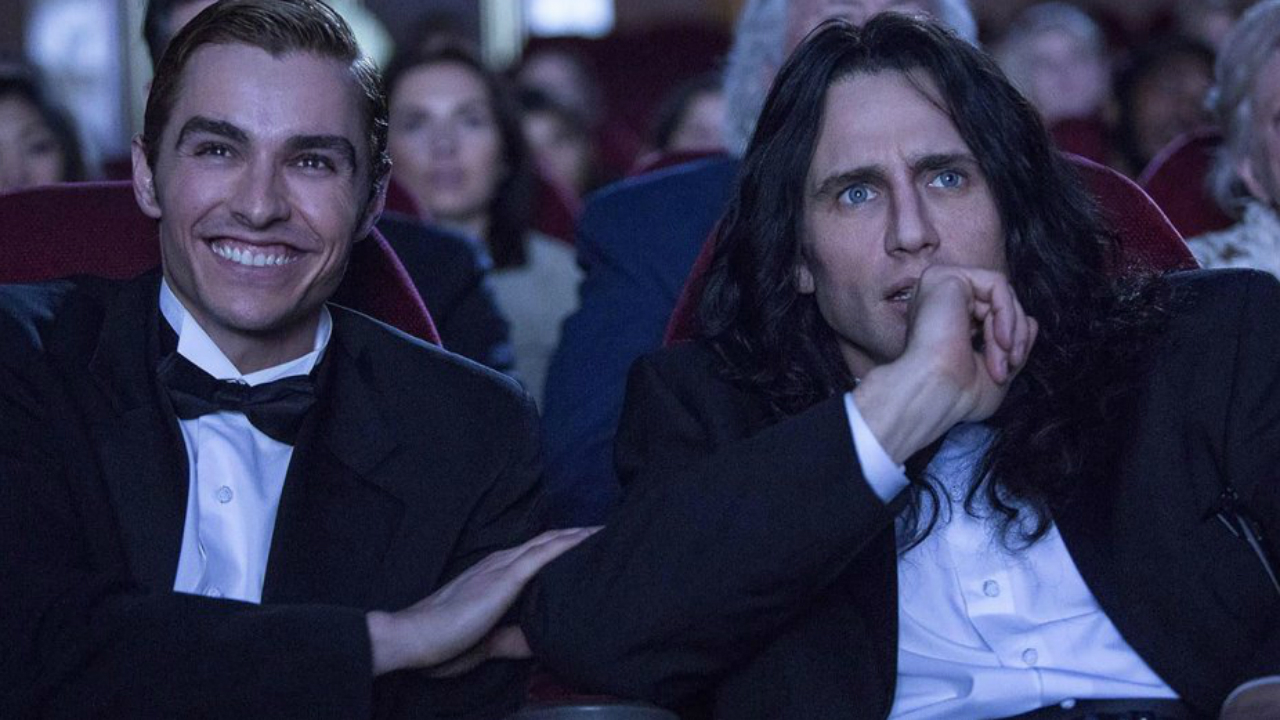 Just not in the goddamn theater, that'd be rude.
Sometime in the late 1990's, Greg Sestero (Dave Franco) was a struggling young adult. He thought about being a famous actor one day, and he was even taking acting lessons. He just wasn't any good. At all. At. All. Nothing helped, he didn't display any emotion, it was a lost cause. But in those same classes, he found a dark and mysterious man named Tommy Wiseau (James Franco). Now this is a man who knew how to channel his emotions and really bring that raw talent to the stage.
So Greg wanted to work with Tommy, and Tommy agreed. He was a bit weird, but he really brought it out of Greg and Greg started to feel confident. After years of friendship, they moved to LA, with Tommy financing everything, to become real actors. After it didn't work out well, especially not for Tommy, Tommy started to write and figure out his own movie. This piece became The Room, a film that is iconic today, and the rest of this movie is how it was made, the trials they faced, and the hurdles that were overcome. Also how Greg began to move on by getting a girlfriend (Alison Brie) and trying to separate from the Tommy umbrella.
And only some talk about being a vampire.
Given the people who made this, it is no surprise how many famous actors are in this film: Seth Rogen, Paul Scheer, Zac Efron, Josh Hutcherson, Charlyne Yi, Bob Odenkirk, Hannibal Buress, Joe Mande, Nathan Fielder, Andrew Santino, Jason Mantzoukas, Megan Mullally, June Diane Raphael, Jackie Weaver and Ari Graynor. I could have also swore a minor character was Margot Robbie, but the credits won't let me confirm that.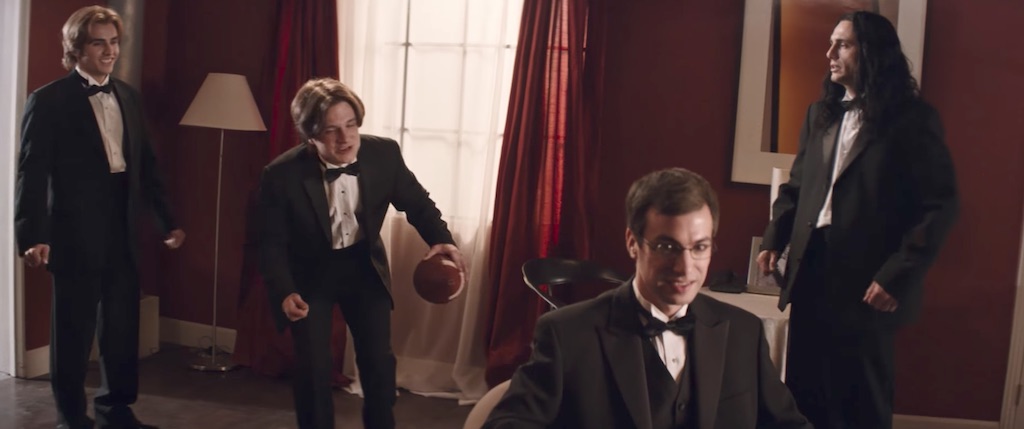 As we learned in The Room there is never a bad time for football.
I wonder how much your perceptions of this film changes based on your opinions of The Room. If you have seen The Room many times since it came out, were totally in that cult movie aspect, I think you will enjoy The Disaster Artist a whole lot more than someone new to the topic. Obviously this is a film where you sort of need to see The Room before seeing it to really get it at all, but there is a huge difference between me watching it a week before The Disaster Artist and years prior.
Because hey, The Disaster Artist is a pretty funny film. The Francos do a good job of setting the stage, building up the Wiseau mythos and so on. And sure, I can agree that James acted well, only because we obviously have a real person/character to compare him to. But if this was just a movie about a bad production, this is the type of thing that would be panned for unnecessarily ridiculous director guy.
So it is a very hard thing to judge. Was it actually well acted only because he acted like Wiseau accurately? Or does well acted need to be something more than accuracy to a subject? It is a hard subject to answer, and not one that I will go into real detail here. But it is something on my mind and something that certainly would tell me that it certainly shouldn't be winning awards for its acting.
The Disaster Artist was a film that made me laugh and remind me of a shitty film at the same time. It is a very strange genre of movie, very meta, and it will gain its own cult status I am sure. Double features for the next 20 years! However, in reality, I really just want to read the book to get the full story and won't bother too much with the film version many times in the future.
3 out of 4.