If you haven't heard of The Avengers, then fuck you.
In 2008 a great thing happened. Comic book movies kicked ass. The Dark Knight, Hellboy II, and Iron Man came out, in reverse order between May and July.
After the success of Iron Man, they quickly announced their three (turned into four) year plan. After Iron Man, The Incredible Hulk. Then another Iron Man movie. Then Thor. Then Captain America.
Then? The fucking Avengers. Each hero getting at least one movie before hand, bringing them together for an epic never before seen in film. It'd be like if the Lord of the Rings had a movie back story for Legolas, and the other people I don't remember.
How many more nerd hits can I get before the actual review? Not sure. But needless to say, this movie has been something I have been waiting four years for, and it delivered in every way possible. May the Fourth be with us indeed.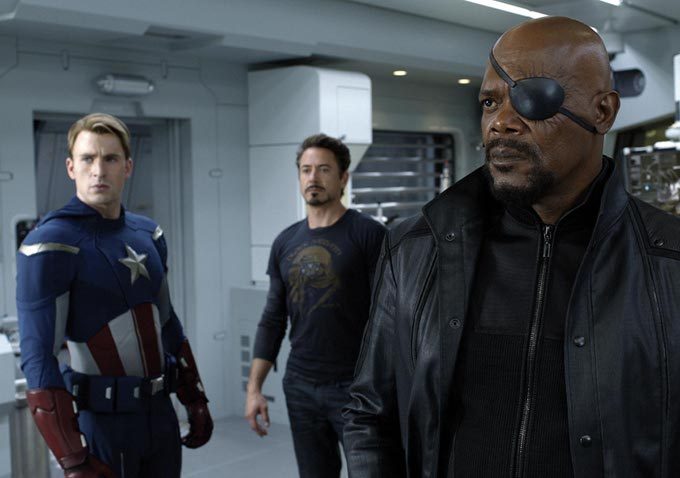 Didn't even tell Steve about casual Fridays.
The movie begins with the Tesseract (introduced at the end of Thor and in Captain America) going crazy. S.H.I.E.L.D. is going crazy, red alerts. Agent Coulson is trying to catch up Nick Fury on the cube, but unfortunately is is confusing. We also get to meet Agent Maria Hill (Robin from HIMYM). Because we need more than 1 woman character in this movie.
Either way, turns out it opens a portal from another part of the universe, and out pops Loki! He fucks shit up, takes the cube, and also takes Professor Selvig (From Thor) prisoner, along with some other members. And well, he is thinking about using that unlimited energy source to open up a permanent portal, bring up an army of space aliens, and you know take over/destroy Earth. He is mad at Thor and Asgard for kicking him out, so he wants vengeance on the world Thor loves so much.
Fighting demigods means you need to bring in the big guns. S.H.I.E.L.D. attempts to do just that. Getting in touch with Thor is hard, but not Iron Man, Captain America, Black Widow, or Hawkeye. They also need Bruce Banner (Hulk), but only to use his brains for finding the cube, definitely not for Hulking. (cough).
So what is the movie about? Stopping Loki before he takes over the world. Trying to not resort to nuclear bombs. Trying to see if a team made entirely of egos (and Captain America) can actually work together and not fight it out. Trying to control the Hulk. And so much destruction of Manhattan.
Hey, Pepper Potts is also in this movie.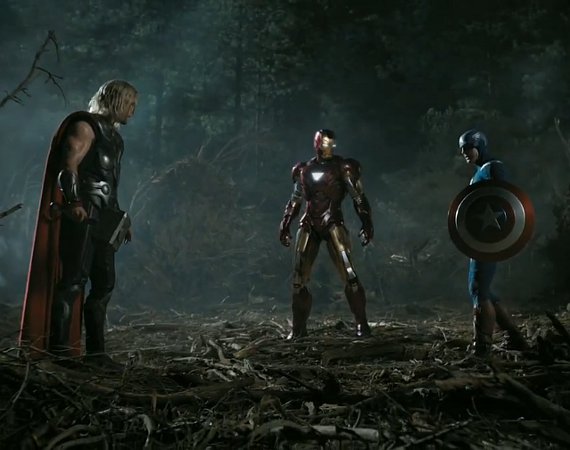 Again, they first have to work out their own differences and motives.
OH MY GOODNESS THE AVENGERS.
GUYS THE AVENGERS. PLEASE READ THIS AS ME YELLING.
After Disney bought Marvel I didn't even think this would be possible, but this is the first of the Marvel films to have the full Disney backing and they didn't disappoint. The movie has everything. You will laugh and cry, be excited and maybe scared. You will laugh and be excited a lot though more than the others, and it feels like nonstop action too. A good feeling for a movie that clocks in over two hours.
The amount of extra nerd detail put into it, small moments watching the Avengers team up and use specific movies? It is amazing.
In case anyone is curious, next year we are supposed to get Iron Man 3 and Thor 2, and then 2014 a sequel to Captain America, probably taking place in WW2 still, before the frozen events.
A sequel to Avengers isn't likely until 2016 or so, which is good them to not be rushed. They gave a middle of credits hint to the sequel too, and it looks great. Probably a Dr. Strange movie is in the works for 2014/15, and maybe even Ant-Man. With a Joss Whedon movie, I was surprised there was no Nathan Fillion cameo as Hank Pym.
I have a good feeling I will be seeing this movie in theaters again, and many times in the future on Blu-Ray. Just think, we also get The Dark Knight Rises, Prometheus, and Amazing Spider-Man this summer.
4 out of 4.