Okay, Thor: The Dark World was sort of bad. I was caught up in Marvel hype at the time, but I still stand by my original Thor rating.
I love the god of Thunder, and I want Chris Hemsworth to be in many more movies, so I just ooze out happiness towards him, hoping everything is great and falling in love. Except for Blackhat. And The Huntsman: Winter's War. And Ghostbusters. Okay, so lately Thor is all he has going for him outside of Rush (is it the four letter word theme?!).
But that is not why I am excited about Thor: Ragnarok. I am floor to the wall excited thanks to Taika Waititi.
Who? The indie film New Zealand director who gave us What We Do In The Shadows and Hunt For The Wilderpeople (one of my top films last year). This man is so good at his craft, bringing natural humor and an adventure out of little. The fact that he was given a Marvel film to helm, to put his own spin on things, blows my minds, and honestly, I just could not fucking wait.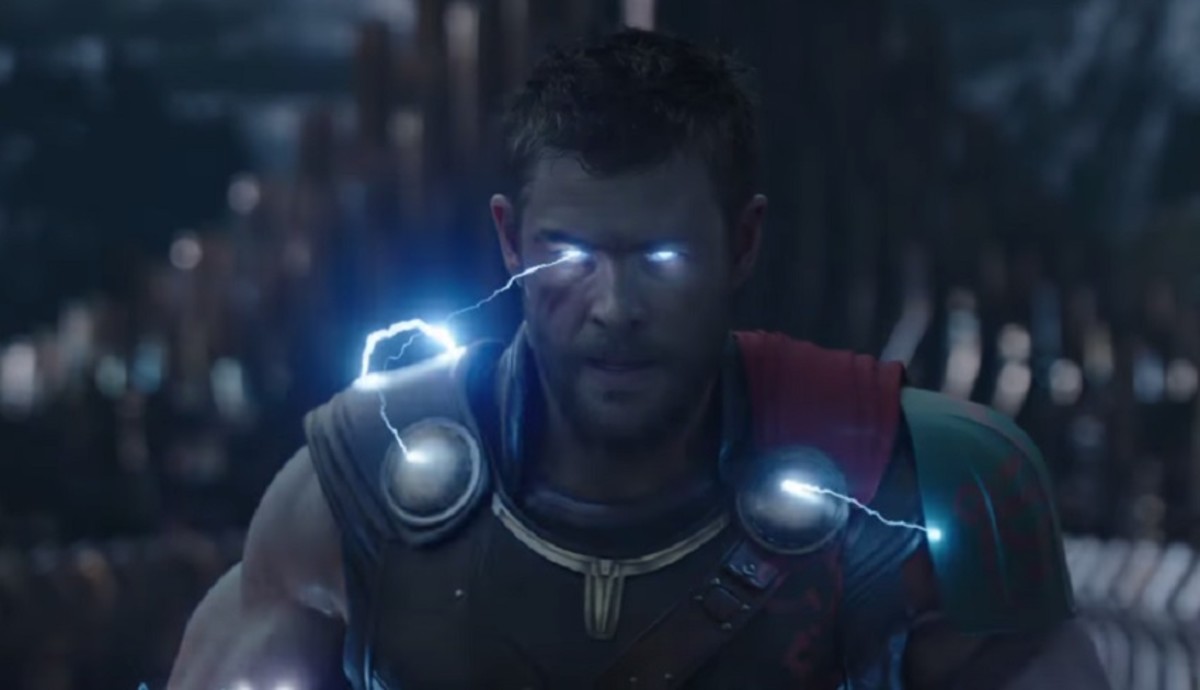 Basically, Thor is now full on Rayden.
Ragnarok takes place sometimes after the events of other movies. Thor (Hemsworth) is roaming the stars, leaving Midgard (Earth) behind for a bit in their squabbles, as he makes sure life around the Realms is swell. He is having nightmares about Asgard falling in flames, and he would rather not have that happen to his home.
After dealing with threats, he returns to Asgard and finds it complacent in the suffering of the realm. Heimdall (Idris Elba) is missing. Odin (Anthony Hopkins) is clearly Loki (Tom Hiddleston) in disguise, not actually dead like everyone assumed. But that is only the beginning of the issues.
It turns out that Thor has an older sister, Hela (Cate Blanchett), the Goddess of Death, who has been imprisoned by Odin for some time. She is set to return, to return Asgard to a machine of death and destruction to conquer the cosmos. The Asgard of the past was a scary place, everyone would prefer peace time now, but it is hard for that to occur when she shows up on their doorstep, stronger than the other Asgardians and willing to kill anyone who gets in their way.
Thor and Odin are expelled from their realm, with mixed results. Odin would like to survive and run, while Thor would prefer to get out of his new reality, defeat his sister and finally claim the throne he has denied in the past. I mean, he has to, or else everyone will die or something.
We get a few new characters into the story, including the Grandmaster (Jeff Goldbloom), Valkyrie (Tessa Thompson), and Skurge (Karl Urban).
Also featuring the Warriors Three (sort of) (Zachary Levi, Ray Stevenson, Tadanobu Asano), the voice of Clancy Brown, Rachel House, Taika Waititi (he is in his own movie, yes), Mark Ruffalo, Benedict Cumberbatch, and a few cameos to keep on your toes.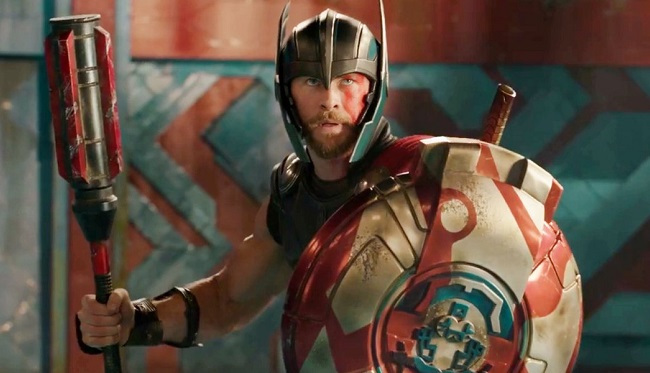 This is probably what I would wear if I got into LARPing.
Thor is such an odd character to make films about. The goal is to make sure the films have their own unique feel to them and are not a generic action superhero film. This means that Thor gets to go to other planets and realms, but not like the Guardians of the Galaxy, as his is more solo based and war based. GotG is more bad dudes all around.
Years ago this was being noted of being a sort of Road Trip Marvel film, which is not a very apt description. We get to see different areas, different people, at various amounts, while Thor deals with his friends and family tearing itself apart. Unfortunately like a lot of those films, some areas spend too much time, seemingly drag on, when the viewer might just wish it to move its ass along eventually. Namely, the trash planet with the gladiators. Sure, some cool stuff happens there. Some sweet characters. But damn it, get going, get out, let´s get this plot going!
And there is a lot of cool stuff in this film! Thor at the end of the movie is a complete badass, finally rocking out in such an epic way that it feels like a Thor makeover, and I don´t just mean his hair. Hulk is given a decent amount of screen time and gets to show off. Loki is around, which is okay. Hela likes to throw spikes or whatever, and I guess she is strong doing that. Heimdall finally has a purpose in these movies, but still not a lot of purpose. And cameos!
Then there are questions like: Where is Lady Sif? She is a major part of the Thor crew, but she is basically replaced with Valkyrie and we are supposed to be cool with it? (She could not make the filming time, and they just ignored her existence. The Warriors Three at least had parts though).
The questions brought up at the end of The Dark World with Odin/Loki were really quickly dealt with as well. TDW had a very ominous ending and I have been waiting many years for this to come about and it was a disappointment.
Again, the film has tons of fun moments. It does a lot of things right, and it is quite hilarious and badass at various points. It is just a bit too long, rushes through the better things, drags at others, and ignores characters without a good reason.
3 out of 4.