July 25, 2016
Hunt For The Wilderpeople
Taika Waititi is a rising star in the director world, and not just because of his four i's. No one saw Eagle vs Shark, but I did, and I loved it. Waititi is a New Zealander and he loves his New Zealand based cinema. NO, NOT LORD OF THE RINGS. But you know, he directed some Flight of the Conchords episodes. But more importantly he directed one of the better comedies last year, What We Do In The Shadows.
What We Do In The Shadows was so good and people were so impressed with Waititi, they gave Waititi a marvel movie and he is going to be directing Thor: Ragnarok. Big step up indeed.
But before we get to any of this, we have another New Zealand based film of course. Hunt For The Wilderpeople, a title with a lot of story behind it and a mostly local cast with a lot of local heart.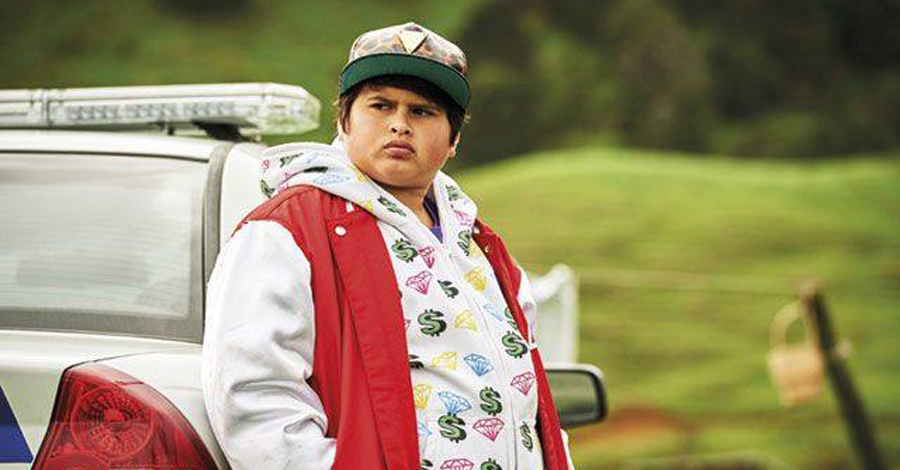 And a star who is clearly gangster as fuck.
Ricky Baker (Julian Dennison) is getting into his teenage years but has had a rough life. No more parents, he has been in the foster system. He has gotten himself into some bad stuff. Like kicking stuff, burning stuff, graffiti and more. Basically gangster as fuck, which I already said.
So he is sent to his last chance home. A nice farm on the edge of civilization. The woman there, whom he has to call Aunt Bella (Rima Te Wiata). She knows he needs just something to do and learn and work on to get back on the right path. She is married to Uncle Hec (Sam Neill), who is much more a loaner and really only cares about his dog.
Things actually go pretty okay. Life is decent, Ricky is finding a purpose and isn't a complete shit head. Then bad things happen. Things that threaten his removal from the house. So he decides to fake his own death and run away. Screw it, he will live in the wilderness by himself. He can shoot a gun now, he has a dog. He's got this.
Well, it is up to Uncle Hec to go and find him. However, once he does he gets hurt. They end up being in the wilderness so long that people now think he was kidnapped and a bad type of man. Ricky himself is afraid of going back because he thinks he will have to go to Juvie! So somehow they both find themselves running from the law, living in the woods, making a real good time of it all. All while the head CPS lady (Rachel House) is on their tale.
Also featuring Oscar Kightley as a cop, Troy Kingi and Tioreore Ngatai-Melbourne as a few natives, and Rhys Darby as Psycho Sam.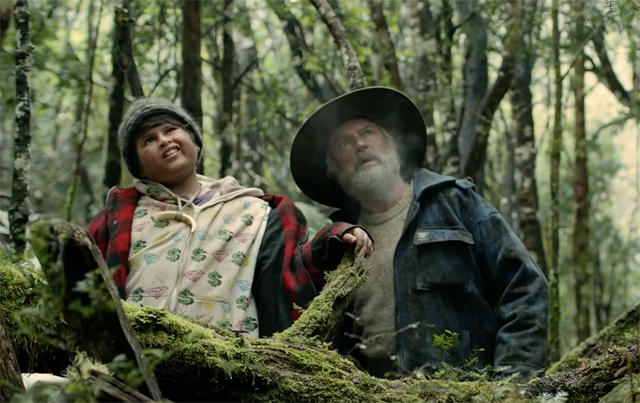 You can find a whole lot in the woods. But mostly, you'll find yourself.
Being my third Waititi, I have come to expect a certain sort of humor and this film is of course full of it. It is weird, it is unique, but it is also raw and real.
I don't know a damn thing about living in New Zealand. But I do know the basic differences between "city folk" and "country folk" and that is really the most important thing to understand this movie. Will you get each and every joke? Hell no (unless you are really knowledgeable about New Zealand, I guess). But the themes are practically universal.
And this film truly is an adventure. The beginning is a bit slower when we are getting used to the characters, but once they hit the woods, are traveling, talking, running from the po-po, meeting unique individuals and situations. That is where it is fun. That is where the film starts to run with it.
I wouldn't say the soundtrack is the same level of Sing Street or Swiss Army Man, but it is still really well picked and placed, highlighting the film to greater levels.
Dennison has a potentially great career in comedic films if he keeps it up, he felt like a natural. Neill? I didn't even recognize Neill. I saw his name in the intro credits and assumed I just missed him. I didn't really realize until looking at IMDB way later. He was super into his role as well and quite a damn surprise. House was also really nice surprise, with her motto of "No Child Left Behind" when it comes to CPS. A good motto and made her a weird antagonist.
Hunt for the Wilderpeople is amazing. It is realistic, strange, and I think we all have a little bit of Ricky in all of us.
4 out of 4.