Like a lot of people my age, I first learned about Cyrano from one specific location. You know, the dog. Wishbone. Specifically the episode Cyranose, which was early on in the shows run. Have I ever read the book Cyrano de Bergerac? Heck no. No need to. I saw the wishbone episode. It gave me a great summary, and related the events in that book to a modern story involving teenagers and their dog. What more could I ask for?
I guess. I could ask for, eventually, a movie version of the events. But even better? Let's make it a musical. Apparently this movie isn't an original musical, it was based on a stage musical that came out a few years ago, starring Peter Dinklage and music by members of The National. Whew, I was worried for a second when I first saw advertisements that the people who made the movie had somehow came up with songs all on their own for a movie. But alas, its an adaptation of an adaptation.
On another note, it is directed by Joe Wright, a man who certainly knows how to make a period piece. Darkest Hour, Atonement, Pride and Prejudice, and Anna Karenina. We just won't talk about The Woman in the Window and Pan, and point out that Wright knows how to make the past look good.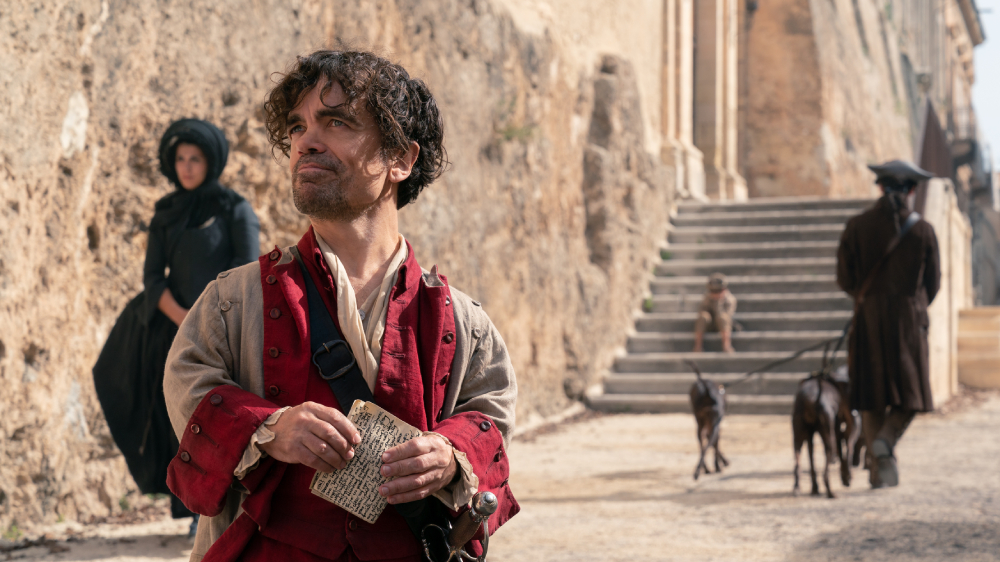 This is likely the sexiest version of Cyrano ever on a film screen.
Cyrano (Peter Dinklage) is relatively wealthy, he is witty, is romantic, and he knows how to fight. What he doesn't have, is looks. In the books, he is described as various forms of ugly, including an unfortunate nose and a hunch backed, but this film took it in a very different direction. Cyrano is also in love! Oh what misfortune.
Roxanne (Haley Bennett) is some level of aristocrat, from the same village as Cyrano originally. Her house hold is losing prestige though, and money, and she will likely be poor sometime soon. Her house keeper Marie (Monica Dolan) is trying to keep her safe, and get her to marry the some rich count (Ben Mendelsohn). But she doesn't want him. He is boring, and probably mean. She wants love damn it. And she thinks she has finally found it.
That's right. A random guard, new to the city, Christian (Kelvin Harrison Jr.), who is in Cyrano's regiment. Time to rekindle with her old friend to ask for a favor. Get this guard to write to her. He must be smart to go with those looks. Cyrano, heart broken, yet in love, agrees to get Christian to write to her. But it turns out Christian ISN'T witty, and the knowledge of that will disappoint Roxanne. What is a noble to do? Guess Cyrano will just have to write the letters for Christian, to help their love, built entirely on deceit.
Also starring Bashir Salahuddin, Anjana Vasan, and Joshua James.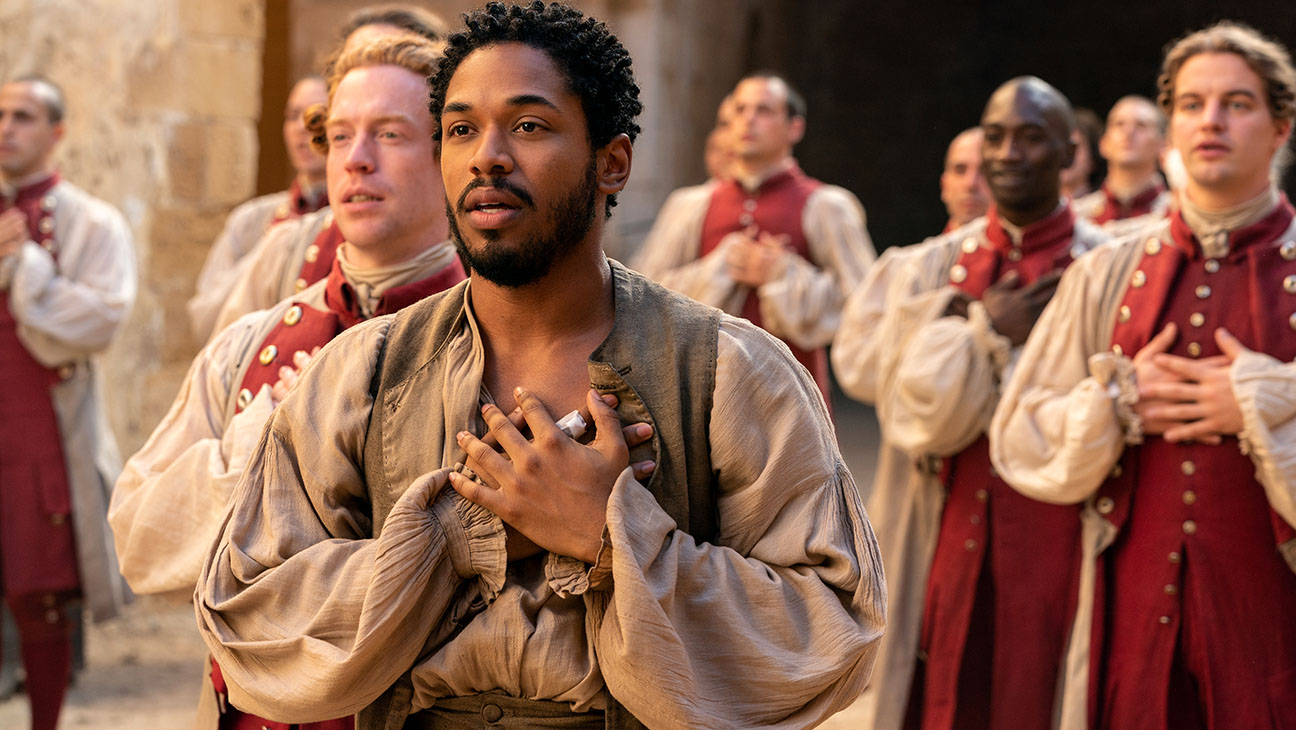 Can't express love nicely with words? Well, you could always hire a giant dance team and do choreography.
I know Cyrano is meant to be witty, but goddamn, they picked Peter Dinklage, who now has a history of playing smart and charismatic characters. Regardless of size differences, it is hard to imagine someone not immediately falling at his feet throughout this film. He basically seems to be someone who has everything. Roxanne was just someone who was blinded, and probably shitty as well.
Cyrano is a really strong acted and beautifully shot movie. The music is meant to feel a bit more natural. I believe it was filmed with the actors singing live on camera, and not lip sync'd for more professional sounding songs. That sounds like it could be a good idea, like Les Miserables, and some songs in other modern musicals. However, that also meant that at points it was extremely hard to actually hear the lyrics. Over the actual song sound and other noise. That was disappointing, but it is still a big experiment to do this in movies with live singing. It wanted to translate the live stage experience as much as possible, I guess, to have the same natural feeling that most of the songs take.
And honestly, the natural feeling is such a huge positive. Wherever I Fall part 1 is an incredible song. It is sad, it is painful, it is beautiful, and it is sung by three characters who I assume don't even have real character names (confirmed, Guard #1, Guard #2, and Guard #3). Other songs are beautiful, and a lot of them have similarities in tone. It lacks diversity, for the sake of a common sound. It isn't going for a series of ballads that people will sing along with and argue about. It wants that cohesion, which is an interesting strategy.
Acting wise, the big three are all strong. Bennett's character almost feels like overacting at points, but that matches the general attitude and romanticizing that the character necessitates. Harrison Jr. has had a strong last few years in film (see Waves, my favorite film of 2019), and he now can sing too. And as I already mentioned, Dinklage is incredible in this role, and seems to bring a lot of emotional baggage to the role.
Cyrano is incredible, and honestly, we should be angry at its ridiculously long release date for a "2021" movie. I get the move back to Valentine's Day, but then shifting it to late February? It can't make my best of the year list if I can't see it until February, and if it wanted to throw away any attempt at awards, it should have just actually came out in 2022.
4 out of 4.