The official name for this film is not Allegiant, but The Divergent Series: Allegiant – Part 1, and that is down right terrible for a few reasons.
One, the first movie was called Divergent, not The Divergent Series: Divergent. You knew there would be more movies, you shouldn't try to change the series names after you have already started.
Two, I didn't name my review for the second one The Divergent Series: Insurgent, I just did Insurgent like a sane person.
And three, of course they took the third book of a trilogy and split it up. It will make them more money, regardless of how much it hurt the product (see Mockingjay Part 1 and Part 2). But they have absolutely no reason to throw "Part 1" at the end of the title. You know why? Well, the title of the fourth movie isn't even The Divergent Series: Allegiant – Part 2. It is The Divergent Series: Ascendant. There is no Allegiant – Part 2 officially, even though the fourth and final film is the second half of the Allegiant book.
What a fucking clusterfuck of a titled series.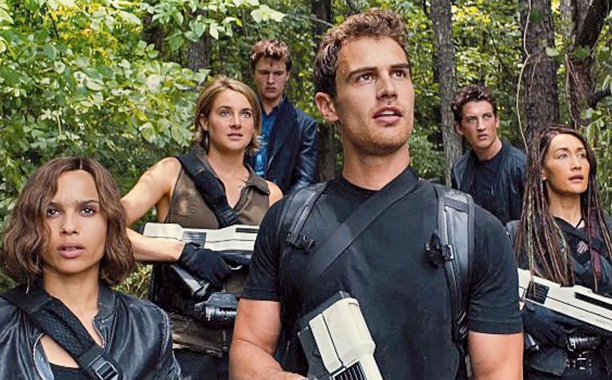 Thankfully we have teenagers with attitude to save us.
At the end of the first film, I thought out gang was leaving the walled city of Chicago behind, to advance the plot. I was wrong, they just went to the woods outside of Chicago. At the end of the second film, I thought everyone was leaving the walled city of Chicago behind, unified and scared, to advance the plot. I was wrong there too apparently.
Right away, Evelyn (Naomi Watts) now in control, decides it is best for the gates to be sealed and everyone be locked in. Security is ramped up and there to be trials for everyone on the losing side. Mentally at this point, I was about to throw my pen at the screen and walk out. If they don't ever leave Chicago I will freak out.
Thankfully, I guess, our small crew of characters still wants to break out and see the world. Tris (Shailene Woodley), Four (Theo James), Peter (Miles Teller), Christina (Zoë Kravitz), Caleb (Ansel Elgort), and Tori (Maggie Q). This makes them traitors, so Evelyn has Edgar (Jonny Weston, our wannabe Jai Courtney) to hunt them down.
So what's on the other side? Well, a lot of desolation. Some war shit happened. Nukes and all. But they are found by the Bureau of Genetic Welfare, a scary sounding company for sure, who let's them know that Chicago was an experiment and more secrets about the world. I will let them stay secret. It is led by the director (Jeff Daniels), who is happy for Tris being Divergent, because it means their experiment worked!
Tris is now a hero who will save the world, and maybe save the impending war in Chicago. The remaining crew are working surveillance and security for the BGW while she has all the fun.
Returning actors include Octavia Spencer and Daniel Dae Kim. New people are played by Nadia Hilker, Andy Bean, and Bill Skarsgård.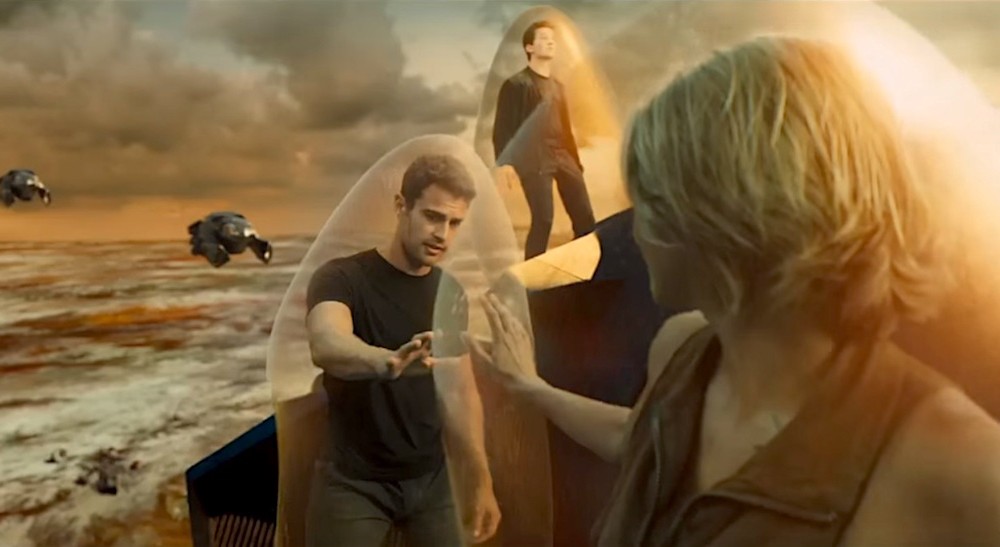 The future is so weird and full of fucking CGI.
I have a lot of problems with this film and I have to get specific to let you know some of the things that really irked me. So there will be spoilers, arrr. But here is what it has to boil down to: the writers. No, I don't mean Veronica Roth, the writer of the book. I don't plan on ever reading them, but I have heard the final book is terrible. So maybe the studio agreed, because they hired three people to write the screen play, Bill Collage, Adam Cooper, and Noah Oppenheim. The first two co-wrote The Transporter Refueled (sigh, with Luc Besson) and Exodus: Gods and Kings among other things, and Oppenheim was one of three people on The Maze Runner.
They do not have the best credentials behind them, but more importantly, none of them worked on the previous two films. So not only did they apparently stray away from the source material of the books, but they collectively just went off the rails with no regard for continuity, characters, or sensibility. This movie is, dare I say, stupid. A childish word not meant for a serious movie review like this one, but the only one that really fits. Scenes are loosely connected by the plot, but with people who seem to not remember the past in any way shape or form.
All of my best actions seem to be about Four and when he gets to the Bureau so let's just use him. He is put on security, told it will take him a long time to get used to the new future tech before he can go on missions. He figures it all instantly, of course, he was a fantastic fighter dude. He wants to go on the next mission, is told no, but like in a "No, wait don't do it, no" apathetic way. Literally no one tries to stop him doing anything. Getting on the space ship, interacting with the natives, seeing what they really do with the natives. There was no resistance at any way, as the writers didn't even know what they were doing.
While on the mission, he is yelled at by a commander who thinks he shouldn't be here because he is too new and should stay out of trouble. You know who is sitting two seats away from him? Fucking. Christina. Also from Chicago. No way as good of a fighter as Four. But apparently she also did everything in the short amount of time (despite barely acknowledging her once they arrive), can also go on missions, and is given no shit. Hell, she even gets to interact with the natives and let Four know what is up, in front of everyone, and no one still cares. It was terrible to watch as the film was full of these tiny -> big inconsistencies.
But hey, at least the camouflage makes sense for this film!
This happens to be the type of film where 90% of the problems would be solved if the main characters would just actually talk to each other. Of course, lazy writing prevents this, turning it into a lame RomCom, without the Com and very weak Rom.
And really what really boils my corn is the ending. Look back at my description of how the first two films ended. This one ends with everyone ready to leave the walled city of Chicago behind, unified and scared. What makes me so upset about this ending is that it is almost exactly the same ending as the second film. Sure, things happen in this film, but outside of some knowledge gained, every single relevant person is in the exact same position they were a movie ago, totally going to do the things they promised to do this movie. Shit. This film series is like a horrible time warp, making me relive the leave Chicago plot over and over without ever really getting to do so.
I fully expect the final film to begin with everyone collectively breaking their legs, so that they all have to stay in Chicago for the whole film. That is the level of quality of writing I have come to expect from this franchise and next summer cannot come soon enough so that it can finally be over.
0 out of 4.