I don't know how I can take seriously someone with the last name of Burger. Talkin' bout Neil Burger that is, director and writer of voyagers. He has been around the block once or twice in movie land. I have reviewed a few of his films before. He did The Upside, Divergent, Limitless, and even The Illusionist way back ago, which he also wrote unlike the previous few.
None of his films I have loved, some of them I have disliked, but at least one I did like overall. It just didn't go as far as I had hoped (but it did launch a TV show eventually, so good on him).
Now going into Voyagers, I knew nothing about it. Some movie set in space. So what? That isn't special. Earth is in space, so everything set on Earth is also set in space. But seriously, I heard about this movie two days before watching it, only seeing a single poster, so going in almost as blind as possible to this one, and I hope this one will not muddle about and get me into that "love" territory for one of his films.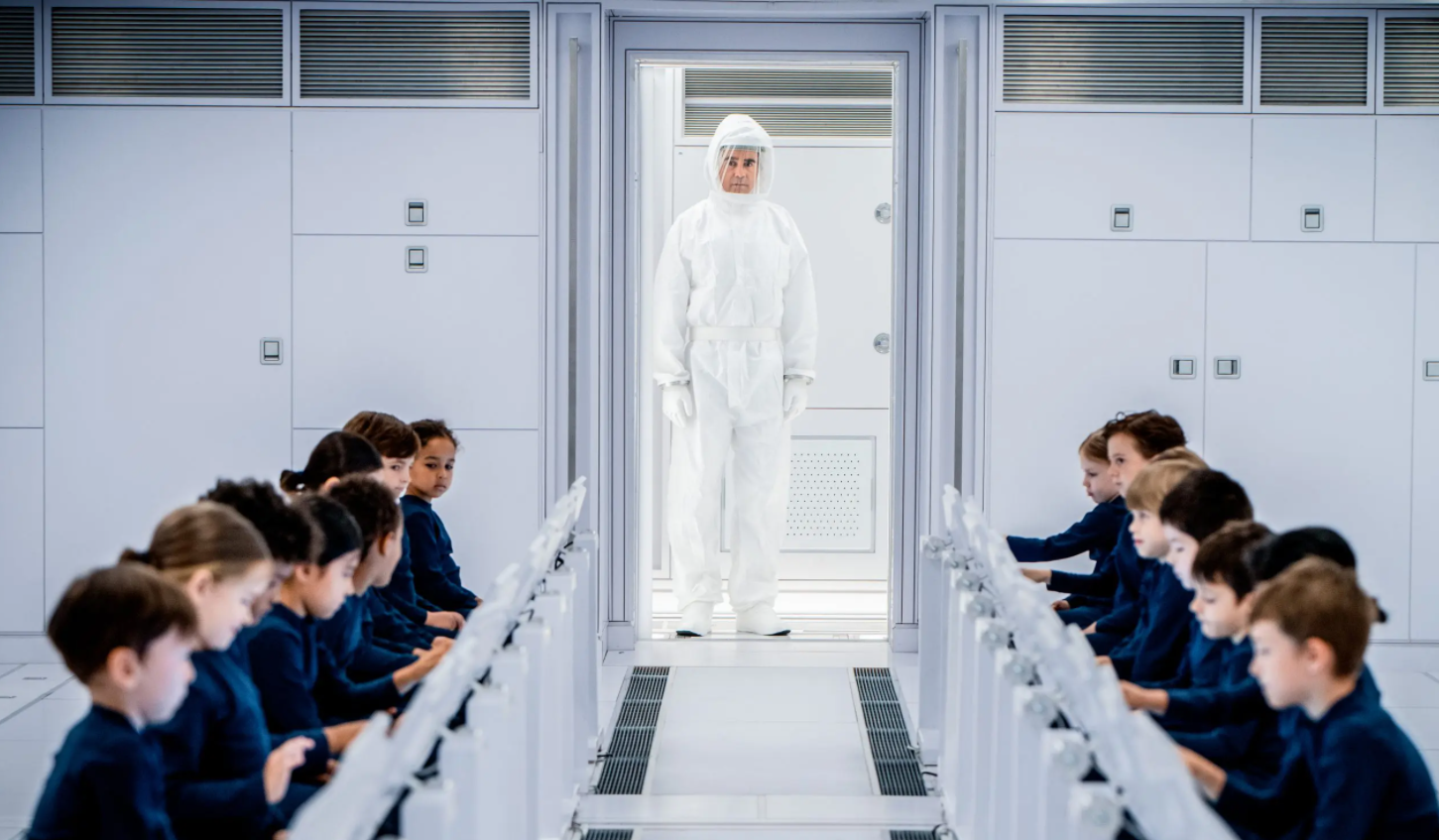 Picture of me teaching how to love movies during the pandemic.
In the future, our Earth is gonna be fucked. We know this, and all the movies know it, because it is a popular topic. So we have to get off this rock and find a new rock that could support our life, but this time, try not to screw the planet up. But we haven't gotten that sweet cryosleep technology figured out yet, so any travel to the planet would have to be real time, with those at the start not going to likely see the planet in their lifetime, with over 80 years of journey time.
So what is the human race going to do? Well, the plan is to send a big group of kids, slightly genetically picked to be smart and efficient. They will be test tube babies. They will under go schooling and training together. And then they will be sent in the rocket. And one adult (Colin Farrell) as a guide, so they can go earlier than planned, and he can help out, knowing he definitely won't see the new planet.
And sure, things go well for a bit. But once a student discovers one of their supplements was a lie, and actually used to suppress their hormones to keep their emotions and sex drives very low, things start to get bad. Distrust begins to happen. And a death. And now with no trust, and factions, and SO MANY EMOTIONS, they are going to have to see if they even want to continue this mission at all.
Starring so many young actors and actresses! Like Tye Sheridan, Lily-Rose Depp, Fionn Whitehead, Archie Madekwe, Archie Renaux, Chante Adams, Isaac Hempstead Wright, Madison Hu, Quintessa Swindell, Viveik Kalra, and Wern Lee.
This is not a good touch, get your puberty off of her! 
Sure enough, this ended up being one of those movies where I really got into the story and dug it, and found myself along for the ride at several points. The beginning had a good chance of dragging on too long with the set up, but it zoomed through everything pretty quickly. Before and after sexy puberty time, the aura of the ship was noticeable and getting darker.
Is this movie saying sex emotions are bad?! Nah, it is just telling a story with some thrills (and just a little little bit of sex, it is just a PG-13 flick), on a very unique ride through space. I will say the movie got really close to making a really good point about growing up, or "society" or whatever, but never seemed to land that point just right, which is probably why a lot of people left this movie annoyed.
Basically, it feels like Lord of the Flies, in space. And honestly, I had to pause it multiple times just because I was getting  stressed out for some of the characters who couldn't get out of their situation. They were literally trapped on the same ship, and I didn't know if the movie would end on a good or a bad note.
And hey, maybe this movie is just an allegory for pandemics. A few selfish people who don't want to listen to the rules can ruin things for everyone. Literally the future of our species too.
Oh yeah, come on director. Gonna have a lot of test tube babies and can't get more diversity in this film? It has like the bare minimum, but we are talking about a future colony going to settle all the humans. I'd expect a bit more of an effort.
3 out of 4.