December 22, 2017
Pitch Perfect 3
In 1992, The Mighty Ducks came out, introducing a lot of youth to hockey and bringing an okay film to the world. It had a team of irregulars come together to win a competition. Standard story. Two years later, we were given D2: The Mighty Ducks, a much superior film, funnier, stronger, better. We got more exciting characters, the stakes were raised as they now had to compete and win in an international tournament. It gave us the knuckle puck!
Then another two years later, Disney had reached too close to the sun and tried for a third film. But where do you go after your group of kids have won a world championship? There is no intergalactic hockey (barring the Mighty Ducks TV Show). So they instead just made them go to a school, and play the varsity team of older players. It was a terrible idea, it was boring, no one cared.
That is what my concerns are for Pitch Perfect 3. In the first film they won the US, in the second film they won the world, and in the third film they are just…singing for the troops. What's the point? The only real difference I could see is that at least in Mighty Ducks the second film improved upon the first, while in Pitch Perfect 2 it lowered in quality due to lesser plot lines.
Oh well, let's see how it manages to justify its existence. And that is coming from a fan!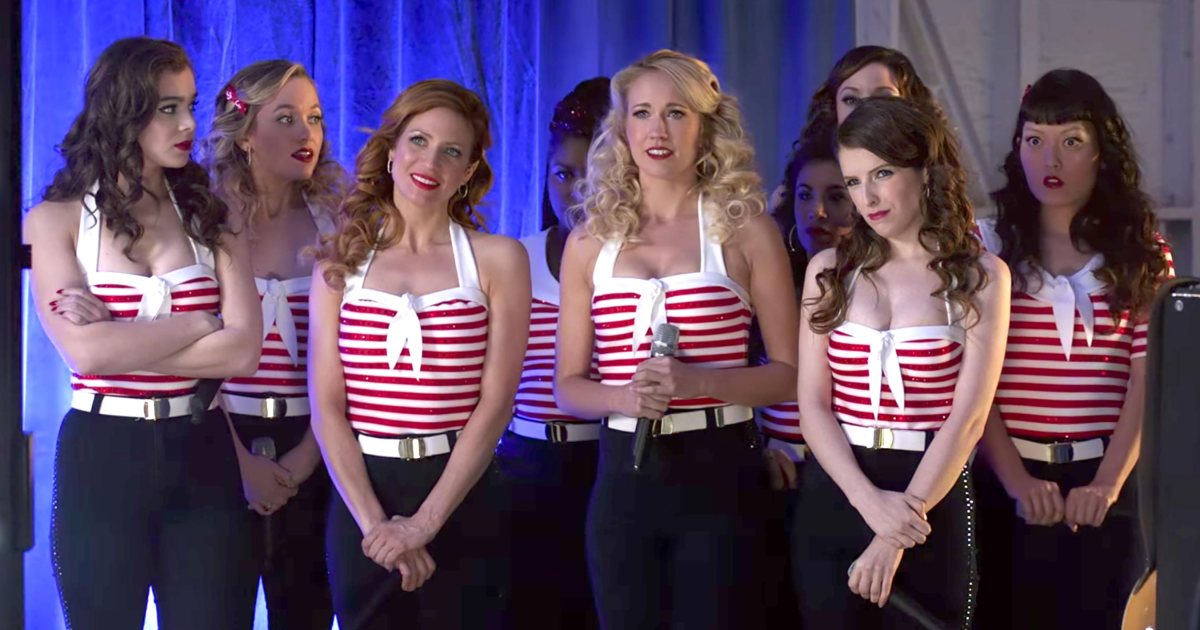 Well at least they are patriotic, so they can
Our third film is taking place probably around 3 years after the events of Pitch Perfect 2. Our heroes (?) now have all moved on with their lives, in graduate school, or with jobs, or no jobs at all. Who knows.
Becca (Anna Kendrick) is officially a music producer, but dealing with shithead artists who have bad tastes makes her quit and question her future in the business. Thankfully, the Bellas are having a reunion show at an aquarium, so she has that to look forward to since her life is falling apart.
All the girls are there (Alexis Knapp, Anna Camp, Brittany Snow, Chrissie Fit, Ester Dean, Hana Mae Lee, Kelley Jakle, Rebel Wilson, Shelley Regner) and even their protege Emily (Hailee Steinfeld) is there. At this show, everyone realizes that their lives suck, they are sad, and they just want to sing and be happy. Thanks to plot magic, they are able to quickly agree and get invited to a USO show to entertain the troops.
And lo and behold, this is secretly a competition. They are performing alongside three bands with instruments and sound systems, but apparently DJ Khaled is there sponsoring it all, and his favorite band will get to open for him on tour. I learned after the fact that this is a real famous DJ playing himself in this movie, not another character.
Oh joy, a competition, in order to really bring out their best. Also, John Lithgow is in this movie to play Fat Amy's elusive father who was apparently a criminal in the past. Starring Elizabeth Banks, Ruby Rose, John Michael Higgins, Matt Lanter, and Guy Burnet, who is playing our Jesse replacement. Because Jesse/Benji/Bumper were written out of these stories, with only two of them getting a line to explain what happened.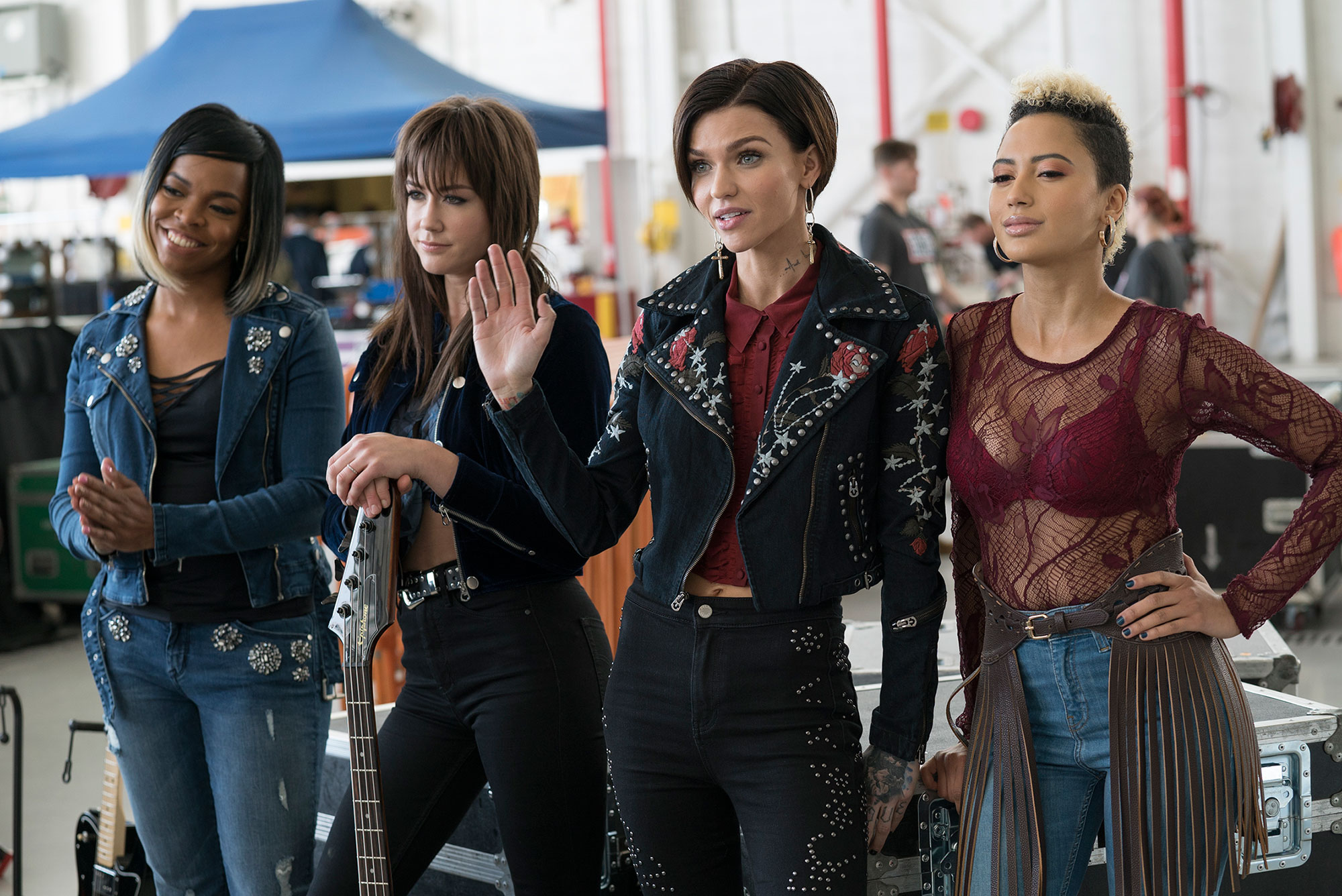 0-3 on Riff Offs because these people used instruments.
Let's start this analysis with another franchise comparison. I don't like Cars. Some people do like Cars. No one liked Cars 2. Cars 2 had the main character change and a terrible no good very bad spy theme.
Pitch Perfect 3 starts off with the group actually on a boat performing, then danger guns explosion. "Oh gods," you wonder, "Did they change this to a spy series and not put it in the trailers. Oh no no no." And then you forget about it. You hope it is just a movie in the movie scene, maybe they become fake stars. Sure.
And then the terrible Fat Amy father plot continues, with Lithgow acting quite terribly at being a thief or whatever. It was such a bizarre aspect to add to a very lackluster film. When they finally were back up to that boat scene I started falling asleep in the theater. Oh it was so bad and unnecessary.
As for the main plot, it was so bad and unnecessary. Banks and Higgins were trash in this movie, their quips less good and they felt so useless. The competition aspect was forced, with an extremely long into and "riff off." They spent all this energy into setting up their first USO show and raining down shit upon the group and their antics to be loved. After that? We were given a montage over the other performance, and hey, apparently now everyone loves them and all that strife was just filler. They fixed their goddamn problems and got popular again after two bad events magically through montage.
The second film did really well monetarily so they probably felt like they had to make this one. But with forgettable performances, less mashing up, forgettable and enraging plot points, this is not a movie that needed to be made at all. But sure, some side characters had good one off jokes. That's the plus.
1 out of 4.