September 4, 2013
One Direction: This Is Us 3D
Since 2009, we have been blessed as a culture and as a nation to receive a summer concert movie every year. In 3D, no less!
At first we were given the Jonas Brothers: The 3D Concert Experience. Unfortunately, I can't think of a single song I have ever heard from them, so I never even considered watching it. This one confuses me the most.
Then we were given Kenny Chesney: Summer In 3D, which is the only country artist to be given this treatment. I guess they were experimenting early on.
In 2011, we received the mac daddy of concert movies, as they kicked it up a notch with Justin Bieber: Never Say Never. If anything, we learned a valuable life lesson from his title alone.
In 2012, I can honestly say we were given the best 3D Concert movie yet, Katy Perry: Part Of Me. I laughed, I cried, I was entertained. I even became more of a fan.
Now, in the year the Mayans could not predict, we are given One Direction: This Is Us, a foreign band who I really don't know anything about. From my research, these concert movies have been getting better and better each year, so I expect this one to make the most noise and win all of the awards.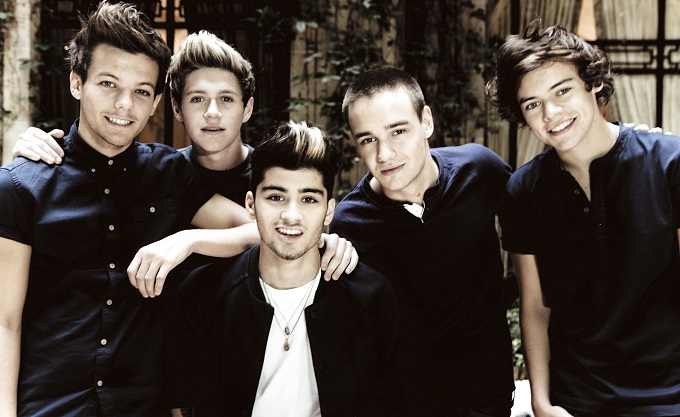 They are in order of most important to least important.
"Oh my god, a boy!" These are not the words I expected to hear when I entered the theater a few minutes before the movie began. What I saw was one entire row full of middle school girls. They quickly informed me that they didn't know each other, and were all fans who just met. There was also one mom sitting behind them already asleep.
"Hey, who is YOUR favorite?!" Well, crap, I am not at all prepared for this! I make up a lie, and try to go back to blending in, but that is practically impossible. It ended up being 19 middle school girls, 1 mom, and a neck beard movie reviewer.  Apparently I was not the target demographic?
"Hey, you don't care if we scream and yell during the movie right?"
Go ahead. Go crazy.
3D has really made leaps and bounds since Avatar, but little did I know that they would go to these lengths to improve the overall concert experience. From what I can tell, they decided to put a row of screaming middle school girls in every 3D showing of One Direction: This Is Us. What better way to enjoy the songs, than with a gaggle of girls singing and screaming every time a member of the band removes his shirt? What I really wonder is how they are going to include this feature with the eventual Blu-Ray 3D release?
Actual shot from the movie. No one is shirtless, for your dissatisfaction.
One Direction is made up of five boys from the United Kingdom, who all auditioned for
The X-Factor
, and they decided to put them into a boy band! Plucked by 
Simon Cowell
 personally, 
Niall
, 
Zayn
, 
Harry
, 
Liam
, and 
Louis
 became an overnight sensation that rocked their island, then the world. They didn't win The X-Factor, but that didn't matter.
In this movie you get to hear a big selection of their catalog performed live and on stage for your enjoyment, while also hearing a few numbers acoustically while they practice. I will note, the 3D used during these concerts were incredibly well done, and high quality. You also get to see them with their families from their small home towns, superimposed with them wandering Europe, Asia, and more.
One Direction: This Is Us is definitely not the best 3D Summer Concert movie I have found, just the second best. Katy Perry made me cry, after all. Given the screaming girl fan base, I don't see this movie bombing in any way, as it probably only took $10 million to make. As the great Drake once said, as long as the outcome is income, na'mean?
To answer your question little girl, I guess my favorite One Directioner is Zayn. He clearly has the most talent singing wise. I would follow that up with Niall, just because I feel bad for him. He has a strange name, doesn't get to sing as much, and is (probably) the only one that can play guitar. Poor Niall.
Now if you will excuse me, I need to go back to youtubing all of their songs.
2 out of 4.