Who is this guy? This Nobody. This comedian. This laugh em upper. This ambulance chasing lawyer. What is her doing in this action movie? Who invited him to the party?
I will admit that going in to see Nobody, I thought this was supposed to be an action comedy. You know, a slightly more funny John Wick. Because the star is goddamn Bob Odenkirk. He isn't an action person, there is no way they can realistically pretend he is either…can they?
What I will say though after watching it is that it is definitely not a comedy. There are amusing action parts, but at no point are you going to go on a laugh riot. Hell, John Wick is full of amusing action parts as well, but it is not a comedy. It turns out that they never advertised this movie as a comedy either, I just assumed so based on its sort of ridiculous poster. And I guess that is on me.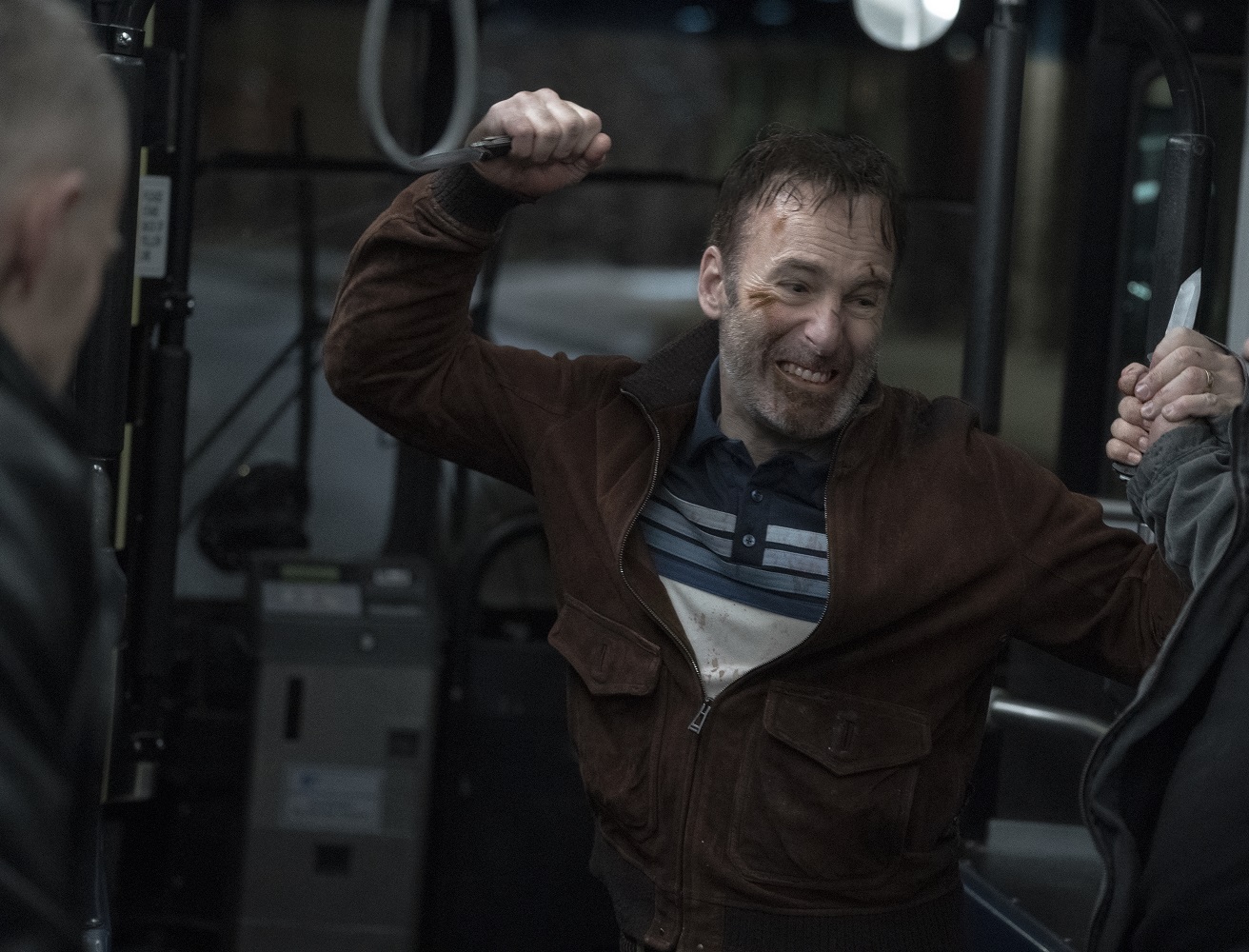 There is nothing more serious than this face right here.
Hutch Mansell (Bob Odenkirk) (What kind of name is Hutch Mansell?) (What kind of name is Bob Odenkirk?) (Fair point, moving on) is your typical family man. He has a wife (Connie Nielsen) and two kids (Gage Munroe, Paisley Cadorath). He goes to work every day. He rides the bus. He takes out the trash. He misses the trash. He sleeps. He jogs. It just goes on and on and on.
But one day Hutch finds himself to be the victim. A home robbery. Two people break into his house and demand money and valuables and he doesn't have much to give him. And thanks to his son, there is a real good chance they can apprehend these criminals and keep their stuff, but Hutch misses his cue and he becomes a sort of laughing stock. Or at least everyone pities him. His family thinks less of him. Is he even a man? How dare he not do violence.
All of this makes him crack. He does seem to let on more than he knows about action stuff, but he wants to keep it contained. And after deciding to go after the criminals, he eventually gets himself into a bigger fight than he imagined. One that gets him involved with a dangerous Russian crime lord (Aleksey Serebryakov). Can this nobody still protect himself and his family? Is he actually a nobody?
Also starring RZA, Colin Salmon, and Christopher Lloyd as an 82 year old with a shot gun.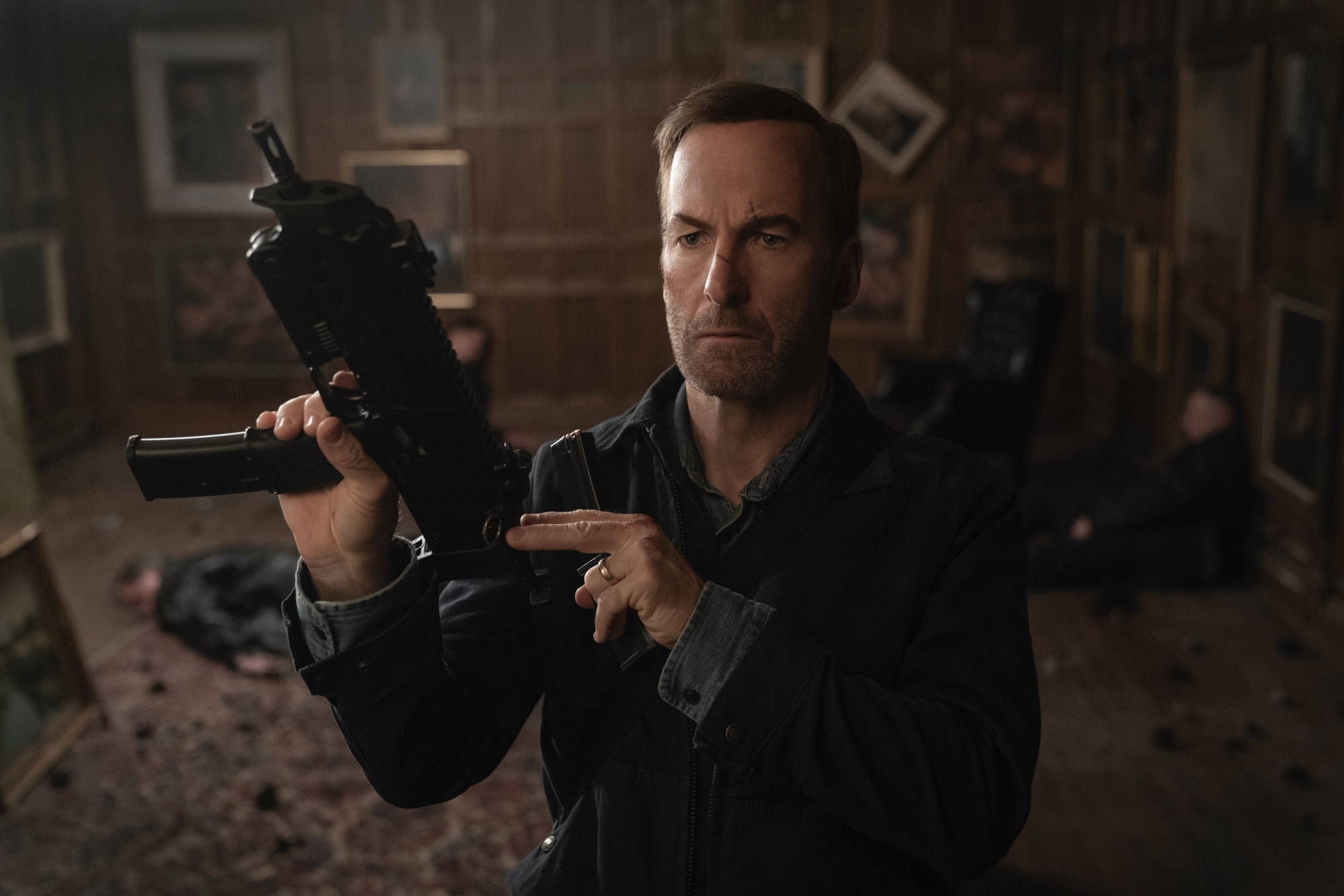 And this is Odenkirk with a uhhh…. faster shot gun, idk guns.
Do we have room in our world for another John Wick? Of course we do. After all, there have been plenty of movies before of seemingly normal guy (Who might secretly be abnormal) go on to do amazing feats of killing and vengeance. It isn't something John Wick made up.
But with John Wick the actor was someone who we had seen in action movies before. Someone who knows Kung Fu. Not an actual regular looking joe who we know as a regular actor comedian. That is a plus. And also, the John Wick movies (2 and 3) got worse with each version, because the script blows, and they didn't focus on the action enough.
So sure we have room for this movie, but is it good? Surprisingly yes.
It doesn't feature narrative prose that one would look for in award winning films, it still has a weak plot. But the action is not only good, it is far more graphic and intense than I thought it would be (Watching people get stabbed and broken bones graphically, when I still thought it was a comedy, would do that). Odenkirk fucking brings it. And later on when he has help, they fucking bring it too, and it is just an amazing defense set with a spectacular finish.
I would be excited for more Nobody films, even if narratively it wouldn't make sense for the character to continue. It didn't make sense for John Wick either and it turned out gr — err, oh wait. It turned out bad. And will likely get worse.
Nobody was surprisingly fun and intense. A great action movie for those who want this sort of action genre. We don't get a long one-take hallway scene, but the bus scene does feel almost just as good.
3 out of 4.