December 9, 2016
Miss Sloane
Miss Sloane, that's a lady, and they want you to know that the lady is not married.
Miss Sloane is a strong independent woman who don't need no man in her life. Or she doesn't have time for a man in her life, one of those things.
Miss Sloane is the type of woman that Ne-Yo craves and Kelly Clarkson wishes she could be.
Miss Sloane is so god damn independent, she doesn't even share the poster with any other person, which is hard in this man led world.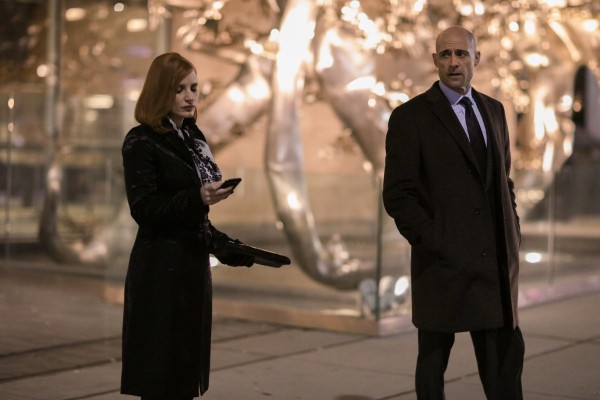 I had to struggle to find a picture from this film with an important character sharing the frame with Miss Sloane.
Elizabeth Sloane (Jessica Chastain), is a lobbyist, and powerful one at that. Normally she deals with tax issues, but the big wigs in her firm (Sam Waterston) want her to get into the gun laws. They are big and powerful groups with a lot of money, so if they join them, they can all get paid. They want her to help them get the women voters to show up and vote against gun bills. To re-frame the image of the woman using a gun for equality, not of the mom crying over her shot children.
And Sloane just laughs at that. It is preposterous, it goes against what she believes in and it is a ridiculous strategy. She is so against it, she takes an offer from a small, third tier firm who is trying to help pass the gun bill on morality alone.
And yes, it is just a bill requiring back ground checks, and no, bills like that never get enough Senate approval because the gun lobby is strong. But she wants to take her team and defeat it, not just because she knows she can do it, but because it is the right thing, damn it.
Rodolfo Schmidt (Mark Strong) is the head of the smaller firm, Pat Connors (Michael Stuhlbarg) is her former boss and now main rival, Jane Molloy (Allison Pill) is her former assistant who refused to move with her, Ron M. Sperling (John Lithgow) is a senator who will lead a committee against her, Esme Manucharian (Gugu Mbatha-Raw) a strong anti-gun lobbyist who was also the victim of gun violence, Forde (Jake Lacy) is her new male escort, and Ennis Esmer/Douglas Smith play two of her lobby lackies.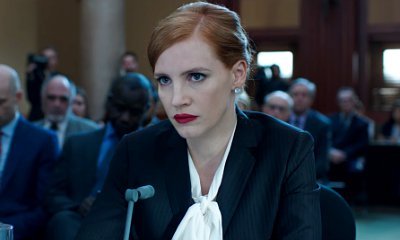 She commands the screen and camera, allowing no one else to even be focused!
Miss Sloane clocks in at over 2 hours, which is honestly surprising after the fact, as it seemed to fly by. There is so much political intrigue, all fictional, but still enough to keep me at the edge of my seat.
I expected this to be the sort of film where Chastain would be carrying the film on her shoulders and the people around her wouldn't matter as much. And yes, Chastain was wonderful in the film, but other actors put up pretty decent performances as well. I was most impressed with Mbatha-Raw whom has been putting out pretty decent performances lately, and Strong who gave a more subtle performance than normal. He is not in a lot of dramas (don't send me letters explaining why I am wrong).
There are of course a lot of twists and turns, given that Sloane is meant to be this excellent tactician, who always has back up plans and wants to keep the other side surprised, playing a trump card right after their own trump card. This allows surprises, but also gives us a character that becomes more and more unbelievable.
I have before complained about the character who is so smart, plans were put into action that require a dozen things to go right, but of course they do, because they are so smart. They take me out of the film real quick and usually put me on edge. And in a way, the ending does that. Everything gets wrapped up so neatly, even if not everyone good comes out on top, that it just seems annoying.
Technically a minor complaint, but a crutch too many films want to rely on to prove their point.
Miss Sloane is topically relevant and still a good ride for those who want to learn an exaggerated amount about lobbyists.
3 out of 4.